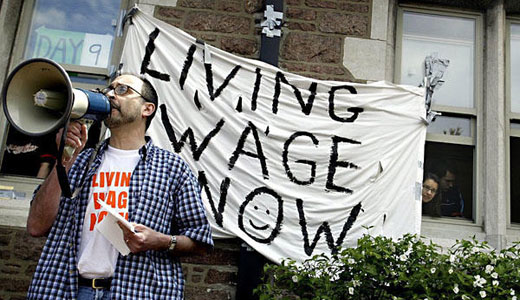 WASHINGTON – Saying that raising the minimum wage would help lift up workers and families, Acting Labor Secretary Seth Harris reiterated the Obama administration's support for raising the minimum wage.
Harris spent much of his prepared remarks for a June 24 Senate Labor Committee hearing on the issue telling the stories of minimum wage workers he has met in 14 cities from coast to coast. They have to choose between gas for the car and food for the table, paying the bills late or seeing their heat shut off, and worse, he said.
He also dispelled one big myth about the minimum wage: That it would benefit middle-class teenagers working at after-school jobs. Only 19 percent of minimum wage workers are teenagers, and some of them work full-time, he said. But 60 percent are working women, raising families.
Unions strongly support Obama's proposal to raise the minimum wage, which has been $7.25 an hour since 2009, in three steps, to $9 hourly, and then index it for inflation.
The DOL also advocates raising the minimum wage for "tipped workers" – those, such as restaurant servers – who exist on tips, Harris said. That minimum, of $2.13 an hour, is unchanged since 1991. Some states, tired of waiting for a gridlocked Congress to act, raised the minimum on their own. Congressional Republicans oppose a raise.
"In Boston I met Pattie, a woman who earns just above the minimum wage working at a local movie theater," Harris told the senators. "She needs every penny. Like many Americans, she struggles to make ends meet, but Pattie constantly feels like she is falling even further behind.
"When I spoke with her, I made the mistake of classifying her as someone who lives paycheck-to-paycheck. She corrected me, pointing out that living paycheck to paycheck would actually mark a significant improvement in her life. Every day she wonders: 'Do I have enough money to fill my car with gas to get to work? If my car breaks down, do I skip this month's heating bill to pay for the necessary repairs?'"
The GOP claims, as usual, that raising the minimum wage will cost jobs, a stand the Labor panel's top Republican, Lamar Alexander, R-Tenn., reiterated at the hearing.
When he was governor, Alexander said, his state had the third-lowest family income in the U.S., and needed to attract more jobs. It did not raise the minimum wage, he added, but became more "business friendly" by, among other things, removing usury limits and "maintaining and defending a right to work law" that bans union shop provisions in collective bargaining contracts. Raising the minimum wage, he said, would have scared businesses away.
Harris refuted the GOP's claims. He said raising the minimum wage is good for business as well as for low-income workers.
"A higher minimum wage will give low-wage workers the additional purchasing power to buy goods and services in their communities thereby stimulating local economies and helping small businesses to grow and expand. A 2011 study by economists at the Federal Reserve Bank of Chicago found a $1 (hourly) minimum wage hike increases household spending by approximately $2,800 in the year following the increase – with families purchasing necessary durable goods like automobiles that provide their communities with a real economic stimulus," he said.
"And study after study from independent economists has shown that raising the minimum wage has a small or no effect on employment…Contrary to popular belief, many minimum wage workers are adults supporting families and heading households. In 2011, minimum wage workers brought home 46 percent of their household's income. Their wages pay for utility bills, car maintenance, and rent."
Photo: Huy Richard Mach/AP