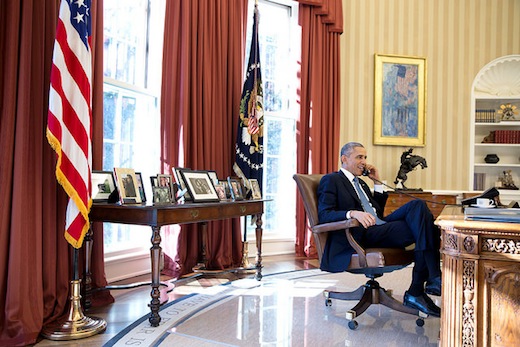 Americans and Cubans woke up on Dec. 17 to the jaw-dropping news that the U.S. is making a monumental shift in its relations with Cuba. The remaining three Cuban Five prisoners had been freed from U.S. jails, and two U.S. prisoners, Alan Gross and an unnamed intelligence operative, were returning to the U.S.. Hours later President Obama told the nation: "I've instructed Secretary Kerry to immediately begin discussions with Cuba to reestablish diplomatic relations that have been severed since January of 1961."
The president's actions, negotiated with Cuban President Raul Castro and with the help of Pope Francis, set the stage for an end to the failed 54-year-old U.S. embargo against trade with Cuba, and opened up, as Obama put it, "a new chapter among the nations of the Americas."
This shift was in the making for a while. A recent New York Times editorial series seemed to signal that a major portion of ruling circles were ready to make such a move and for multiple reasons.
The Times pointed out one important reason for thawing U.S. Cold War policy towards Cuba: It would bolster U.S. relations with the rest of Latin America, where the United States finds itself more and more isolated. The solidarity towards Cuba displayed by Venezuela, Brazil, Nicaragua and all the countries of Central and South America and the Caribbean has been unyielding. The United States has found itself isolated throughout the world on its Cuba policy. Last year's United Nations vote on ending the U.S. embargo left the U.S. and Israel as the only two dissenters out of 186 nations.
Public attitudes towards Cuba in our country have been changing dramatically over the years, with majorities now favoring ending the embargo, opening up trade, scientific and cultural ties, and travel and re-establishing full diplomatic relations. Even in the all-important state of Florida, the shift among the politically significant Cuban American population has been seismic. For the first time ever, this previously solid Republican voting bloc chose a Democrat who had called for the end to the embargo over a Republican in the governor's race this year.
But as important as these factors are, making a policy change required a president who had the courage and foresight to act on them. The American people elected such a president in 2008 and 2012. Elections matter.
In addition to the U.S.-Cuba agreement releasing the remaining Cuban Five prisoners and American Alan Gross, and re-establishing diplomatic relations, President Obama announced the following actions:
* making it easier for Americans to travel to Cuba and use credit and debit cards, allowing U.S. financial institutions to open accounts at Cuban financial institutions.;
* significantly increasing the amount of money that Americans can send to relatives in Cuba;
* opening a review aiming toward removing the State Department's designation of Cuba as a state sponsor of terrorism.
* increasing telecommunications connections between the United States and Cuba;
* facilitating more trade.
These remarkable changes are in the interests of the American people. Yet the president pointed out the limitations of executive action.
"These are the steps that I can take as president to change this policy," he said. "The embargo that's been imposed for decades is now codified in legislation. As these changes unfold, I look forward to engaging Congress in an honest and serious debate about lifting the embargo." This is a challenge to us all to build the broadest possible movement to make Congress revoke the 1996 Helms-Burton Act, the 2000 Trade Sanctions Reform and Enforcement Act and four other laws that since 1961 have crippled our policy toward Cuba and therefore our relations with all of Latin America.
This move by Obama is a historic sea-change in U.S. foreign policy. It opens up tremendous possibilities for progressive exchange with the socialist island 90 miles to our south, a country that has been a beacon of hope and progress for the hemisphere and the world. It took enormous courage by this president. The Republican right-wing has already responded with rabid criticism and more can be expected, especially once the new Republican-controlled Congress takes office in January.
Of note is the role played by Pope Francis in facilitating this enormous development. Both Obama and Castro thanked the Pope. This new leader of the billion-strong Catholic Church has stirred the world with his advocacy for the poor, immigrants and the oppressed. All three men – Obama, Castro and Francis – it can be said, are change-makers, taking bold steps – even if they go against some past orthodoxies – to reflect the new realities, complexities and values of the 21st century.
Obama's historic Cuba announcement follows his other important post-midterm election actions, including protecting Alaska's Bristol Bay from oil and gas drilling, providing deportation relief for undocumented immigrants and signing the U.S.-China carbon agreement. All these are significant, bold progressive actions that need public support against the Republicans' shrill efforts to overturn them.
Certainly we can find fault in some of the president's comments on Wednesday about human rights and communism. After the images of militarized police using rubber bullets and tear gas against peaceful protesters in Ferguson, Mo., the notion that the U.S. "believes that no Cuban should face harassment or arrest or beatings simply because they're exercising a universal right to have their voices heard" is rather ironic. But it's not surprising that Obama (and others) reflect some degree of anti-communism. We should not expect them to suddenly become advocates of Cuban socialism!
But let's not let such language distract us from the enormous significance of the president's action. It deserves our unqualified support.
Who could have imagined, even a few days ago, the president of the United States saying to the Cuban people and government: "America extends a hand of friendship"! That should be music to the ears of everyone who believes in peace and international people's solidarity.
A broad base in our country favors this, including major corporations, small businesses, farmers, workers, religious and social justice groups. This is the makings of a multi-class, broad people's coalition to support the president's actions and end the embargo. The left should help champion this.
Some on the left are worrying that this is just a ruse for imperialism to get a foothold in Cuba; that it is the beginning of the end of the revolution. What would they prefer: a war? This joint U.S.-Cuban move is a victory for all of us who want to see socialist Cuba succeed. Such naysaying implies that the Cubans have had no say in the matter or they are naive. But following Tuesday's announcement in simultaneous televised speeches by Obama and Castro, the Cuban island resonated with the sound of church bells ringing in celebration of the freedom of their Cuban Five heroes and the major opening in relations with the U.S. Why would we Americans do less?
It's worth noting that despite the punitive 50-plus-year U.S. blockade, Cuba's health care system is the envy of the world. It puts people first. Cuba has a lower infant mortality rate than our country. It has sent doctors and health care professionals all over the world to heal the sick and injured, most recently to West Africa to fight Ebola. It has educated students from throughout Asia, Africa and the Americas – including the U.S. – to become doctors in needy communities in their own countries.
President Obama noted these achievements in his speech, pointing out "the benefits of cooperation between our countries" especially in the medical field. "It was a Cuban, Carlos Finlay who discovered that mosquitoes carry yellow fever; his work helped Walter Reed fight it," Obama said.
"Cuba sent hundreds of health care workers to Africa to fight Ebola and I believe American and Cuban health care workers should work side by side to stop the spread of this deadly disease."
The Cuban people with their tenacity, talents, resilience, and social awareness will determine their future, honoring the social system that has provided a way to do so much with so little.
This is a moment to embrace, to celebrate and to grasp hold of. It is not a moment to damn with faint praise. Let us all remember December 17, 2014, as a day when that long moral arc of history bent towards justice. Thank you, President Obama, for this great holiday gift of hope, peace and goodwill.
Now it's up to all of us to work hard – lobbying, letter-writing, sign-holding, Facebooking, tweeting, organizing – to support the president's action and demand that Congress pass a law that ends the embargo completely. Contact your senators and representative now! Get your friends, neighbors and co-workers to do the same.
Photo: President Barack Obama talks on the phone with Alan Gross, who was en route to the United States from Cuba, in the Oval Office, Dec. 17, 2014. (Official White House Photo by Pete Souza)