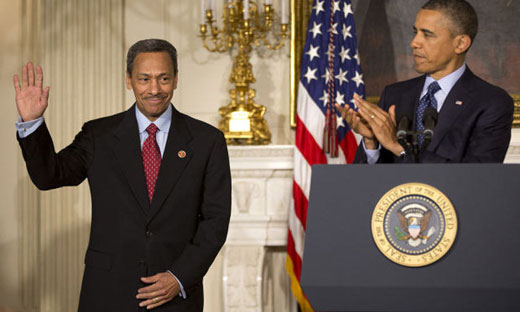 WASHINGTON – Today's action by the U.S. Senate confirming Richard Griffin as NLRB general counsel is the final piece needed to ensure a fully functioning National Labor Relations Board, the Communications Workers of America said in a statement. Some 80 million private sector workers, as a result of the approval, will continue to have the protections of federal law through the only agency that can enforce their workplace rights.
Last summer, the Senate confirmed five Board members, ending a delay in workplace justice for millions of workers.
"We call on the Senate to move forward on other critical nominations put forward by President Obama," the union also said in the statement.
Labor and progressives are anxious to see Senate approval of Tom Wheeler to head the Federal Communications Commission, Mel Watt to head the Federal Housing Finance Administration and judges for the U.S. Court of Appeals for the D.C. Circuit. "If Senate obstruction continues, we call on Majority Leader Reid to take the necessary steps to move these nominations forward, " the CWA statement said.
Civil and human rights groups including the NAACP, National Council of Raza, National Urban League, and the Leadership Conference on Civil and Human Rights have signed on to a letter to the Senate which cites Rep. Watt's, D-NC., 40 years of experience in housing and finance and urges his confirmation as chief of the Federal Housing Finance Agency. Watts was one of the first members of Congress to speak out against the predatory mortgage lending practices that contributed to the economic crash that triggered the Great Recession.
The right wing Club for Growth has already warned lawmakers it will punish them if they even so much as vote to bring the nomination to the Senate floor. The group opposes any government involvement in the mortgage process.
The labor movement has long been committed to ending the abuse of the Senate rules, which allows a minority of Senators, or even one individual, to block nominations and prevent measures with majority support from having even getting a vote.
Republican Sen. Lindsey Graham of South Carolina nevertheless announced yesterday that he would personally block all future Obama nominees, including the Watt nomination, unless the administration gives him a more satisfactory explanation of what went wrong in Benghazi, Libya last year when U.S. diplomats were killed in an attack on a CIA outpost.
Under Senate rules it takes only one Senator to file an objection and a nominee or any other measure, for that matter, can be blocked from coming before the Senate for a vote.
Photo: Rep. Mel Watt, D-NC. (left), is President Obama's nominee for top housing post. AP