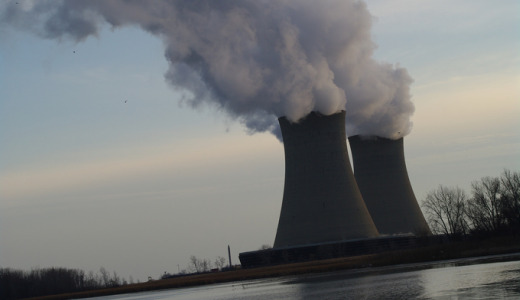 President Obama's announcement of $8 billion in loan guarantees for construction of two new nuclear reactors – the first in the U.S. in 30 years – has drawn virtually unanimous opposition from environmental groups, and one major labor leader questions whether it will create American jobs as promised.
The loan guarantees will go to Southern Co. to build the reactors in Georgia. The Atlanta-based company is one of the nation's biggest operators of coal-fired power plants.
"Nuclear energy remains our largest source of fuel that produces no carbon emissions," Obama said. "To meet our growing energy needs and prevent the worst consequences of climate change, we'll need to increase our supply of nuclear power. It's that simple."
The administration said the project would generate 3,500 construction jobs and 800 permanent positions once the reactors begin operating – estimated for 2016 or 2017.
Obama's 2011 budget adds $36 billion in loan guarantees for nuclear power plant construction to $18.5 billion allocated by President Bush but not spent.
The Sierra Club, Natural Resources Defense Council, Public Citizen and others called the move a costly and potentially dangerous mistake.
"We need to prioritize the cleanest, cheapest, safest, and fastest ways to reduce emissions and nuclear power is neither clean, cheap, nor fast, nor safe," said Sierra Club Executive Director Carl Pope.
The $8 billion for the Georgia reactors is unlikely to cover even half the final cost, Pope said in a statement. "Retrofitting our homes and commercial buildings would result in significantly greater emissions reductions almost immediately – at far less cost – and would also cut energy bills in the long run."
Christopher Paine, director of the Natural Resources Defense Council's Nuclear Program, said in a statement, "Energy sources should compete for public dollars based on how well they provide the clean, efficient and affordable power we need. On that basis, nuclear power has a long way to go. It remains a high-cost, subsidy-dependent, radioactive-waste generating, water-depleting, non-renewable energy source that still carries with it the low probability of a high-consequence accident."
Tyson Slocum, director of Public Citizen's Energy Project, said the loan program jeopardizes public money on "financially risky and uncertified nuclear technology" and "takes us entirely in the wrong direction."
Republicans are big backers of nuclear power. They are also blocking the president's energy/climate change bill in the Senate. The bill would curb industrial greenhouse gas emissions and promote renewable energy. Obama's move on nuclear power, along with support for coastal oil drilling, is seen as an effort to drum up enough Republican support to prevent a filibuster and pass the energy bill.
Pope took note of those calculations. The nuclear power loan guarantees announced by Obama last week "may ease the politics around comprehensive clean energy and climate legislation," Pope said, "but we do not believe that they are the best policy."
Pope said studies show that investment in "outdated" oil, coal and nuclear power sources creates "far fewer jobs per dollar than investments in energy efficiency and clean energy."
Meanwhile, Steelworkers union President Leo Gerard has sent a letter to the Nuclear Regulatory Commission expressing concern about "the potential foreign sourcing of components for these reactors," which he said "limits our nation's ability to address our unacceptably high unemployment rate."
Westinghouse, which designed the reactors' central components, says these parts can be obtained only from steel mills in Japan and South Korea. Westinghouse, based in Pittsburgh but owned by the Japanese company Toshiba, says it is considering design changes that could allow U.S. steel companies to bid for the work.
Paine suggested that the nuclear power industry build a few state-of-the-art reactors in areas that have few wind, solar or other renewable resources, to test whether nuclear power is cost-effective as part of a national strategy to reduce global warming pollution. But now is not the time to "burden taxpayers with additional subsidies" for the nuclear industry, he said. "We can get far more for our money by investing in efficiency gains, conservation and innovative technologies that generate power from wind, solar and other renewable sources; as well as biomass and waste heat from industry."
The Union of Concerned Scientists says nuclear power "could play a role in reducing global warming emissions because reactors emit almost no carbon while they operate." But, it says, the nuclear power industry "must resolve major economic, safety, security, and waste disposal challenges before new nuclear reactors could make a significant contribution to reducing carbon emissions."
A study by the group last year found that the U.S. can make "dramatic cuts in power plant carbon emissions" in the coming decades without significantly expanding nuclear power.
Photo: The Fermi nuclear power plant, near Detroit. http://www.flickr.com/photos/42232541@N04/ / CC BY-SA 2.0