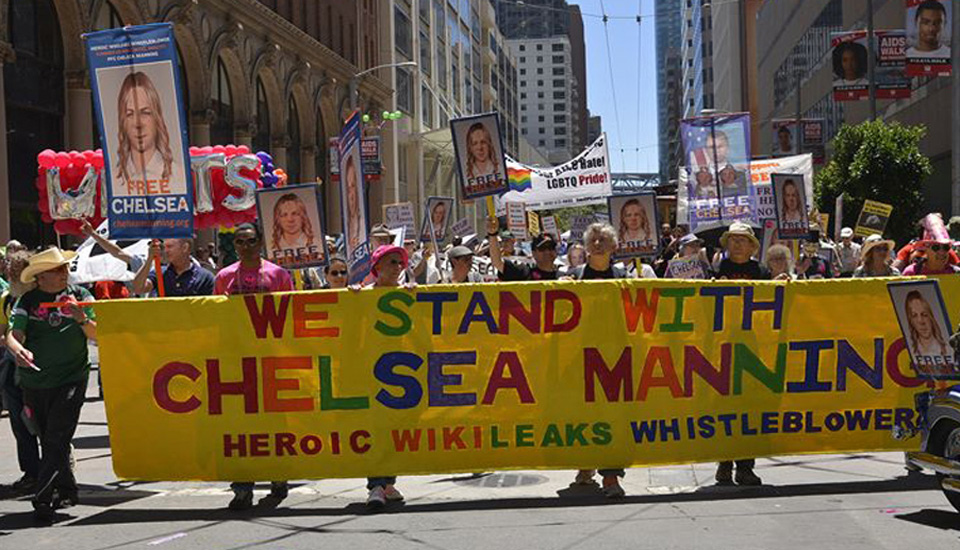 WASHINGTON (AP) — President Barack Obama granted clemency to Chelsea Manning on Tuesday, allowing the transgender Army intelligence officer convicted of leaking more than 700,000 U.S. documents to go free nearly three decades early.
Manning was one of 209 inmates with sentences commuted by Obama, who has now granted more commutations than any other president in history.
Chelsea's attorney Nancy Hollander, who spoke with President Obama's counsel on Tuesday, confirmed that "Chelsea will walk out of Fort Leavenworth a free woman in four months, on May 17th."
"Today's fantastic news goes a long way to making amends for the brutal treatment Chelsea was illegally subjected to while awaiting trial at the Quantico Marine Brig. It's tragic that Chelsea had to spend seven years imprisoned for releasing documents that should never have been classified in the first place, and were clearly in the public interest," stated Chelsea Manning Support Network co-founder Jeff Paterson. "All of us who worked on Chelsea's behalf are overjoyed."
Neil Eggleston, President Obama's White House counsel, said, "Our nation is a forgiving nation, where hard work and a commitment to rehabilitation can lead to a second chance, and wrongs from the past will not deprive an individual of the opportunity to move forward."
"In conversations Chelsea and I had while she was imprisoned, I learned that she's not only driven by principles, but that she believes in the foundations of America's government. She dreamed about attending graduate school, and helping to research ways that government could use technology to improve transparency and public participation. Whatever she chooses to do now, the world is better for having a bright young person free to pursue a meaningful life," noted former campaign manager Emma Cape.
Manning and Puerto Rican nationalist Oscar Lopez Rivera were the more prominent names on a list otherwise made up mostly of nonviolent drug offenders. The actions are permanent, and cannot be undone by President-elect Donald Trump.
With his last-minute clemency for Manning, Obama appeared to be softening what has been a hard-line approach to prosecuting leakers.
Manning has been serving a 35-year sentence for leaking classified government and military documents to WikiLeaks, along with some battlefield video. She was convicted in military court of violating the Espionage Act and other offenses and spent more than six years behind bars. She asked Obama last November to commute her sentence to time served.
Her case has pitted LGBT rights activists, who warned about her mental health and treatment as a transgender woman living in a men's prison, against national security hawks who said she did devastating damage to U.S. interests. The former cheered Obama's move, while the latter called it an outrageous act that set a dangerous precedent.
Known as Bradley Manning at the time of her 2010 arrest, Manning came out as transgender after being sentenced. She was held at Fort Leavenworth, Kansas, where she attempted suicide twice last year, according to her lawyers. Manning has acknowledged leaking the documents, but has said she did it to raise public awareness about the effects of war on civilians.
"We are all better off knowing that Chelsea Manning will walk out of prison a free woman, dedicated to making the world a better place and fighting for justice for so many," said Chase Strangio, an American Civil Liberties Union attorney representing Manning, adding that Obama's action could "quite literally save Chelsea's life."
Manning and many of the others receiving commutations will be released in May, in line with standard procedure allowing a period for re-entry.
The White House said Obama would announce more clemency actions Thursday — his last full day in office — but said those would focus on drug offenders and would not likely include any other famous names.
Commutations reduce sentences being served, but don't erase convictions. Pardons generally restore civil rights, such as voting, often after a sentence has been served.
The Chelsea Manning Support Network contributed to this story.