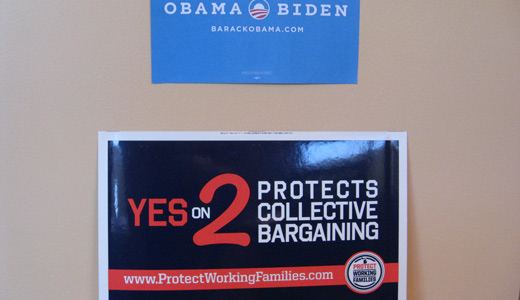 DETROIT – President Obama won by more than eight percentage points in Michigan and Democratic Senator Debbie Stabenow crushed her Republican opponent 58 percent to 38 percent.
At an Election Day rally at Plumbers Local 98 in Madison Heights, Sen. Stabenow decried Super PAC money that flooded Michigan and other states reminding people it's supposed to be "an election not an auction."
She said this election was a vote on future of the middle class and if there would be opportunities to go to college, get a job, and have healthcare.
Playing a huge role in the President's victory here and neighboring Ohio was the United Autoworkers Union (UAW). For the last two years UAW President Bob King has repeatedly and passionately driven home President Obama's almost single handed role in saving of hundreds of thousands, if not millions of jobs by supporting the bailout of General Motors and Chrysler. Governor Romney had wanted the companies to go bankrupt, destroying jobs and decimating a major industrial union in the process.
In a post election UAW press release, King said President Obama stood by American workers in their darkest hour, adding, "It is with great pride that in large part because of a nationwide, grassroots effort by our active and retired UAW members, along with our progressive allies and dedicated community leaders, President Obama won re-election and remains our president for four more years."
In other election news, Michigan voters rejected all six statewide ballot proposals. Going down to defeat was the anti-democratic law granting Republican Governor Snyder the right to replace local elected officials with an Emergency Manager. Labor had campaigned hard for its defeat.
However Proposal 2, to amend the states constitution to protect working families by recognizing the right to bargain collectively, was defeated. Business and right wing groups ran one deceitful ad after another (one such ad claimed the proposal would allow child molesters into schools) to defeat the proposal. Another hurdle was that many voters, while supporting collective bargaining, seemed hesitant to reword the states constitution.
One notable recall election was the successful removal of Tea Party Mayor Janice Daniels of Troy. Daniels had become widely known for making homophobic comments on Facebook and in other settings.
In the post election period, the UAW does not plan to sit-on-their-hands. The union's press release ended "Our work is not done, and we will continue to fight for social and economic justice for all Americans."
Photo: John Rummel/PW