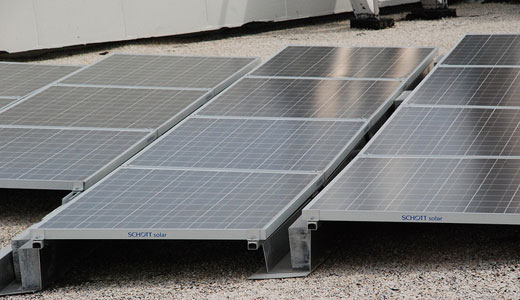 "Over the past four years, we've doubled the electricity we generate from wind and solar power," said President Obama during an important June 25 speech on climate change. "And that means jobs. Jobs manufacturing the wind turbines, jobs installing the solar panels." It also marks a significant step, albeit a small one, away from toxic fossil fuels, and that move can be seen throughout the U.S. Now, Los Angeles will be taking steps of its own: the city's Department of Water and Power (DWP) is implementing the largest-ever urban rooftop program.
The program essentially involves the establishment of solar panels on the roofs of apartment buildings and homes, with the first installation having begun atop an apartment complex in North Hollywood on June 26. As part of the program, the DWP will buy solar power technology from businesses, including the company Solar Provider Group, which supplied the panels for the North Hollywood project. The company will reportedly hire at least 30 new local workers over the next 18 months; this is right in line with what the president pointed out: a correlation between clean energy development and jobs.
Obama's climate change response plan, which he described during his speech, includes doubling "our energy from the wind and sun." As it is, he said, "solar panels now generate more than four times the power at less cost than just a few years ago. Today we use more clean energy, which is supporting hundreds of thousands of good jobs."
The goal of LA's DWP plan is to generate at least 150 megawatts of solar electricity, which is enough to power 30,000 homes. The Solar Provider Group plans on investing $15 million in 17 different projects around L.A. The DWP has stated that it hopes to swap renewable energy for fossil fuels.
"In the next decade, the LADWP will completely replace over 70 percent of its power supply with clean energy, to eliminate coal through a combination of increased energy efficiency," said Democratic LA mayor Antonio R. Villaraigosa. "This is a defining moment for our city's environmental future. Not only will these commitments create hundreds of green jobs, they will further bolster Los Angeles as a national leader in making the successful, cost-efficient transition to renewable energy. If you want proof that environmental progress and economic growth go hand in hand, look no further" than this project. "We are shaking our fossil fuel addiction."
Other states are following suit. New Jersey's Board of Public Utilities approved a $446 million solar energy plan on May 28, which will involve converting 800 closed landfills and 10,000 abandoned industrial areas into solar farms. The state's solar industry currently employs some 3,000 workers and comprises nearly 500 businesses. Those numbers are expected to increase as solar farm development skyrockets there.
Though Obama admitted, "transitioning to a clean energy economy takes time," he also pointed out that the "doomsayers [should not] trot out the old warnings that these ambitions will somehow hurt our energy supply." Perhaps referencing places like Los Angeles, the president added, "States and cities across the country are already taking it upon themselves to get ready."
Photo: Solar panels at the New Jersey Army National Guard Joint Training and Training Development Center, covering 71,000 square feet of the building's roof. Flickr