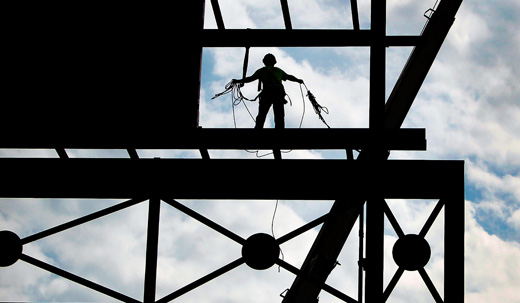 WASHINGTON (PAI) — As far as President Obama is concerned, congressional obstructionism, courtesy of the GOP, is blocking jobs for construction workers – and everyone else.
To frequent cheers from 3,000 unionists, attending the AFL-CIO Building and Construction Trades Department's legislative conference in D.C., the chief executive said the Republicans' repeated answer to his jobs bills – for construction workers, teachers, fire fighters, police officers and anyone else – was "no."
The naysayers are preventing the rebuilding of the economy and the middle class, he declared, by preventing construction workers, and other workers, from getting jobs. And new workers' spending would in turn produce even more jobs, he added.
But the GOP is so resistant to helping workers that it's willing to let the U.S. fall behind in building and upgrading its roads, railroads and airports, taking a back seat in infrastructure spending to Europe and China, the president stated on April 30.
"I don't know about you, but I want the U.S. to have the best stuff!" when it comes to transportation and infrastructure, he declared.
The president spent much of his speech explaining how the measures he had to force through Congress in the first two of his 2-plus years in office helped draw the U.S. back from the worst crash since the Great Depression. He noted that the result has been creation of 3.7 million jobs, an increase of 100,000 jobs in the auto industry, and 334,000 more factory jobs in the last two years.
In those latter two sectors, creation of more factory jobs also led to hiring of more construction workers, to refurbish plants, he said.
Obama's campaign for more construction jobs comes against a continuing backdrop of high joblessness in the construction industry: 17.2% in March, more than double the national jobless rate of 8.2%.
It also comes as the Democratic-run Senate and GOP-run House start wrangling over a final version of a longer-term highway-mass transit spending bill. The Senate approved a 2-year $109 billion measure on a bipartisan 74-22 vote. The House approved a barebones extension of the programs, with several controversial additions, by a party-line vote. Obama had a few choice words about that conflict, too.
"Workers built our country and it's time to rebuild our country," the president declared. "It's time to take some of the money spent on wars": in Iraq and Afghanistan, which he is winding down "and use half of it to pay down our debt and the other half to rebuild our country." He didn't offer figures, but got a big cheer.
But the GOP instead wants to cut taxes even more for the rich. He pointed to $4.6 trillion-"that's trillion with a 'T,'" he said – more in tax cuts for the wealthy advocated by the recent House GOP budget blueprint, approved on a party-line vote.
Obama said that contrasts with Republican votes against jobs bills, including jobs for construction workers.
"I believe the economy is strong when everyone is getting good wages like yours, when collective bargaining is protected, and when it's not taken away by 'right to work' laws – which might be called right-to-work-for-less laws," such as the recent one enacted in GOP-run Indiana.
A random sample of workers interviewed after Obama's speech agreed with his points, but several wondered how to get them across to the 3 million unionized building trades workers nationwide, not to mention non-union workers.
"I'm not sure the message is getting across," said Larry Stewart of Sheet Metal Workers Local 32 in Miami, Florida, especially in a swing state like his. "People need to get their head out of their ass" about what Obama has done on jobs, he added.
"I'm going to try to get that video of Mitt Romney saying he'll go after construction workers and show it around," Stewart said of a film of presumed GOP nominee Romney's speech blasting construction unions and project labor agreements, before the anti-union Associated Builders and Contractors. The video was played earlier, before Obama spoke.
"Not every member is happy with the progress on jobs," admitted Don Magrino, of Laborers Local 964 in Pittsburgh. "We've got to get the message across that the problem isn't him, but politics in general. We have to stay on track and give him another term so he can work for more of the promises he made four years ago."
"In 2010, he lost the majority" in Congress "and we lost Teddy Kennedy, who could put coalitions together," said Vance Ayers, of Camp Springs, Md., Executive Secretary-Treasurer of Elevator Constructors Local 10. "That put Obama in a pickle. But I think he's doing a helluva job," added Ayers, head of the Metro D.C. Building Trades Council.
"We know who the enemy is," said Dave Karn of Plumbers Local 120 of Cleveland. "With Romney, we have no chance," Magrino added.
Photo: Construction worker tosses down a guide line to team members, Memphis, Tenn., March 29. Jim Weber/AP