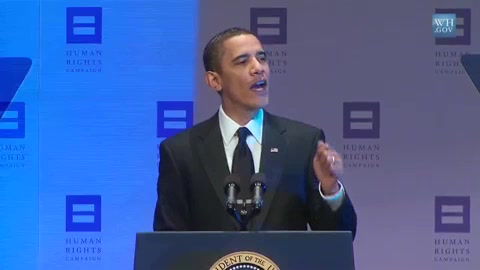 Eleven years after Matthew Shepard's brutal murder because he was gay, President Barack Obama will sign the Matthew Shepard and James Byrd Jr. Hate Crimes Prevention Act into law this afternoon.
The new provision makes it a federal crime to assault someone because of his or her sexual orientation, disability or gender identity. The measure is named after the victims of two horrific crimes in 1998: Matthew Shepard, an openly gay college student from Wyoming who was beaten to death; and James Byrd Jr., an African American from Texas who was tied to a pick-up truck and dragged to death.
The long-sought hate crimes provision is part of the fiscal year 2010 defense authorization bill.
Signing the bill into law was more than a decade in the making advocates say. It is an update to the federal hate crimes statue that Congress initially passed in 1968. The original law protected people from attacks motivated by race, religion or ethnicity. It will now include gay, lesbian, transgender and disabled people.
The new law lets the Justice Department get involved in ways beyond merely charging people with crimes. The federal government under the new law can now help state and local officials tackle hate crimes by providing them with federal investigators, forensic tools and money. Up to $100,000 could be granted by the Justice Department to local officials to cover the costs of prosecuting a hate crime.
Gay rights advocates say the symbolism of the bill is significant.
"It's the first time that transgender people will be in federal code in a positive way," said Mara Keisling, director of the National Center for Transgender Equality. Speaking to National Public Radio Keisling adds, "That's a really important historical moment for the country – certainly for transgender people, but really also for the whole country."
Keisling notes the transgender community documents an average of one murder a month.
Advocates add that the law will lead to a rise in the number of reported hate crimes that normally fall under the radar.
Speaking to NPR Michael Lieberman with the Anti-Defamation League said, "If you're an individual who's been the victim of a crime, why would you bother to report that you'd been the victim of a hate crime unless you thought that law enforcement officials were going to take it seriously?"
Lieberman is also chairman of a federal hate crimes coalition in Washington.
"After an effective hate crime law has been passed, the numbers actually may go up," he said. "And that may be a very good thing, because it's a much more accurate reflection of the national problem."
Nationally, hate crimes against gay, lesbian, bisexual and transgender people have increased in recent years, advocates say. In June, the National Coalition of Anti-Violence Programs, which examines hate crimes against sexual minorities, reported that bias-related killings were at their highest level since 1999, with at least 29 committed in 2008.
The news of the act being signed into law could not have come at a better time, many say.
"We want people to know about their rights, but having the law on your side is powerful," said Karina Claudio-Betancourt, a community organizer to the New York Times. Claudio-Betancourt is a project organizer for the Brooklyn-based nonprofit group Gays and Lesbians of Bushwick Empowered, which provides services to the gay community and runs programs in public schools to combat homophobia.
The bill also protects people with disabilities for the first time.
Attorney General Eric Holder, civil rights leaders and members of Shepard's family will attend the signing ceremony. Afterward there will be a reception with gay rights groups as well as civil rights leaders to commemorate the occasion.
Photo: VJnet http://www.flickr.com/photos/vjnet/4045194677/ Creative Commons 2.0