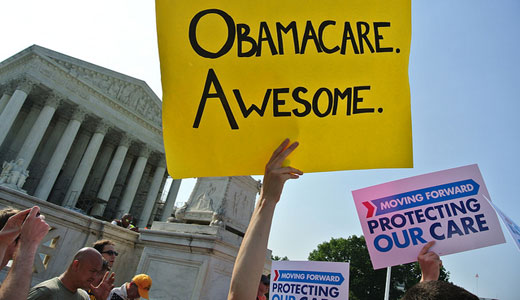 While all of the provisions of the Affordable Care Act, or Obamacare, don't go effect until next year, the president's signature health care law has already had a remarkable impact on health care costs.
One example is the ACA expanded Medicare's competitive bidding program on durable medical equipment, like wheelchairs. While the competitive bidding program has so far saved $202 million in its first year it is estimated to save up to $42.8 billion over the next ten years.
Due to its success, the competitive bidding program is expanding from nine pilot project metropolitan markets to 91 additional markets.
According to a recent Department of Health and Human Services (DHHS) report:
* seniors and people with disabilities in Medicare will directly save a projected $17.1 billion due to lower co-insurance payments for durable medical equipment;
* taxpayers are projected to save an additional $25.7 billion through the Medicare Supplementary Medical Trust Fund due to reduced prices;
* last year alone, people with Medicare saved up to $105 on hospital beds, $168 on oxygen concentrators, and $140 on diabetic test strips;
* and, a real time claims monitoring system, set up to ensure that access to supplies was not compromised, has found that Medicare recipients continue to have access to all necessary and appropriate items.
"Thanks to the Affordable Care Act, we can expand this successful example of health care reform to include more areas and achieve savings on a national level," DHHS Secretary Kathleen Sebelius recently told reporters. "People with Medicare across the country will get the medical equipment they need to live their lives, while saving them and other taxpayers money in the process."
By 2016, everybody will benefit from the competitive bidding program. Markets not directly impacted by the bidding program will also likely have lower rate dues to the downward pressure on costs.
In all, starting July 1 the competitive bidding program will begin to lower costs for over 15 million beneficiaries who rely on diabetes supplies, wheelchairs, hospital beds, and walkers.
While there is some speculation that intense lobbying by the billion-dollar medical-equipment industry may delay expanding the program, seniors and the disabled are optimistic that the program's expansion with begin as scheduled.
The impact of this new program will be felt immediately. For example, in the past, Medicare paid about $78 for 100 diabetes test strips and lancets, just over one month's supply for someone who tests their blood pressure three times a day. Starting July 1, Medicare's cost will drop to about $22 for 100, and the patient's co-pay will drop from about $15 to $5.
The ACA has also begun to slow health care costs generally, even as the economy gains strength and millions of uninsured people begin to receive coverage. In other words, while costs do continue to increase, the rate of increase has slowed compared to pre-ACA levels.
A few factors slowing the increase in costs directly related to the ACA are:
* more patients are beginning to seek more routine services and are visiting doctors' more regularly, which is decreasing hospital emergency room visits, one of the largest costs associated with health care;
* and the administration is ramping up penalties on hospitals that have too many patients returning with problems soon after being discharged, while rewarding hospitals that have a better system of follow up.
The very real, practical benefits most American's will – or are currently – receiving due to the Affordable Care Act is a far cry from what "the sky is falling"-far-right-death panel crowd said would happen.
The competitive bidding program is just one example of what can be accomplished when health care advocates, unions, community groups, and faith leaders are unified.
In fact, the hard won benefits of the ACA – of which only a few have been mentioned above – move us towards a more rational, more equal and more just health care system, and helps lay the groundwork for even further advances in the struggle for quality, affordable health care.
While it isn't single payer universal health care, and while there are some problems with implementation due to right-wing Republican obstructionism, the ACA is already proving that health care costs can be lowered, while benefits are increased.
Photo: Flickr (CC)