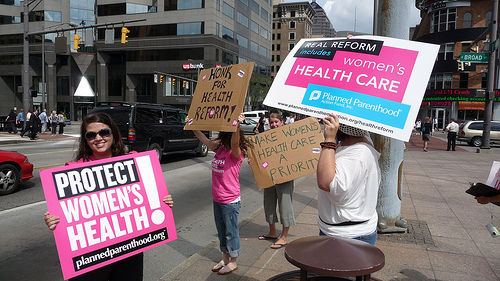 WASHINGTON – Thanks to the Affordable Care Act, starting on August 1, all new health care plans will be required at the start of their plan year to cover a variety of preventive health care services with no co-pay or deductible. That includes a wide range of health care services for women.
Because some preventive benefits are already in place, such as prenatal screenings and mammograms, over 20 million American women have received at least one preventive health care service without having to make a co-payment or pay additional costs.
The provisions going into effect August 1 will make preventive care more affordable to millions of Americans. Karen See, president of the Coalition of Labor Union Women, says coverage is "especially important to women, as they are more likely than men to avoid needed health care, including preventive care, due to cost."
"August 1 is a very significant day: On this day and over the next few years, as an increasing number of health plans come under the law's reach, more and more women will have access to a wide range of preventive services without co-payments or deductibles," she added.
Starting August 1, new health plans, must provide the following preventive services without co-pays or deductibles: Well-woman visits, breastfeeding support, supplies and counseling, contraceptive methods and counseling, screening and counseling for domestic partner violence, screening for gestational diabetes, counseling for sexually transmitted infections, including HIV and screening for HIV itself, as well as DNA testing for high-risk strains of HPV.
CLUW partnered with a number of coalitions and organizations to pass the ACA, as well as on educating women about the law and what its provisions offer after President Obama signed it.
One organization, The National Women's Law Center, provided outstanding resources at each step of the process. Union women, including those whose plans are "grandfathered" under the law, will find NWLC's new fact sheet, How To Find Out If and When Your Health Plan Will Begin Covering Women's Preventive Services with No Co-Pay, especially useful. It's available from their website, http://www.nwlc.org.
"While we celebrate the preventive provisions about to take effect," See cautions,"we must also remember that opponents of the health care law are trying to weaken it and take away benefits. It's incumbent on all of us to make certain that we get the truth out on the positive impact of the ACA on America and Americans, especially women and families, to all the women we can reach."
This author is director of the Cervical Cancer Prevention Works program and the Contraceptive Equity Project, both run by the Coalition of Labor Union Women.
Photo: http://www.flickr.com/photos/progressohio/ / CC BY 2.0