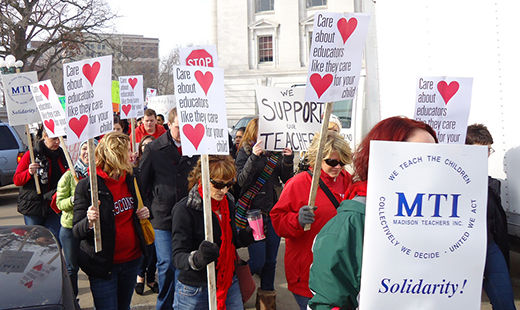 MADISON – 50,000 people packed Capitol Square here on the third day of a virtual occupation of Wisconsin's seat of government. The demonstrators continued what has become an historic action by workers against a governor they say is using budget problems to attack their right to be in unions and bargain collectively.
The Republican majority in the State Senate was unable today to approve , as scheduled, the governor's proposal to strip state workers of their collective bargaining rights because the Democratic minority, walked out, denying a quorum.
Republican Governor Scott Walker responded to the walkout by sending law enforcement officers out to hunt them down. Walker earlier had said he would call out the National Guard on public employees if they protested or went out on strike against his proposals to take away their rights.
"You wouldn't be threatening about bringing out the National Guard if this was just about budget cuts," said Wisconsin AFL-CIO President Phil Neuenfeldt. "The governor's budget proposal is nothing more than a Trojan Horse designed to take away peoples democratic rights."
The same message is coming from the thousands of demonstrators outside and inside the capitol.
"The governor says the taking away of collective bargaining rights is needed in order to carry out fiscal austerity during bad times," said Sarah Mann, an SEIU organizer participating in the demonstration. "He never said, before the election, that he would do this and he pulls this after the state's fiscal bureau found that Wisconsin doesn't even need severe budget cuts."
The fiscal bureau, this state's version of the Congressional Budget Office, issued a report last week saying there was no imminent budget crisis in Wisconsin and that the state could end up the year with a surplus. "That tells you right there what this is about. He is out to crush unions and crush the right of workers to choose unions," said Mann.
Brian Beutler of Talking Points Memo noted today that, "unlike true austerity measures – service rollbacks, furloughs and other temporary measures that cause pain but save money – rolling back workers' bargaining rights by itself saves almost nothing on its own."
Tens of thousands cried out, "Save our state!" They were cheered on by workers, students and others lining the streets to show support. Motorists stopped their cars, honking in support.
"The emotion of seeing this unfold, of being present here is overwhelming," said Jesse Lidbury, reporting for Organizing for America. "We are truly among the people – people who are not coming to see someone speak, but to be heard themselves."
The crowds roared approval as firefighters playing their bagpipes joined the march.
Mann, who slept in at the Capitol last night and demonstrated all day today, said the protests will continue on Friday. "The march at 12 noon will probably be bigger than any so far," she said.

Photo: Wisconsin AFL-CIO