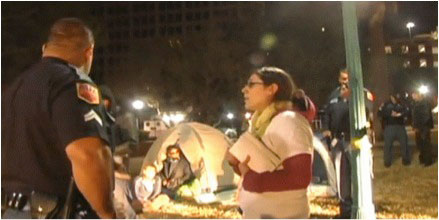 EL PASO – Seven members of Occupy El Paso, in western Texas, were arrested early Tuesday morning, two days after the expiration of the group's permit to stay in San Jacinto Plaza in downtown El Paso.
After a successful, incident-free five-week-long occupation the majority of the group had voted to vacate the Plaza when the permit expired, and to devote their efforts to preparing for other nonviolent protest actions, but about a dozen occupiers opted on their own to remain at the Plaza.
Early yesterday, Monday, November 14, the dozen remaining protesters were outnumbered by El Paso Police, who issued them tickets and then left. Demonstrators and observers thanked police for their professionalism, which had avoided violence or confrontation during the Occupy protest up to that point.
Shortly after 3 a.m. today police arrived with orders to arrest the six remaining protesters at the Plaza. The Occupy members, plus one movement supporter, sat peacefully on the grass and had to be carried into police vans. There were no violent incidents during the arrests. Video of the arrests is available on YouTube.
In recent weeks members of Occupy El Paso had discussed moving the protest to another nearby downtown park in order to allow city workers to put up seasonal holiday decorations at San Jacinto Plaza. However, activists' requests for a permit in the new location were stalled when city officials proposed that issuance of permits be delegated to a semiprivate entity, the Downtown Management District, a group dominated by downtown merchants and corporate interests.
In a statement posted this morning on its Facebook page shortly after the arrests, Occupy El Paso declared, "We are honored that the police, carrying out the will of City Hall which carries out the will of moneyed power, came for us. It shows that our message was heard and more importantly that our act of occupation is a real threat to the political/economic system."
According to the Occupy El Paso statement, "When power arrests and evicts peaceful, truth-telling protesters within eye-shot of several criminal banks, the point is made. When homeless people are fed and cared for within eyeshot of economic institutions that cause mass homelessness, it becomes clear which interests City Hall and EPPD really serve and protect. When people make the choice to live without the dead time of work/consumption, to live as if they were free even under harsh conditions and public ridicule, it reminds this society about everything that it wants to forget about morality, decency and justice, and what this society wants to destroy – the slightest glimmer of something else, something better."
Activists have announced a meeting at City Hall this morning to discuss the status of the seven arrested Occupy members, and they are asking for donations for bail to be sent to www.wepay.com/donate/37956. In their Facebook posting activists declare, "Let the banks, City Hall, and the cops have their little 'victory' today or tomorrow; this is just one battle in a very long struggle to be."
Photo: 3 a.m. November 14, police issue tickets to Occupy protesters in San Jacinto Plaza, El Paso, Tex.