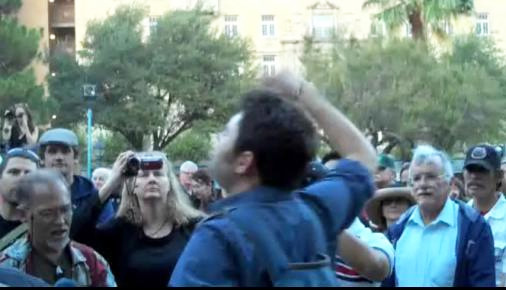 EL PASO, Texas – Occupy El Paso began an occupation of San Jacinto Plaza in downtown El Paso on Monday, October 17, in solidarity with Occupy Wall Street protests in New York and around the country and with marches of "indignados" across Europe and elsewhere in the world.
A preliminary General Assembly at San Jacinto Plaza (also popularly known as "Plaza de Los Lagartos" because it once included an alligator pool) voted on October 7 to begin an occupation of the city's central Plaza today, Saturday, October 15, in spite of the fact that the Chalk the Block Festival, a popular local artists' fair that typically draws tens of thousands of visitors, is also taking place today at the same location. However, during the past week movement activists met with members of the El Paso City Council who expressed strong sympathy with the goals of the national protest movement and offered an alternative plan. Occupy El Paso was granted a 24-day permit to occupy San Jacinto Plaza day and night beginning Monday, Oct. 17 at noon, overriding normal Plaza closing hours of 10:00 pm to 6;00 am. Occupiers will be allowed to have tents, but will not be permitted to stake them down on the Plaza.
Organizers were looking for generators and other equipment to set up the Occupation site, as well as donors and volunteers in the El Paso area who may be willing to work to meet the food, health and other needs of the occupiers. A professional legal team is already in place, and meetings were held last week to train participants on their legal rights and responsibilities as occupiers as well as on techniques of nonviolent activism. Volunteers are advised to check Occupy El Paso's Facebook page, website, or its Twitter feed at #OccupyElPaso.
At the October 7 meeting a spokesperson for the El Paso Teamsters' Union local proudly announced his union's "110% support" for the Occupy movement at the national and local level. At that meeting proposals to occupy "sensitive" local sites like a broadcasting station or the bridges between El Paso and Ciudad Juárez, Mexico were voted down, but participants also rejected suggestions to hold an occupation at a "safer" but less-frequented public park, or in the "free speech" areas of a local university campus.
Photo: peopleworld.org