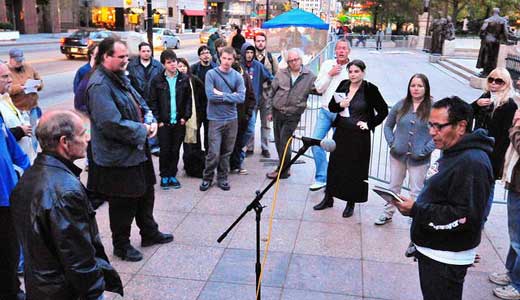 COLUMBUS, Ohio – On Wednesday, Occupy Columbus marched from their permanent site on the west lawn of the Ohio Statehouse to the Columbus Police Department to hold an impromptu dance party in solidarity with California's Occupy Oakland group. Carrying hand-made signs stating "Do your research" and "Let the people speak," demonstrators danced to tunes ranging from Public Enemy's "Fight the Power" to Madonna's "Like a Prayer."
The Nov. 2 demonstration apparently baffled police at the central headquarters.
Connie Everett, local small business owner, said hundreds of police cruisers showed up with sirens flashing before dispersing once they realized the action was peaceful. No arrests were made. Everett also told the People's World that some of the hand-made signs carried by demonstrators were pixelated by Columbus ABC affiliate WSYX, making the signs unreadable to viewers. This included one reading "Kill your TV", a reference to the corporate media's superficial and distorted coverage of the movement.
Occupy Columbus remains in ongoing talks with the Columbus Police Department which has held the line that the occupation is illegal without a permit. "Permits were enacted by the government to stifle our free speech rights. We believe that this is a suppression of our free speech rights," said Everett.
The movement in Columbus has drawn a crowd as diverse as the city itself, ranging from veterans to students, to teachers and firefighters. On Oct. 24, nearly 600 Ohio State University students occupied The Oval on the nation's largest campus before marching to the Columbus City Council building.
Since Oct. 10 a steady group of 50 Occupy Columbus activists have set up tents occupying the public sidewalk surrounding the statue of former "laziness-faire" Ohio Governor and U.S. President William McKinley. The group holds biweekly general assemblies on Tuesday and Saturday which have attendance in the hundreds.
The movement in Columbus has from its inception taken a distinctly local flavor. The first resolution passed by its general assembly was to stand in solidarity for the repeal of Ohio's union-busting Senate Bill 5. Voters in Ohio go to the polls on Nov. 8 to either approve or reject the state Republican legislature's bill that removes collective bargaining rights from the state's teachers, nurses, police, firefighters, and other public employees. Everett told the World, "We need publicly funded elections, fair tax policy, repealing corporate personhood, but we immediately saw that the repeal of SB 5 was the issue we needed to address most urgently."
"Our state has been hijacked by people that are not working for the people – they're working for corporate interests alone … (Ohio Republican Gov.) John Kasich is nothing more than a Wall Street puppet," said Everett. She added, Republican Ohio Sen."Rob Portman is worth 11.5million alone and has voted against every piece of the president's jobs bill."
Referring to Kasich's rejection of nearly half a billion dollars in federal funds to build a high-speed rail system connecting the state's three largest cites, Everett called the move "a political statement to undermine this president at the cost of Ohio jobs."
Photo: David Bezaire and S. Havens-Bezaire // CC 2.0