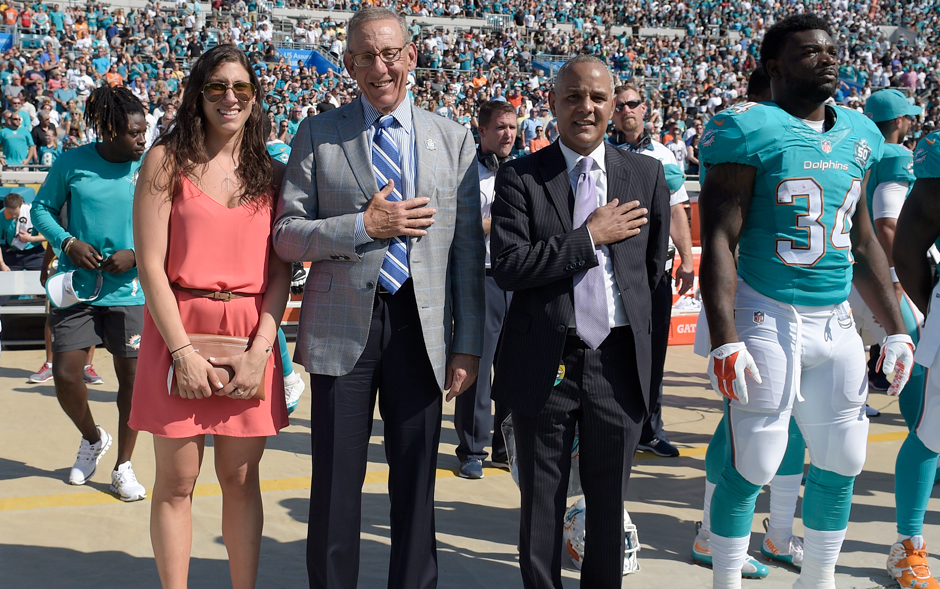 "All of our players will stand."
That was the message delivered by Miami Dolphins owner Stephen Ross, speaking to the New York Daily News Monday, as he was honored by the Jackie Robinson Foundation with its ROBIE lifetime achievement award.
With such a declarative statement, I can't begin to understand how the 77-year-old real estate mogul won the award for being a "longtime champion of equal opportunity," especially after such a 180-turn on his initial support of the players taking a knee during the national anthem, an action started by former 49ers quarterback Colin Kaepernick.
Kaepernick, who remains a free agent while fighting a collusion grievance against the NFL, started the movement to protest racial injustice and police brutality.
So what changed for Ross?
A friendship formed decades ago with another self-proclaimed football team owner—during the United States Football League era—and real estate mogul who now tweets from the White House.
"Initially, I totally supported the players in what they were doing," Ross said. "It's America and people should be able to really speak about their choices." But that changed when he felt the players protest message was against "support of our country and military." — Ross easily mimicked Trump's feelings, which he "eloquently" summed up in a tweet last year:
"If a player wants the privilege of making millions of dollars in the NFL, or other leagues, he or she should not be allowed to disrespect our Great American Flag (or Country) and should stand for the National Anthem. If not, YOU'RE FIRED. Find something else to do!"
"I like Donald [Trump]. I don't support everything that he says. Overall, I think he was trying to make a point, and his message became what kneeling was all about," said Ross. "From that standpoint, that is the way the public is interpreting it. So I think that's really incumbent upon us to adopt that. That's how, I think, the country now is interpreting the kneeling issue."
I'll just throw it out there… What if Ross and other NFL team owners are just nervous that the protests will continue into the next season—and possibly gain momentum?
The national anthem protest was a success.
Players organized, shining a national spotlight on racism and police brutality, pushed NFL owners to the table, and reached an agreement with the NFL to provide $90 million in support of players' social justice causes. And the NFL players union is still standing strongly behind its members.
It's tough for team owners to figure out next steps when sweeping injustice under the rug is no longer an option.
And just as quickly he backtracked his support of the protest a few hours later, saying he won't force his players to stand for the national anthem.
"I have no intention of forcing our players to stand during the anthem, and I regret that my comments have been misconstrued," Ross said in his statement. "I've shared my opinion with all our players: I'm passionate about the cause of social justice, and I feel that kneeling is an ineffective tactic that alienates more people than it enlists.
"I know our players care about the military and law enforcement too, because I've seen the same players who are fighting for social justice engaging positively with law enforcement and the military. I care passionately that the message of social justice resonates far and wide, and I will continue to support and fund efforts for those who fight for equality for all."
Who says public pressure and protests can't change minds?