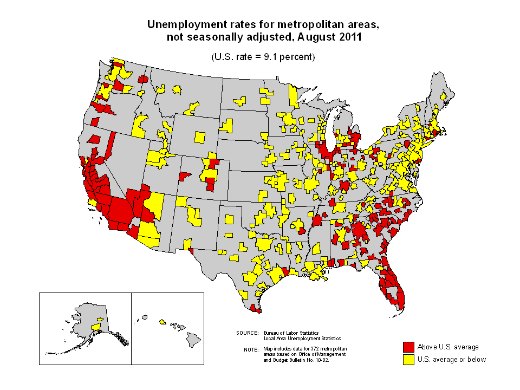 WASHINGTON – The nation's unemployment rate stayed at 9.1 percent in September, said the Bureau of Labor Statistics. Private businesses claimed that they added 137,000 new jobs, but 33 percent (45,000) of those were Communications Workers and Electrical Workers, who returned to their posts after calling off the strike that forced Verizon to bargain in good faith with the two unions.
Additionally, economists are pointing out two more facts about the latest figures; the 37,000 jobs added are short of the 200,000 per month needed just to lower the unemployment rate by one percent. Furthermore, 150,000 jobs per month must be added just to absorb new entrants into the work force.
Taking away the returning unionists, the economy created only a net of 58,000 new jobs last month, Economic Policy Institute analyst Heidi Shierholz said – far from enough to push the jobless rate down. The number is lower than the business jobs-creation figures, because governments cut 34,000 jobs, with 24,400 in local schools.
"At the current rate of job creation, the unemployment rate will soon begin to rise again," Shierholz predicted. "We are mired in high unemployment with miserably low job growth. This country has 14 million unemployed people, and the job growth rate has unmistakably slowed down since the spring."
The number of jobless rose by 25,000 in September, to 13.992 million. That continues the Great Recession's jobless numbers that the Obama administration inherited from the anti-worker GOP Bush government, whose policies produced the crash.
When Bush entered the Oval Office in Jan. 2001, before the first of his two recessions, joblessness was at 4 percent, with 5.956 million unemployed. Neither number has ever been that low since. By the time Bush turned the White House over to Obama, joblessness was above 8 percent and the U.S. was losing 700,000 jobs monthly.
The lack of movement in the jobless rate and the low job-creation numbers were only two of the sobering figures in the jobs report.
Construction added 26,000 jobs in September, but 1.11 million construction workers stayed unemployed, and the jobless rate in that sector was 13.3 percent, reflecting no new construction in housing. That added 1,800 jobs; non-residential added the rest.
Factories resumed their decade-long jobs slide, shedding 13,000 jobs, on top of a 4,000-job loss in August. September saw 13.1 million jobless factory workers (8.4 percent). Temps, hospitals, and doctors' offices added jobs, BLS said. Virtually nobody else did.
The number of long-term jobless stayed high, with 44.6 percent of the unemployed being out for more than six months. And the number of unemployed, underemployed, people forced to work part-time because that's all they could find, and those who have dropped out of job searching totaled 16.5 percent of the workforce, BLS said.