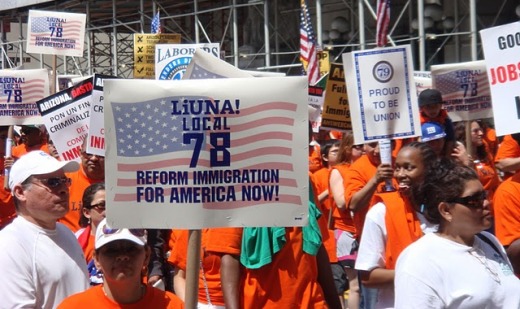 A group of 29 members of the House of Representatives has sent a letter to President Obama asking that he respond to Republican obstructionism on immigration reform legislation, by suspending deportations on a massive scale. The letter, dated Dec. 5, was signed by a multiracial group of congresspersons, all Democrats.
The context is that it is appears more and more unlikely that the House of Representatives will pass any immigration reform legislation in 2013. Whether such legislation will be taken up in 2014, and how it will fare in the House of Representatives, where the Republicans have the majority and Speaker John Boehner adamantly refuses to allow a vote on any bill that does not have the support of a majority of the Republican House members (not merely of all members), is uncertain. Meanwhile, more than 1,000 people are being deported every day, breaking up families, destroying the economic well being of both family members who are deported and those who are left behind, and doing nothing whatever that is positive for the wider society.
The argument that the 29 House members, supporting similar requests from 543 organizations including the AFL-CIO, the Mexican-American Legal Defense and Education Fund (MALDEF), the National Day Labor Organizing Network and United We Dream, is that it makes no sense that people who represent no threat to our country should continue to be deported at a fast clip simply because Congress can't get its act together.
Previously, the president had instructed I.C.E. (Immigration and Customs Enforcement) to prioritize, for deportation processing, only persons who have criminal records or represent a threat to the community. Some people have managed to get relief through this, but not nearly as many as had been hoped, mostly because I.C.E. officials interpreted the criteria of eligibility too strictly. Then in 2012, the president announced the D.A.C.A. (Deferred Action for Childhood Arrivals) program, whereby no deportation action is taken for young undocumented immigrants who had been brought here as minor children for their parents. This has been a more successful program, but leaves out a lot of categories of people. At the beginning of this year, the government announced an easier method for undocumented people who wish to regularize their status through their marriage to a U.S. citizen. This has potential to help thousands, but results are not in yet. This fall, the president announced that undocumented family members of people who serve, or have served, in the United States Armed Forces will have protection from deportation under a legal mechanism called "parole in place."
All these have been useful steps, yet do not help the bulk of the 11 million undocumented immigrants believed to be in the United States. So what the letter from the 29 congresspersons is asking is the following:
"The undersigned members of Congress respectfully request that you suspend any further deportations and expand the successful deferred action program to all those who would be potential U.S. citizens under immigration reform….."
Referring to Republican intransigence in the House, the letter goes on: "the senseless opposition that neither reflects the public will, nor the moral responsibility we hold, should not allow us to prolong the needless suffering of those who could so soon have their place in society fully recognized."
Other organizations advocate a stepwise expansion of deferred action protection, with an expansion of D.A.C.A. to cover parents of the young people protected under the program and also of U.S. citizen children.
The White House has claimed that the president does not have the authority to expand deferral of deportation to more categories of people. But an internal Homeland Security memo dated 2010 outlines a number of measures that can legally be taken.
Some have expressed fear that to do what the Congresspersons are asking would be to invite an attack by the Republican Party and would antagonize the public. Immigrants' rights activists point out that the Republicans are in hyper partisan attack mode anyway, on all issues, and that public opinion did not react negatively to previous steps to protect immigrants from deportation.
Signing the letter were the following congresspersons, all Democrats: Raul Grijalva (Arizona), Yvette Clarke (New York), Madeleine Bordallo (Guam), Tony Cardenas (California), John Delaney (Maryland), Lloyd Doggett (Texas), Eni Faleomavaega (American Samoa), Sam Farr (California), Alan Grayson (Florida), Luis Gutierrez (Illinois), Alcee Hastings (Florida), Filemon Vela (Texas), Eleanor Holmes-Norton (District of Colombia), Rush Holt (New Jersey), Michael Honda (California), Sheila Jackson-Lee (Texas), Barbara Lee (California), John Lewis (Georgia), Alan Lowenthal (California), Gwen Moore (Wisconsin), Grace Napolitano (California), Beto O'Rourke (Texas), Mark Pocan (Wisconsin), Charles Rangel (New York), Bobby L. Rush (Illinois), Jan Schakowsky (Illinois), Mark Takano (California), Dena Titus (Nevada) and Mark Veasey (Texas).
Photo: Labor unions and immigrant rights groups march on May Day in New York City, May 1, 2010. (Libero Della Piana/PW)