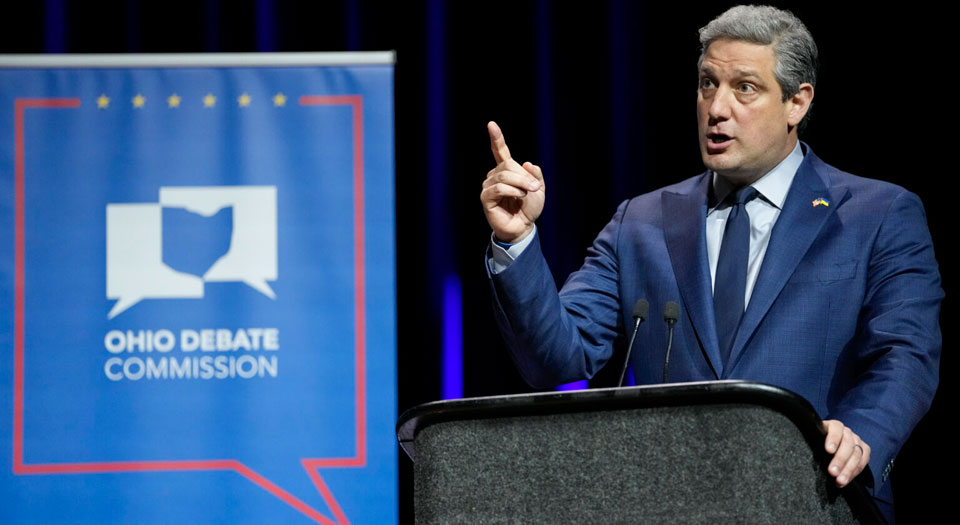 CLEVELAND, Ohio – "Freedom is on the ballot," declared Democratic U.S. Senate candidate Tim Ryan to the roar of energized union supporters. "Freedom is the foundation of this campaign and we are going to defend it and that's why we will win this race."
Ryan is in a high-stakes battle with Republican venture capitalist and right-wing extremist Republican J.D. Vance to fill an open U.S. Senate seat. Control of the Senate, and perhaps the future of U.S. democracy, pivots on Ohio and a handful of battleground states. And this race is "tighter than tight."
"What we have seen come from the Supreme Court is the largest governmental overreach into the private lives of Americans in our lifetime," said Ryan. "A complete violation of a woman's freedom to control their health care. For the first time the Supreme Court took a right away.
"This country is about expanding freedom. Then you go to Justice Thomas's decision and he wants to nullify (marriage equality), and get rid of birth control. This is 2022. This is insanity. Ohio doesn't do crazy," he said.
A Ryan victory would be seismic. The GOP has dominated Ohio politics since the early 1990s. Trump won here in 2020 with 55% of the vote, and no Democrat has won a statewide race since 2010, aside from popular progressive Sen. Sherrod Brown, who Ryan resembles politically.
From 1970 to the 90s, deindustrialization gutted jobs, worker's unions, and frayed labor-community coalitions. Working-class communities never recovered, leaving many, mainly white workers, vulnerable to the ideological tsunami from the right, including influences of racism, sexism, anti-Semitism, and xenophobia.
Pres. Obama won Ohio in 2008 and 2012, but a racist backlash to his election was underway, resulting in a big GOP victory in the 2010 mid-terms. The Tea Party lit a fire, creating havoc in communities and among friends and families and moving Ohio dramatically to the right. In 2016 and 2020, Trump won a large majority among white voters in rural and suburban areas and a majority of white workers, including trade union members, who bought into his racist and anti-immigrant scapegoating.
With a Republican governor and legislative supermajorities, the GOP cemented its rule through extreme gerrymandering. With no accountability, the GOP passed radical legislation far to the right of Ohio public opinion, including banning abortion and laws allowing open carry, stand-your-ground, and arming classroom teachers. Meanwhile, the statehouse became a cesspool of GOP corruption and lawlessness. Democrats and their allies have fought to regain their footing since.
Ryan appeals to what he calls the "exhausted majority." The campaign hopes to assemble a multi-racial coalition, union members, women, the LGBTQ community, youth, and democratic movements working in alliance with and through the Democratic Party. But the "exhausted majority" includes moderates, independents, Republicans, and white voters who Trump won over but who he and the GOP repulsed with extremism, fascism, and lawlessness.
"They divide us racially. By who you love. By who's in a private sector union and a public sector union. Divide, divide, divide. The American people are exhausted with this and want to come together," says Ryan. "It's up to us to be more engaged. If we choose to sit on the sidelines, then the small group of bandits take over the whole shop like they did in the state legislature and U.S. Supreme Court. Average people have to have a say in the country's future."
Because of Ohio's demographics, Democrats cannot win statewide without a big voter turnout in the "three C's," Cleveland, Columbus, and Cincinnati, and in particular Cuyahoga County, African American communities across the state, and support from a substantial number of white voters.
Building the necessary multi-racial coalition to change the state legislature, supreme court, and governor is a multi-year project, according to Harriet Applegate, co-chair of the Cleveland Heights Democratic Party and former head of the North Shore Labor Council. However, "rank and file Democrats are engaged in a high level of activity which I hope will come to fruition on Election Day," said Applegate.
Major Ohio newspapers have endorsed Ryan, as has Rep. Liz Cheney, R-Wyo. Her support mirrors Ryan's experiences in "ruby red" counties meeting Republicans, including local elected officials, who say they and others are "quietly supporting" him. He is not shy about engaging Republicans, as he did at a recent Fox Town Hall, where he found support for popular Democratic policies.
Beloved Cleveland Browns quarterback Bernie Kosar, who hails from the Mahoning Valley, appeared at a Ryan campaign event featuring the Dave Matthews Band. "Whether you're Democrat or Republican, there's been way too much extremism in our country over the last couple of years. That's why we need another quarterback leader in the Senate!" said Kosar, who supported Republican candidates in 2016.
Ryan has traveled non-stop across the state, visiting all 88 Ohio rural and urban counties holding roundtables with workers, farmers, and community residents to discuss his "Workers First" agenda. Worker rights, living wage jobs, green manufacturing, reproductive choice, decriminalizing marijuana, fair trade, and defending Social Security and Medicare, while investing in education, infrastructure, and communities, are priorities.
Represented the Mahoning Valley
For 20 years, Ryan has represented a congressional district from the Mahoning Valley, which includes Youngstown, stretching west to Akron. The area was once a major manufacturing center, but outsourcing, technology, and neo-liberal free trade agreements shut down factories and eliminated tens of thousands of union jobs. Since his election Ryan has advocated policies to rebuild manufacturing, including electric vehicles, computer chips, and other green technology. This process is beginning to happen in Ohio.
For years, Ryan has blamed much of this manufacturing loss on unfair trade pacts and China. Many progressives and Asian American activists have criticized Ryan, saying the anti-China rhetoric and calls for strategic competition with China fuel anti-Asian hate while diverting attention from corporations who outsourced the jobs in search of higher profits. Unfortunately, much of the Democratic Party leadership, including Sherrod Brown and President Biden, share this flawed approach.
Ryan's opponent, J.D. Vance, of "Hillbilly Elegy" fame, is profoundly unpopular, however, and comes across as aloof, tone-deaf, and inauthentic. He matches his contempt for green technology with half-hearted calls to increase oil, coal, and natural gas extraction.
At one time, Vance was critical of Trump, writing, "my God, what an idiot." But when he decided to run for Senate, he groveled for Trump's support. At a Youngstown rally, Trump humiliated Vance, calling him an ass-kisser. Since then, Ryan's mantra has been, "Ohio needs an ass-kicker, not an ass-kisser."
Rebuilding the labor movement comes with rebuilding manufacturing, according to Ryan. "It's like I've always said: the labor movement is never down—it's either up, or it's getting up. And on November 8, we're going to tip the balance of power in this country back to the workers," he says. Organized labor has responded with a significant mobilization of union households.
Marjorie Chambers, who was attending the union rally, is a UAW Local 1005 retiree and chair of the NE Ohio UAW CAP Council covering 11 counties. "Ohio is not for sale. Tim Ryan is going to support unions, working families, the right to organize, to protect our Social Security, and he's for the working people," said Chambers, who worked in the nearby Ford assembly plant. "We've been running phone banks since August to UAW members and did over 70,000 postcards to active workers and retirees. When he wins, we win."
The UAW GOTV effort is more extensive than in previous years, said Chambers and the response to the phone calls has been better. She is also a precinct captain and sends postcards to neighbors in Cleveland's 2nd Ward.
The main issues for Chambers are reproductive rights and the economy. "I came up during that time in Ohio when (abortion) was illegal. I have friends who died or had what I call a 'backyard doctor' perform a procedure and they're not right to this day."
In Columbus, the local chapter of the Alliance for Retired Americans was busy writing postcards to union members and phone banking. "We're focused on three state supreme court races, Tim Ryan, statewide offices, and state legislative candidates," says Jamie Schumaker, the lead Ohio AFL-CIO organizer for the Central Region. "We've already sent 100,000 post cards for Ryan and 20,000 more post cards for the supreme court races."
"We are working seven days a week door knocking and getting out the vote of members we have identified as Democrats or leaning our way. It's all labor to labor. So far, the conversations at the doors have been great," said Schumaker. In addition, unions like AFSCME and CWA are doing their mailings.
"Our hardest reach are members that aren't into anything political to help them understand how important voting is," she said. "We show why a particular candidate supports workers' rights and stress the importance of the PRO-Act. We'll only win that if we get someone like Tim Ryan in there. J.D. Vance will never vote for something like that."