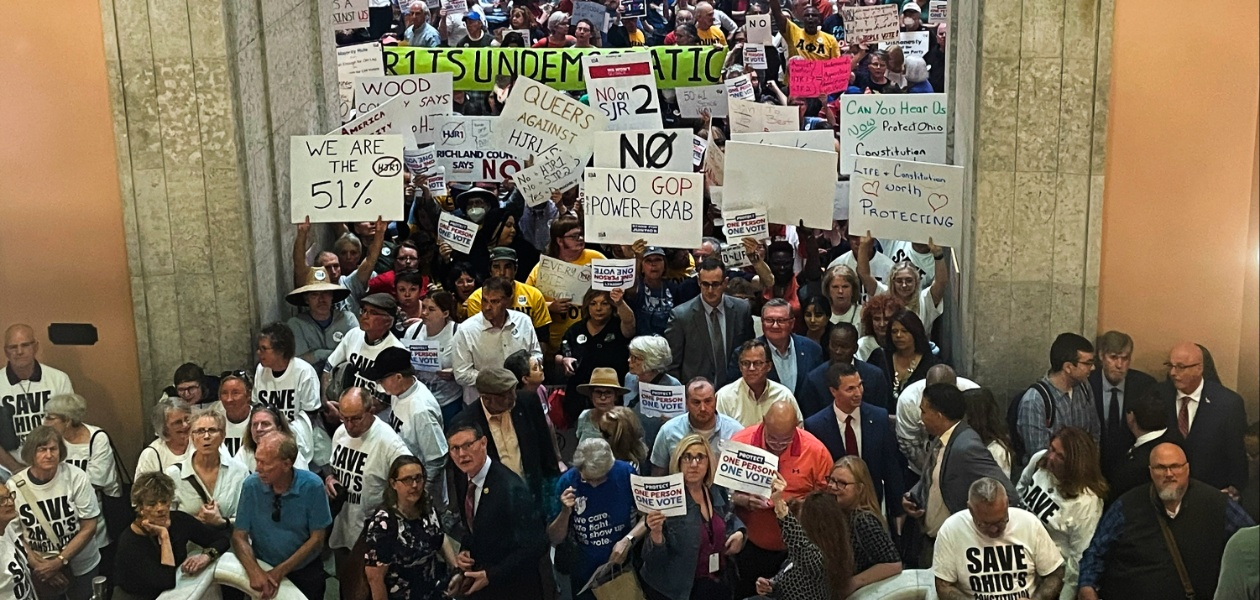 CLEVELAND—MAGA Republicans have stirred up a hornet's nest in Ohio. Their scheme to strip citizens of the right to direct democracy with an amendment to the state constitution has Ohioans voting in droves against Issue 1. And that spells trouble for the Aug. 8 referendum.
Over 57% of Ohioans oppose Issue 1, a new poll indicates, including a significant majority of Democrats, independents, Libertarians, and a plurality of Republicans. Opposition spans every demographic and region of the state—even gun owners. Only 26% of voters solidly support the measure.
The early vote, which ends Aug. 6, is already five times the last August special election and will surpass the turnout for the May 2022 U.S. Senate primaries. More people turned out in Butler County, located north of Cincinnati and home to Sen. JD Vance, R-Ohio, in the first week of early voting than in the entire 2022 special election.
Dennis Willard, communications director of One Person, One Vote, views the poll as a resounding confirmation that Ohioans do not want to make it harder to amend the Constitution. "The fact is, this is not a partisan issue on the 'no' side," Willard said. "Republicans, Democrats, Independents all oppose Issue 1."
Issue 1 would amend the state constitution to require support by 60% of voters to approve constitutional amendments rather than the current simple majority, a right to direct democracy and citizen-initiated referendums dating back to 1912. Only 41% of voters would be able to veto the majority will.
Worse yet, Issue 1 contains a "poison pill" by increasing signature requirements to get an amendment on the ballot. Petitioners would need 5% of voters in the last governor's race from all 88 counties instead of the current 44.
"(Issue 1) empower(s) tiny slivers of Ohio's population to veto the rest of the state from even HAVING an election at all," said David Pepper, former chair of the Ohio Democratic Party. The amendment allows a single small county of 15,000 people to effectively kill Ohio grassroots amendment proposals for a state with 11 million people.
Issue 1 is an act of desperation by MAGA Republicans to block the passage of an abortion rights amendment this November that would undo one of the strictest anti-abortion laws in the nation passed by the GOP legislature. The law bans abortion after six weeks without exceptions.
However, most Ohioans support the right to an abortion. Ohioans for Reproductive Freedom collected 700,000 signatures, nearly twice the legal minimum required to get on the ballot. The coalition urges voters to vote "No" on Aug. 8 and "Yes" in November.
Republicans illegally scheduled the Aug. 8 special election in violation of a law they had just passed to do away with August special elections. "Extremist politicians in Columbus looked at the numbers, and they said, 'Hey, we don't think we can win,'" said Kellie Copeland, Director of Pro-Choice Ohio. "'So, we're going to pull a dirty trick and hold a special election when people are on vacation and not paying attention. So, we can take away the right for people to have a say in what's in our Constitution in the future and in our reproductive rights and health care decisions now.' That's why Ohio is on the front lines of the fight for abortion rights in America."
The Ohio GOP is one of the nation's most lawless state parties. Voters passed referendums to eliminate partisan gerrymandering of state legislative and congressional maps, and the state supreme court struck down GOP maps seven times. The GOP contemptuously ignored both and imposed a map consolidating their supermajorities.
The Ohio GOP, unaccountable to voters, is imposing autocratic one-party rule through extreme voter suppression and partisan gerrymandering precisely because their agenda is so unpopular.
"We can kind of do what we want," arrogantly declared Ohio Senate President Matt Huffman.
That's not sitting well with voters. Seventy-five percent of those who oppose Issue 1 think the state is on the "wrong track," indicating deep dissatisfaction with Republican stewardship. Ohioans demanded citizen-initiated amendments to check the power of out-of-control state governments like this.
Corrupt corporate and special interests have captured the entire state government. Now, the MAGA legislature is driving over the right-wing loony ledge, adopting laws entirely out of step with Ohio voters, including the extreme anti-abortion bill, open carry of firearms, arming classroom teachers, stripping the state board of education of independence, and legislation to defund public education by diverting state money to private and religious schools.
From illegally gerrymandered districts, GOP representatives passed bills shoveling public monies to one sweetheart donor after another. Predictably, the GOP is now embroiled in the biggest bribery scandal in state history. Utility corporations spent $60 million electing a GOP supermajority to pass a $1.3 billion bailout of two nuclear facilities. Larry L. Householder, the former Ohio House of Representatives speaker, was sentenced to 20 years on racketeering and bribery charges stemming from the scandal.
Issue 1 opponents aren't taking anything for granted. The One Person, One Vote coalition uniting organized labor, reproductive rights, health care, civil rights, legal, civic, people of faith, and other pro-democracy organizations are working around the clock with phone banking and door-to-door canvassing to ensure a big turnout.
Opponents also include former governors, Republicans Bob Taft and John Kasich, Democrats Dick Celeste and Ted Strickland, and five former Democrat and Republican attorneys general.
"What's amazing is that this original crowd (that protested at the Capitol) has now grown into a far bigger pro-democracy army, doing all it can to make sure Ohio votes 'No' on Issue 1 between now and Aug. 8," said Pepper.
Ohio Right to Life, the Chamber of Commerce, the Farm Bureau, and the Buckeye Firearms Initiative are spearheading support for Issue 1. The measure is bankrolled by dark money, including right-wing billionaire Richard Uihlein from Illinois, the owner of Uline Co. Uihlein was a major funder of the Jan. 6 insurrection and election denier and anti-abortion candidates.
Uihlein is the biggest donor of the Foundation for Government Accountability, which is funding campaigns to require supermajorities to pass constitutional amendments in Ohio, Arkansas, North Dakota, and elsewhere. If Issue 1 passes, MAGA will be emboldened to do the same in other states, which makes defeating Issue 1 a national battle.
GOP Secretary of State Frank LaRose has been leading the charge on Issue 1, despite being responsible for overseeing the election. He's repeatedly tried to tip the scales in favor of the referendum. LaRose is running to oppose progressive Sen. Sherod Brown, D-Ohio, in 2024, a critical race that could determine the U.S. Senate majority, and attempting to consolidate the anti-abortion vote for the GOP primary.
"Ohio is ground zero for the fight for abortion rights in this country, and nowhere is that clearer than the race for U.S. Senate," said Democratic state House Minority Leader Allison Russo. "Next year, we have to reject whatever out-of-touch candidates make it through this messy Republican primary."
Despite recent GOP domination of state politics, Ohio has a long and proud tradition in the fight for the democratic rights of workers, African Americans, other people of color, and women. Issue 1 is bringing that great history to the fore.
"We want to ensure that Ohio remains a beacon of liberty, opportunity, and progress," said award-winning recording artist John Legend, a native of Springfield, Ohio. "No matter the forces that may try to shut you up, try to hold you back, try to turn back the clock. We know the value of our voice. We know the value of our vote. We are the history of standing up for what is right."
We hope you appreciated this article. At 

People's World

, we believe news and information should be free and accessible to all, but we need your help. Our journalism is free of corporate influence and paywalls because we are totally reader-supported. Only you, our readers and supporters, make this possible. If you enjoy reading 

People's World

 and the stories we bring you, please 

support our work by donating or becoming a monthly sustainer today

. Thank you!