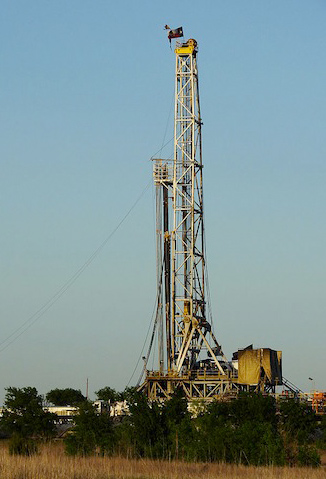 SARDIS, Ohio – A natural gas fracking well began leaking on Dec. 13, 2014, driving 30 families from their homes. The leak prompted the evacuation of the well's field staff and residents within a 1.5-mile radius around the well near Sardis, Ohio. Sardis is a small community, located along the Ohio River about 160 miles east of Columbus and 40 miles south of Wheeling, West Virginia. The well is located at the Stalder 3UH location, operated by Triad Hunter, LLC outside of Sardis. Triad Hunter is a wholly-owned subsidiary of Magnum Hunter Resources Corporation.
The leak from the well pad shot gas and vapors high into the air, prompting not only the evacuation of nearby residents but causing authorities to impose a 5,000 feet NO FLY ZONE above a three-mile radius around the leaking well. The evacuation and NO FLY restrictions were ordered until the well could be capped and repaired.
Eventually, families were permitted limited access to their homes, Dec. 17, during the daytime – between 7:00 a.m. – 6:00 p.m. – with the assistance of the Sardis Volunteer Fire Department. Emergency accommodations had been provided for families and, on Dec. 17, a Family Assistance Center was set up in nearby Lee Township Building to provide a larger and more relaxed place for the evacuated residents. But some residents, according to other reports, have temporarily taken up quarters in hotels/motels as far south as Marietta, Ohio, which is over 40 miles away.
Crews from as far away as Texas (such as, Wild Well Control) were brought in to contain and repair the spewing well. Representatives of the involved companies continued to meet daily with community and government agencies (Sardis Volunteer Fire Department [Sardis VFD], Monroe Co. Emergency Management, Ohio Emergency Management, Ohio Environmental Protection Agency, and Ohio Department of Natural Resources Division of Oil and Gas) to discuss ongoing efforts to secure the well site, maintain safety of responders and residents through continuous air monitoring with zero gas detection outside the well pad site.
On Dec. 23, the residents who were hoping to be back in their homes learned that was not to be. They were told that they would have to wait another day. Rocky Roberts, senior vice president of Operations for Triad Hunter, said, "The well head is still blowing gas … but it is blowing straight up into the air." Roberts went on to say that, when the well is capped, they will still have to do some air monitoring to make sure it is safe.
After the crews had been busy all that day trying to cap the leaking well-head, the Ohio Department of Natural Resources said the leak had been brought under control. Bethany McCorkle, spokesperson for the ODNR, said that a new well-head had been installed and was being pressure tested. She added that the ODNR still plans to investigate to determine what caused the well to begin leaking uncontrollably.
By the end of the day, the families who had been forced from their homes for over a week were finally allowed back. Nate Fluharty of WTRF reported that most of the families were happy to be back in their homes in time for Christmas.
Photo: Pictured here is the Texas Barnett Shale gas drilling rig near Alvarado, Texas. (Wikipedia)