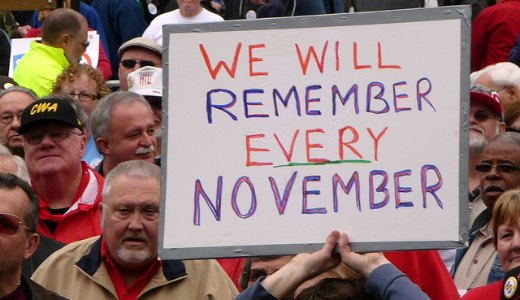 CLEVELAND – Facing calls by area members of Congress for a Justice Department investigation, Secretary of State John Husted retracted a threat not to process mail ballot applications sent to voters by the Cuyahoga County government.
Last week Husted, elected last November on the Republican slate headed by Gov. John Kasich, issued an order prohibiting county boards of elections from sending unsolicited mail ballot applications to voters. Since 2006, Cuyahoga and five other mostly Democratic urban counties had mailed the applications as a way to encourage voting. Husted based his order on House Bill 194, enacted earlier this year by Kasich and the Republican controlled legislature.
The law stops elections boards from sending unsolicited mail ballot applications to voters and contains a host of other restrictions limiting ballot access. It has sparked outrage, especially in the African-American community as well as in labor and the Democratic Party circles. The measure faces a repeal effort by Fair Elections Ohio, led by former Secretary of State Jennifer Brunner. The group is circulating petitions to place the measure on the 2012 ballot. If 231,147 valid signatures are collected by Sept. 29, the law will be on hold until next year's election.
If not enough signatures are collected, the law goes into effect Sept. 30. Husted's order was aimed at stopping county elections boards from sending out the mail ballot applications before that deadline.
To circumvent the order, Cuyahoga County Executive Edward Fitzgerald announced plans to print and send the applications to 650,000 active voters with return postage paid by the county government.
Asked Sunday what legal power he had to stop Fitzgerald, Husted said, "We could look at prohibiting the board from processing the applications…There are a lot of things that could be done that we're exploring."
Fitzgerald responded by sending letters to U.S. Senators Sherrod Brown and Rob Portman and to Reps. Marcia Fudge and Dennis Kucinich, urging them to refer Husted's threats to the Justice Department to investigate possible violations of federal voting rights laws.
Both Fudge and Kucinich immediately complied with the request. In his letter to U.S. Attorney Steven Dettlebach, Kucinich wrote:
I ask that you conduct an investigation of all tactics being contemplated by Secretary Husted, his assistants, and his staff, including the stated threat of a ballot processing prohibition and all other tactics his office is exploring to suppress the vote. I ask that you take all appropriate administrative or judicial actions, alone or in concert with other U.S. Attorneys, to enjoin any stated or unstated actions which would suppress, discourage, or otherwise disenfranchise the electorate in Cuyahoga County or other counties in the State of Ohio, whether within or outside your jurisdiction.
Husted's proposal was opposed in an editorial in the Plain Deale,r and a few hours before the Cuyahoga County Council backed Fitzgerald in a 10-0 vote, including the votes of two Republicans, he withdrew his threat.
The mail ballot applications "will be processed," said a spokesman for the secretary. "The voters are not going to be affected negatively in some way."
Photo: Progress Ohio // CC 2.0