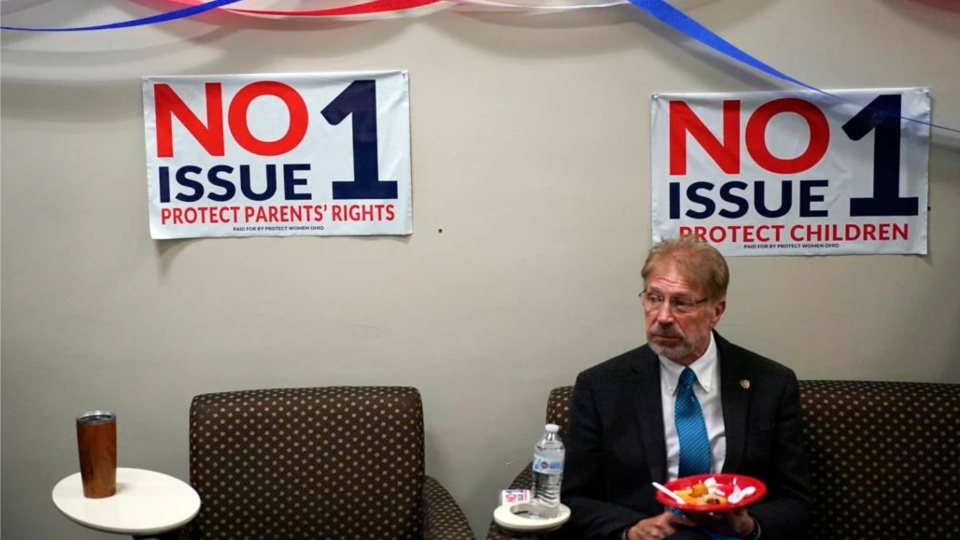 COLUMBUS—Immediately following the passage of Issue 1 codifying reproductive rights in Ohio earlier this month, Republican Speaker of the State House of Representatives Jason Stephens declared that "the legislature has multiple paths that we will explore to continue to protect innocent life." Stephens vowed, "This is not the end of the conversation."
This was a rare example of GOP honesty when it comes to looking for ways to disregard the will of Ohio voters. Twenty-seven Republican Ohio General Assembly members decided to put their names on a statement condemning the people of this state for their supposed ignorance in passing an amendment that was—according to them—so unsatisfactorily worded.
Ohio Republicans appear determined to let their base of voters know they intend to deny Ohioans reproductive healthcare and bodily autonomy.
One group of Ohio lawmakers has threatened to cut the courts out of having any say on changes to existing laws that Issue 1's passage may require. Rep. Jennifer Gross, R-West Chester, along with three other legislators, released a statement on Nov. 9 that declared:
"To prevent mischief by pro-abortion courts with Issue 1, Ohio legislators will consider removing jurisdiction from the judiciary over this ambiguous ballot initiative. The Ohio legislature alone will consider what, if any, modifications to make to existing laws based on public hearings and input from legal experts on both sides."
The full statement attempted to undermine voter confidence in the legitimacy of the statewide election with unsubstantiated and xenophobic remarks that "this is foreign election interference and it will not stand."
Rep. Bill Dean, R-Xenia, made the startling claim that the popularly-approved amendment's language would "defend rapists, pedophiles, and human traffickers" with no explanation given as to how. Meanwhile, Rep. Beth Lear, R-Galena, scolded Ohio voters for trying to "overturn the God-given rights with which we were born."
An initial draft legislation to make good on Gross's threat was first reported by The Plain Dealer/Cleveland.com on Nov. 13. The draft takes "all jurisdiction" from all courts within the State of Ohio and gives "exclusive authority" to the Ohio General Assembly when it comes to any matter related to Issue 1. The proposed act also renders any violation by a judge of the act an impeachable offense.
The proposal reads like a total overthrow of the separation of powers, and judging by the opinions of most experts, it has no future. University of Cincinnati Political Science Prof. David Niven referred to the antics of Gross and other MAGA Ohio lawmakers as a "stunt." Any litigation in response to the legislation would eventually have to be approved by the same judiciary it seeks to strip of jurisdiction.
WEWS and the Ohio Capital Journal reported that multiple constitutional law experts have stated that Gross' proposed amendment is unconstitutional, if not laughable.
At the very least, one person is taking Gross seriously: herself. At a town hall in the town of West Chester, Gross continued to lecture voters on how they had made a mistake in exercising their rights. She reportedly said she wasn't "sure voters knew what they were doing." When one of her constituents challenged her on whether Ohio Republicans should overturn the will of voters, Gross asked the citizen whether she had voted to "rip babies' arms off."
While Gross and her MAGA colleagues will continue saber-rattling in the months to come with proposals that are legal non-starters, it would be unwise to ignore the anti-choice movement entirely.
Ohio Republicans hold the majority in both chambers and the state Supreme Court has a 4-3 Republican majority. Ohio Senate President Matt Huffman, R-Lima, has been exploring the possibility of putting another amendment to the Ohio constitution on the ballot next year that would reverse Issue 1. This attempt would have to be filed with the Secretary of State by Dec. 20 for the 2024 primary election ballot in May.
Then there are the right-wing fascist groups like End Abortion Ohio (EAO) that are openly discussing their desire to overturn the democratic will of Ohioans. EAO is a brazenly Christian nationalist organization which declares on its website that it is committed to "abolishing abortion to the glory of God."
EAO spokesman Austin Beigel stated that his organization is working with Ohio lawmakers to propose legislation using the 14th Amendment of the U.S. Constitution to rule that Ohio is in violation of the equal protection clause.
There is already disagreement brewing among the leaders on the extreme right, however, as to what is the best way to disregard voters. It seems that Speaker Stephens is banking on the short attention span of Ohioans. After swiping aside the obviously nonsense attempt of Gross and her particular gang of extremists by describing it as "schoolhouse rock stuff," he indicated that he intends to play the long game.
Ohio Republican lawmakers would do well to remember that it wasn't just progressive voters or left-wingers who rejected their attempt to control Ohioans' reproductive rights. As Gabriel Mann of Ohioans United for Reproductive Rights pointed out, "Issue 1 was passed thanks to a huge wave of Ohio voters, including many thousands of Republicans, who don't want to see government intrusion into people's lives."
He said, "At face value, this was about abortion, but it was definitely also about significant abuse of office by many elected officials in Ohio who have been exhibiting some very bad behavior."
This is a story about Ohioans fighting for their democratic rights over their own bodies against Republicans seeking to strip them of their bodily autonomy. The harder Republicans fight to ban abortion, they risk proving themselves enemies of Ohioans of every political persuasion.
It is difficult to say which of their attempts, if any, would gain any traction in tearing away the rights Ohio voters just guaranteed for themselves in their own constitution. There is also little doubt that Republicans in the state will keep trying to come up with ways to push back the dial on the progress made on Nov. 7.
Organizers, journalists, and every concerned citizen would do well not to ignore the work the far right is putting into abolishing abortion and reproductive healthcare rights in Ohio. While it is difficult to take the threats of the likes of Gross and other such fascists seriously, there are others within the Republican Party who are far more capable.