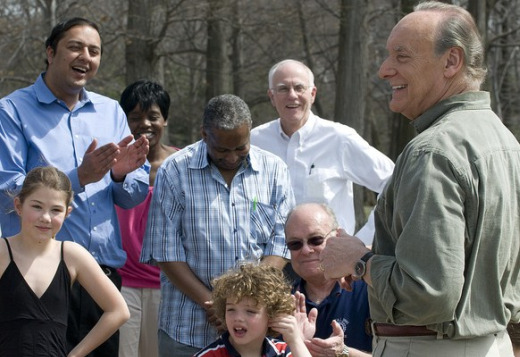 In a blistering attack, Ohio Lt. Gov. Lee Fisher, Democratic candidate for U.S. Senate said Rob Portman, his Republican opponent, had "sold out American workers" and was the "chief architect" of trade and budget policies that cost hundreds of thousands of American jobs.
Speaking to leaders of the Cleveland labor movement at a breakfast fund raiser Tuesday, Fisher blasted Portman for television ads blaming the administration of Gov. Ted Strickland for the loss of 400,000 jobs during the current recession.
"Everyone knows that this is not a state recession," Fisher said. "It's a national recession caused by the misguided policies of the Bush administration."
Portman served as National Budget Director and chief trade policy advisor to President Bush.
"He did not just support those policies," Fisher said. "He wrote them."
Fisher said that despite the crisis, Ohio had won the coveted Governor's Cup Award for the past three years given to the state with the most new or expanded capital projects by Site Selection Magazine, a corporate economic development publication. Fisher served as state director of economic development as well as Lt. Governor.
"If you want to see the jobs we created, you can go to any part of Ohio," he said. "If you want to see the jobs Portman created, you will have to go to China."
Portman's policies, he said, included tax incentives for overseas investment and budget plans that included massive tax cuts for the wealthiest two per cent of Americans.
"This is the clearest choice of U.S. Senate race in the country," he said.
Portman is the top recipient of contributions from Washington lobbyists of all candidates in the U.S., Fisher said, and the second highest recipient of funds from Wall St.
"Winning this seat is the top priority for the Republicans," he said. "They hope Portman will prove the people have forgot about Bush. They know how important Ohio is for the presidential election."
Portman has been running television ads for eight weeks, but the ads are paid for by American Crossroads, the right wing group set up by Karl Rove, "George Bush's top political hit man," Fisher said.
Nonetheless, Fisher said, the polls show the race is a dead heat.
"We have to get our message out," Fisher said, calling for tax credits to corporations that create domestic jobs. "We can't match the Republican money, but if we get our message out and conduct a door to door grassroots effort, we will win."
Photo: U.S. Senate candidate Lee Fisher, Democrat, right, speaks on the campaign trail. (FisherForOhio)