LIMA, Ohio—Last week, workers gathered in the summer heat to protest the decision of Cenovus, owner of a large oil refinery here, to bring in around 3,000 workers from outside Ohio to work on the facility during its scheduled maintenance shutdown.
In the past, this work has been contracted to local or Ohio workers, most of whom are in unions that guarantee a living wage and benefits. The move to bring in non-union workers, mostly from Texas, has thousands of Lima residents who've been working at the plant for years, some for generations, asking what they're supposed to do for work.
Every five years, the Lima refinery ceases operations for scheduled maintenance. It is currently in pre-shutdown and scheduled to officially shutdown in September for six to ten weeks. In June, Cenovus made the unexpected announcement that for the first time the contracts for the maintenance work would be given to thousands of out-of-state workers.
Cenovus Energy
The company has carefully downplayed the financial aspect of the decision, telling Lima News that while "cost plays a role in the decision process—in reality, safety and quality were the main drivers."
Cenovus maintains that it selected the contractors' bid based first on safety, then skill, then price. However, the shutdown work has consistently been done by in-state workers, who point out they've worked 21,000,000 hours since 2005 without a lost-time injury and have more skill and experience since they've already been doing the job for years. This has led workers and Lima residents to question the company's motives.
Cenovus Energy Inc. is a Canadian firm with natural gas and oil production operations in the Asia Pacific region and Canada, along with refining, upgrading, and marketing operations in Canada and the U.S. The Lima oil refinery was owned by Husky Energy until the company was bought out by Cenovus on January 1 of this year.
According to Cenovus's quarterly report, absorbing Husky Energy's assets, along with increased demand, has increased output from 162,300 barrels per day to 435,500. For context, the Lima refinery processes 165,000 barrels per day—more than Cenovus's entire daily amount prior to absorbing Husky Energy.
Lima Jobs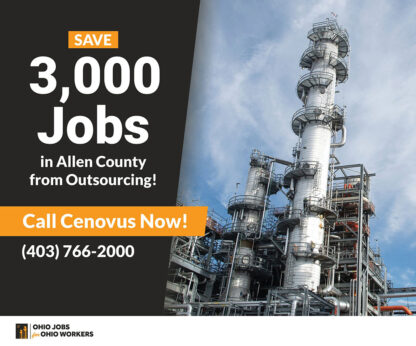 Tim Luce Wireman joined Local 329, an affiliate of the Laborers' International Union of North America (LIUNA), in 1973. His family has worked at the refinery for four generations, and he claims he's never seen anything like this.
In an interview with Real Progress In Action, he said, "We've never had an owner that's come in here without any warning and said, 'By the way for the Lima, Ohio community and for the county and the surrounding counties and even the state of Ohio, we're going to take your jobs as Ohio workers, and we're going to hand them to people from out of state.'"
Lima was long an industrial hub, but the area has seen many of its industrial and manufacturing jobs leave over the years—an extension of the familiar "rust belt" stories. Until the 1950s, Lima had factories like train manufacturer Lima Locomotive Works and an earthmover crane plant, Ohio Steam Shovel Co. Until 1980, there was a school bus and hearse manufacturer, Superior Coach Company. Then, in 2001, the Philips factory just outside of Lima moved to Mexico.
The oil refinery, however, has weathered competition, globalization, and deindustrialization.
It was constructed over 130 years ago, in 1886. It has switched ownership several times over the decades but never ceased operations. Now it produces almost two billion gallons of refined petroleum every year, processing 6.9 million gallons of crude oil every day. Operating 24 hours a day, the Lima refinery accounts for a quarter of all gasoline consumption in Ohio and also processes diesel, jet fuel, residual fuels, and petrochemical feedstock.
Ohio jobs for Ohio workers
The Lima oil refinery is key to Ohio's gasoline supply and the local economy of Lima. Residents worry that bringing in thousands of out-of-town workers will funnel millions of dollars of salaries and taxes away from Ohio and the local economy.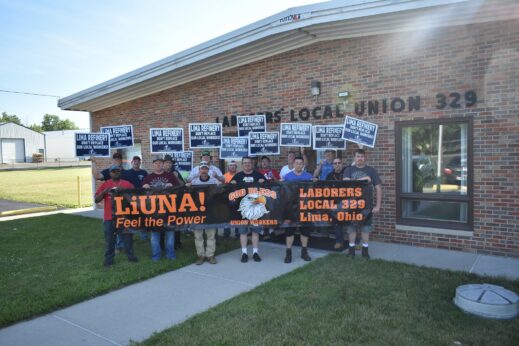 The statewide coalition started in response to the decision, Ohio Jobs for Ohio Workers, is trying to reverse Cenovus's decision. They estimate that 1.7-1.8 million hours—$70 million in wages (not including pensions or benefits)—will be lost for Ohio workers.
The group has been holding rallies and information events and going out in the community to gain support. But when they held a town hall for Cenovus to plead their case, the company didn't show up.
While Lima's city council has gotten on board, they still face a conservative backlash with a hostile chamber of commerce and county commissioners who side with Cenovus. Worker and organizer Taft Mangas says it's essential to remember that they're in "one of the reddest parts of Ohio." But even the media has been silent on the situation; only local news in Lima has kept up as things have developed.
Mangas says that they'll continue to escalate as time goes on, not ruling out a work stoppage. Right now, there's a petition with 1,600 signatures and rallies being held outside of the refinery regularly, but Cenovus hasn't yet given any indication of reversing the decision to contract thousands of non-union members from out of Ohio.
Luce Wireman emphasized the hard work and dedication of Lima's refinery workers who've kept the plant running over 130 years: "When it's 10 below zero with winds blowing at 20 or 30 miles-per-hour, you get the call at two in the morning, 'Hey we need a crew out here to help thaw the lines or otherwise we're going to have trouble,' the Laborers and the Pipefitters and the Boilermakers and all of the trades come running."
He said, "This is just a real shocker I think to everyone that lives in our area. It doesn't matter what kind of political persuasion you are because everybody agrees that these should be Ohio jobs for Ohio workers."