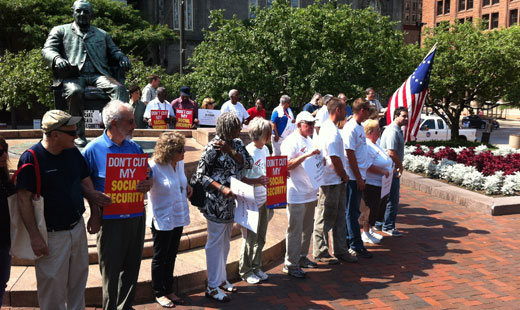 CLEVELAND – Protesters from Cleveland, northeast Ohio, and as far away as Pittsburgh, formed a human chain in Cleveland Public Square, July 2, to protest the "chained CPI' cuts in Social Security benefits proposed by Congress and the Obama administration.
The 150 participants came from Toledo, Canton, Akron, Columbus, Ashtabula, and even Pittsburgh, as well as Cleveland. They were part of at least 45 "human chain" protests around the country.
Norm Wernet, president of the Ohio Alliance for Retired Americans, chaired the rally held in the square. He spoke of the impact the proposed cuts would have on millions of retired workers who are living on Social Security benefits. He noted that the cuts would be as much as $800 a year by 2014, just a year from now.
Working America spokesman Seran Norris said, "Social Security did not add one cent to the debt crises" and added, "Don't try to solve problems with the economy on the backs of retirees."
"We worked and paid for our Social Security retirement benefits every day of our working lives," Norris said.
Petey Talley, Ohio AFL-CIO secretary treasurer, said, "In six years, retirees will see a $6,000.00 loss in benefits. Benefits need to be raised, not lowered, and the way to keep the trust fund solvent is to raise the cap on payroll taxes so that higher income people who receive the highest benefits pay their full share of the cost."
Pam Rosado spoke of the health crises suffered by her family. Only with the help of Social Security benefits was her family able to survive, she said.These benefits are critical not only for survival of families, she said, but for the survival of entire communities, and struggling small businesses depend on income provided by Social Security.
Rep. Marcia Fudge's spokesperson Beverly Charles said the Congresswoman opposed the chained CPI cuts.
Wernet followed up by noting that Northeast Ohio Reps. Fudge, Tim Ryan and Marcy Kaptur, are opposed to the chained CPI, and that Ohio Sen. Sherrod Brown is co-sponsor of a petition being circulated opposing the cuts. All are Democrats.
Wally Kaufman, vice president of the OHIO Alliance for Retired Americans, who lives in Ashtabula, said, "Chained CPI is the name given to the proposed cuts by Wall Street corporate economists to confuse people on what they are trying to do." If adopted, he said, "chained CPI will reduce the cost-of-living increases that were built into Social Security benefits for the 78 years of its existence to keep pace with rising inflationary costs for everything we buy."
"They try to justify these cuts with the false claim that workers have already cut costs when they retire, so they don't need full cost of living increases," Kaufman said. "Try telling that to millions of workers and their families who are trying to live out their retirement years with the dignity and comfort they worked so hard to earn."
Kaufman notes that Social Security, won as part of the New Deal reforms, is now under attack by the one percent billionaires, their think tanks, and paid political handmaidens. The graduated Income tax, another New Deal measure passed to increase the tax burden on the super-rich and lower it on the lowest paid workers, is also under attack in many states, with the Republican- controlled Ohio state government and legislature giving a 20 percent cut in the top income tax rates and increasing sales taxes on most products working families must buy.
Says Kaufman: "Wall Street corporate financiers are conducting an ongoing hatchet job on living standards of working families and retirees. Once again, we are called on to fight back, and the Town Square human chains show people are ready and able."
Participants in the event say they were inspired by the experience and are ready for more.
Photo: Protesters "chain" Cleveland's Town Square to protest chained CPI cuts proposal. Charles Pervo/PW