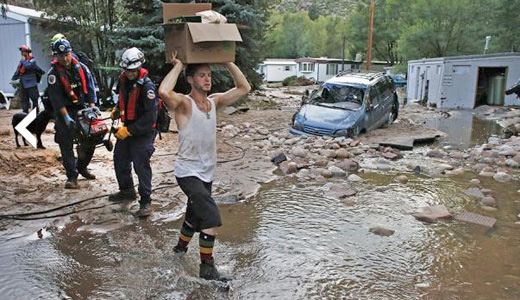 There are at least eight confirmed dead from the disastrous flooding that began in Colorado on September 9, with hundreds still missing. Now, pollutants from damaged fracking and oil infrastructure are getting into the floodwaters, exacerbating the already dire situation.
Spread across 17 counties and leaving 15,000 decimated homes in its wake, the flooding is the result of heavy rain that occurred when a slow-moving cold front clashed with hot air from the south over the state. The flooding hit areas ranging from Colorado Springs to Fort Collins and caused the evacuation of 11,750 people. Some of those evacuees are reportedly returning home now, only to find their houses destroyed, and in some instances, likely discovering foul polluted water.
Mike Turner, a resident of the town of Greeley, ignored evacuation orders and remained on his property with his family, watching as the waters engulfed and damaged an oil tank and well on his property. As a result, "there is some crude in the water," he said. "Not a huge amount." But just northeast of the area, oil drums and crude were spotted in the water, their origins not yet known.
And Roy Rudisill, director of Weld County Office of Emergency Management, said there was at least one oil pipeline that burst under pressure from the flooding, though he did not clarify which, or how much oil was leaking from it.
Cliff Willmeng, an anti-fracking activist, reported that there are also undoubtedly fracking chemicals in the water, as he spent two days "zigzagging" across Weld and Boulder Counties, observing flooded drilling sites, where tanks that held waste material were in some cases overturned. The problem is that it's unclear what chemicals the spilled material contained. "What we immediately need to know is what is leaking and we need a full detailed report of what that is," he remarked. "This is washing across agricultural land and into the waterways. Now we have to discuss what type of exposure the human population is going to have to suffer through."
Aerial photos taken by local news outlets have shown some of these tanks, including a few that are drifting along in the water.
Andrew Barth, a spokesman for the emergency management office of the city of Boulder, said, "We've seen those same pictures, and we're concerned. We are going to go out and look at those once we are out of the immediate search and rescue phase."
Gary Wockner, an activist with Clean Water Action, criticized the natural gas and oil industries for their shortsightedness, noting, "Fracking and operating oil and gas facilities in floodplains is extremely risky. Flood waters can topple facilities and spread oil, gas, and cancer-causing fracking chemicals across vast landscapes, making contamination and clean-up efforts exponentially worse and more complicated."
These incidents and their ripple effect have been underreported, though perhaps not without good reason, as the more prominent issue for Coloradoans took center stage: the sheer scope of the flooding and the immense damage it has caused. This is the immediate problem, and officials have reported that they cannot even begin to estimate the extent of chemical and oil pollution in the water until further clean-up efforts are completed. An official report has not yet surfaced detailing which fracking waste tanks were damaged or overturned, how many, or the companies that own and operate them.
Meanwhile, Coloradoans whose areas have been hit are left to pick up the piece and assess the destruction. Said Genevieve Marquez, of the town of Hygiene, "What now? We don't even know where to start. It's not even like a day-by-day or a month thing. I want to think that far ahead, but it's a minute-by-minute thing at this point. And, I guess now it's just help everyone out and try to get our lives back."
Meanwhile, environmentalists and scientists are considering another issue: what the flood's relation, if any, is to climate change, which has been linked to the extensive wildfires that have plagued the state this year.
Experts have noted that Boulder alone received over half its annual precipitation in just a matter of days, and that furthermore, this came after a year marked by a moderate drought for the state at large. This seems to represent the polar extremes that have so far been a hallmark of global warming. Climate Central reported, however, "It will take climate scientists many months to complete studies into whether global warming made the flood more likely."
Still, scientists have long been expecting that climate change would "translate into more frequent, sharp swings between drought and flood, as has recently been the case."
Photo: A local resident gets help from emergency responders as he carries belongings from a flood-damaged home. Brennan Linsley/AP