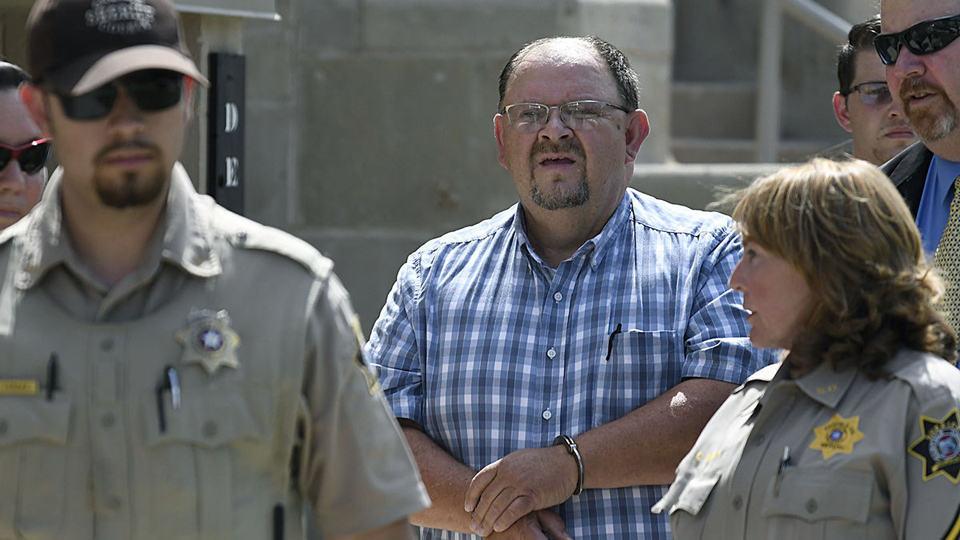 GARFIELD COUNTY, Okla. —  Sheriff Jerry Niles and five of his subordinates were indicted on felony second-degree manslaughter charges this past week for the 2016 death of Anthony DeWayne Huff.
What is disturbing is the grand jury did not seek the ouster of Sheriff Niles. Another African-American man died in a largely white southern state and the sheriff is released to continue running the jail. It's an all-too-familiar scenario repeating itself in Oklahoma. On July 31, Garfield County commissioners unanimously accepted a letter from Niles suspending himself and all others recently indicted on charges of second-degree manslaughter in the death of a county jail inmate last year. Niles is suspended with pay.
The state's multicounty grand jury alleged in the indictments that Huff, 58, an African-American man, was deliberately denied water every two hours as is required by Oklahoma and federal laws. Huff had life-threatening medical issues and was denied necessary medications for heart disease, hypertension and other disorders.
Huff was arrested June 4, 2016, on a charge of public intoxication and held in the Garfield County Jail, according to a news release from Oklahoma Attorney General Mike Hunter. Huff expired after 48 hours in a restraint chair.
The grand jury found sufficient gross negligence by the Sheriff's department causing Huff's death. The indictment revealed that Garfield Sheriff's officers allowed Huff to remain in the restraint chair for 48 hours during which he was denied water and proper life saving-medications. Huff died on June 8, 2016.
The indictments allege that on or between June 4, 2016, and June 8, 2016, the crime of manslaughter in the second degree was feloniously committed in Garfield County by each defendant. The indictments accuse each defendant between those June dates of "willfully, unlawfully and without justifiable or excusable reason" cause the death of Anthony DeWayne Huff, in a culpable and negligent manner, by causing/allowing Anthony DeWayne Huff to remain in a restraint chair for over 48 hours without adequate food or water."
The indictment included: Vanisa Jo Gay, 38, a nurse; John Robert Markus, 29, assistant jail administrator; Lela June Goatley, 57, a nurse practitioner; Shawn Caleb Galusha, 37, a detention officer/supervisor; and Jennifer Niles, 34, the sheriff's daughter-in-law and then the jail administrator. All worked in the jail at the time of Huff's death. The maximum punishment for second-degree manslaughter is a $1,000 fine and four years in prison.
In June, Huff's estate filed a federal lawsuit over this preventable death. The suit seeks actual and punitive damages. The family is suing the sheriff, Garfield County commissioners and others. The lawsuit is pending in federal court in Oklahoma City.
"It is our hope and belief that justice will be served as those who have been indicted In June, for their involvement in this death now proceed through our criminal justice system," said Eddie Wyant, one of the attorneys for Huff's estate.