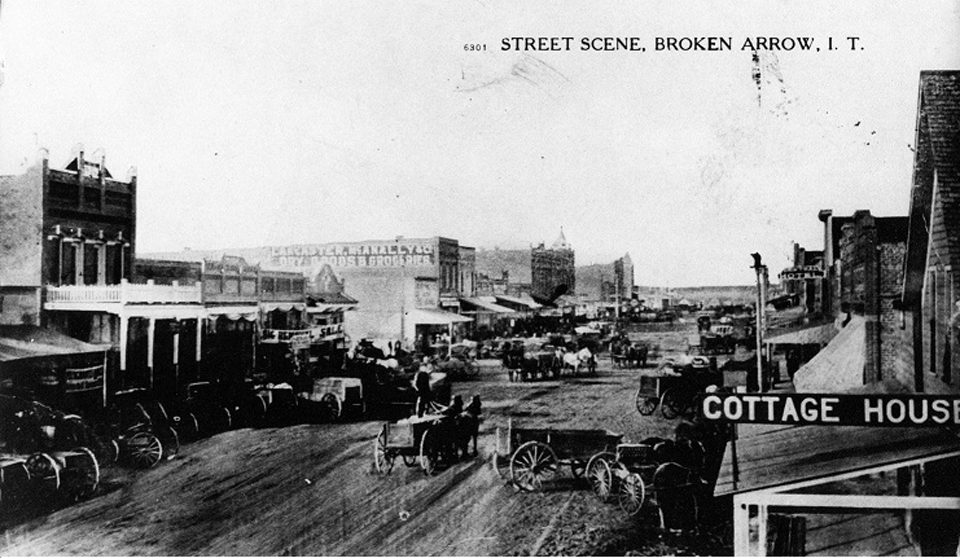 PADEN, Okla.—"We came over in a cevvered wagon. Daddy drove the horses, and my sisters and I rode in the back," Ora Myrtle Smith Maxey, my paternal grandmother, told me as a child. She was nine years old when her family left Mountain Home, Ark., to head to Broken Arrow, Okla., a 228-mile journey in a covered wagon. Her mother, Hettie Ora Smith, had died of TB just a few months before. Her grieving father picked up his girls and moved away with other relatives to farm in new territory.
The Smith family—James Leer and daughters Thelma, Ora, and Bernice—landed in Broken Arrow, about 14 miles due southeast of Tulsa. Broken Arrow had first been settled by the Muscogee and Yuchi citizens when it was Indian Territory. It was later incorporated as a city in 1902, about five years before statehood.
Ora was born in 1909. She first arrived into Broken Arrow around 1919. She spoke of her family, including her sisters, working with her dad on the Frates Orchard. It was located around present-day 91st Street and 129th Street. The farm was about half-a-mile from my home to the east. The Frates family owned an orchard and farm that James Leer Smith ran. I was told he worked hard and took pride in the work done by hand. That farm flourished under James's watchful care.
The boiling hot summer temperatures in Broken Arrow in the 1920s were in the upper 80s to 90s. Humidity has always been high during the summers too in Oklahoma. Yet the strength of my family's heritage showed through in the endurance to keep a farm thriving. Water or lemonade were the only drinks to quench the thirst. The hardworking patriarch was James, my great-great-grandfather. He was born in 1879, in Arkansas, and passed in Broken Arrow in 1950, at age 70.
Not really sure, but family talk says James met Johnnie Irene Bagwell on the farm. James and Johnnie Irene married. They had two other kids, Lori Carole, born in 1936, and James Roy, born in 1938. So James and Johnnie Irene married sometime in the mid 1930s. It had to be tough raising kids, and my grandmother suffered the death of her husband in the midst of the Oklahoma dust bowl.
Broken Arrow in the 1930s was thirty years old, with a bank, barbershop, grocery store, hardware store, and a few other things. One of the annual highlights of the townsfolk was Rooster Days. As an adolescent, it was one of my grandmother Ora's favorite times. Mostly because by then they had the "Old Timers' Luncheon." She would always visit with traveling-in friend Dora. Wish I could remember her full name, but she was something of a dear friend to Ora. They used to write letters and mail them. That was the early beginning of texting; it was called the U.S. Postal Service!
Grandmother Ora married a telephone lineman, Clarence McCullick, and they had one child, my aunt Barbara. Clarence died on August 1, 1931, when he accidentally touched an electrical wire while working on a telephone line. With her settlement from the phone company Ora bought 80 acres not far from where her father James had worked the Frates farm. Surely this time of grieving was hard, as she and my aunt moved in temporarily with her father and stepmother. My aunt was a newborn child when her father died.
Now comes the interesting thing about small towns and rural settings. Dating and finding a spouse are not so easy. The ratio of abundance just doesn't pan out. Ora's sister, ten years younger, Bernice, was dating Simeon Maxey. He had a brother, Israel, who went out on a double date with Ora. Not only did Ora and Israel get married, but so did Bernice and Simeon. So many of my cousins are double cousins.
It gets troublesome for me to figure out, but when my mom married my dad, her family lineage crossed into the Smith family through a cousin. But that story is later.
Ora and Israel, after marrying, had my father. So this new family was living a farming life on Ora's 80 acres. Israel, as told by several family members, did not adopt Barbara. Not because he didn't want to—in fact he did desire to. Ora wanted Barbara to carry on her father's last name. My dad was about 4 or 5 years younger than Barbara.
Now my granddad used to be wild. He was a whiskey-drinking 20-something. He used to go to Cain's Ballroom in Tulsa, which was owned by Bob Wills, a western swing bandleader and singer. Frequently, Israel would drink and sit with Pretty Boy Floyd, the outlaw.
Ora, being the devout Southern Baptist lady, told Israel he would have to stop his boozing—which he did, never taking a drink again. He would always say he was honoring his wife by not drinking.
Israel and Ora started a milking farm and raised chickens and pigs. Israel sold the eggs to Bama Pie company in Tulsa. The milk was sent to Page Milk company. The spokesperson for Page Milk was none other than the singer Patti Page. Patti was originally Clara Ann Fowler, but changed her name to reflect her sponsor, Page Milk.
Israel loved his cows—some say he loved them more than humans! My grandfather never was an interpersonal kind of person. His demeanor was hard work and making money for his family. Just like Ora's father, Israel had a work ethic that was passed down to all of us grandchildren.
You could hear Israel call for Ora, by yelling loudly, "Hey, widow woman." Or he would just say, "Woman!" He was gruff, but he had a tender heart. It was just his demeanor. Ora was a strong woman who frequently said, "Israel! Hush!" He would merely grunt but stop.
He could be an ornery man some days. Especially when his grandson, not to be named, of course, cut his hair with scissors while he took a nap after lunch. I climbed up on the toilet to get a mirror, and woke him to show him my handiwork. His lungs let out a terrifying yell, and Ora came in and swooped me behind her. She said, "Israel, don't touch my grandson!"
Israel built his own barbed wire fence using wood tree posts, a wire stretcher, and fence building tools. That fence was straight, tight wire, and hardly ever broke. He would also have a yearly garden, for fresh food. He would work from 5 in the morning till about 7 or 8 at night. He was strong, dedicated, and worked the land.
These are the stock I come from, the Maxeys and the Smiths. Strong dedicated workers, who loved the land and were its caretakers. Today's world seems so foreign to me. And the constant abuse of our natural resources makes me wonder what type of land we are giving the next generation.
Tragedy as a child, and as a newly married woman—Ora would be a strong female figure in my life. In those days, hard times and sadness could toughen you up. I come from a family on both sides of honorable, rugged people who honor and respect women.
Maybe we should go back in time and pick up those traits and that character.