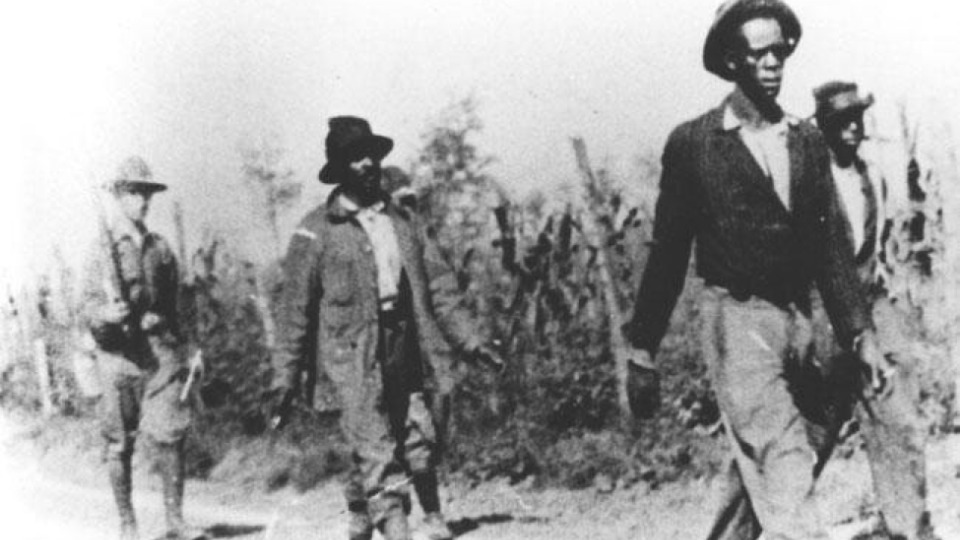 ELAINE, Ark.—Sept. 30, 2021, marked the 102nd anniversary of the 1919 Elaine Race Massacre in Arkansas. At the Elaine Legacy Center, descendants of survivors, their families, and friends remembered the unspeakable reign of terror—loss of life, property, and land—that devastated their community over a century ago. Sept. 30, 1919, was just the first of three consecutive days of anti-Black violence in what constituted one of the deadliest race massacres in U.S. history.
The Elaine Legacy Center, located at 313 College Ave., hosted two "Healing of the Land Prayer Services" over Zoom on the anniversary. Participants came from Phillips County, other parts of Arkansas, and other states around the U.S. They included Julia Wright, daughter of author Richard Wright, whose uncle Silas Hoskins was murdered in Elaine in 1917. This was the ELC's 10th annual "Healing of the Land Prayer Service," a tradition begun in 2012.
For too long the Elaine Massacre was swept under the rug by Arkansas press, politicians, and businessmen. The survivors spoke only close to home because of their trauma and fear of retaliation. "Hush mouth" prevailed for years; generations of families, both white and Black in and around Elaine, not to mention around the U.S., grew up knowing nothing about these three deadly days. But descendants have kept their stories alive, passing them from generation to generation.
Once the ELC was founded in 2017, its leaders began speaking truth to power so that someday everyone in the country would know about Elaine. Among those who heard them was Rev. Dr. Iva Carruthers, General Secretary of the Samuel DeWitt Proctor Conference (SDPC) in Chicago. Carruthers knew of Elaine; she had family from there who escaped during the massacre and fled the U.S. entirely. Under her direction, in 2019, the SDPC held a public Truth-Seeking Commission Hearing in Elaine to hear testimony from descendants of survivors of the Elaine Massacre.
During the hearings, a consistent theme emerged, a truth known well by the descendants but generally obscured by the dominant narrative that centers Black sharecroppers as the victims of the massacre: Again and again, descendants spoke of their relatives as having been run out of businesses and off farm land that they owned. Like the Tulsa, Okla., massacre of 1921, Elaine came into focus as an episode not only of mass Black murder but also of mass Black land theft. And the residents were talking about reparations.
James White, ELC Director of Programs and a descendant, sums the Elaine history up by saying, "Before 1919 we were proud land owners, business people, educators, and professionals. In 1919, we all became poor in three days. And we are still poor today."
Upon hearing of this work, the National African American Reparations Commission (NAARC) connected its white ally organization, the Fund for Reparations NOW! (FFRN!), with the Elaine Legacy Center. FFRN!, founded by David Gardinier in 2019, is a platform for white individuals to support NAARC's 10-Point Reparations Plan and the national reparations movement. Dr. Ron Daniels, Convener of NAARC, introduced the FFRN! leadership to the Elaine Legacy Center Board in 2020.
First and foremost, ELC asked FFRN! to help spread the word about the Elaine Massacre and amplify the righteous call for reparations. They requested help to fund a permanent memorial to the lives and livelihoods lost in 1919. They also requested funding to help upgrade the ELC Civil Rights Museum with interactive exhibits, including oral history interviews, and a computer lab for youth.
In addition to using its social media accounts to consistently lift up and advocate for Elaine, FFRN! pledged $150,000 to the Elaine Legacy Center. It sent the first $50,000 payment in December 2020, the second in March 2021, and the final payment, $150,000 altogether, after a large fundraising campaign this past Juneteenth.
The Museum and Civil Rights Center is the cornerstone of The Legacy Center's long-term goal of a revitalized Elaine, with reparations having been paid. Descendants are working on Elaine being a center of Delta music, culture, the arts, and education so that tourism and pilgrimages create above-average incomes for every person in Elaine.
There's work to be done and challenges to overcome as the Legacy Center seeks reparations, especially because land deeds and property tax records before 1919 are non-existent, or scant at best. Nevertheless, agribusiness thrives in Elaine and land-based wealth abounds.
According to White, "If the farmers in this area just gave 1% to this town, we'd have new roads, maybe a school, a village. We've got a lot of brilliant kids here. They just need a chance. Now, you've got to leave out of this town to have something. You'll never get it here, not if you're Black you won't."
The Elaine Legacy Center is a recognized non-profit with 501c3 status. Contributions may be tax-deductible and can be made via the ELC Website or by check payable to the Elaine Legacy Center and mailed to:
Elaine Legacy Center
P.O. Box 42
Elaine, AR 72333
For interview contacts and further information contact the author, a Fund for Reparations NOW! board member, at khilfman@earthlink.net.
For more on the Elaine, Ark., race massacre, read this article from Facing South: "From the Archives: The Elaine Massacre."
Reprinted by permission of the author. The original publication on BuzzFlash can be viewed here.