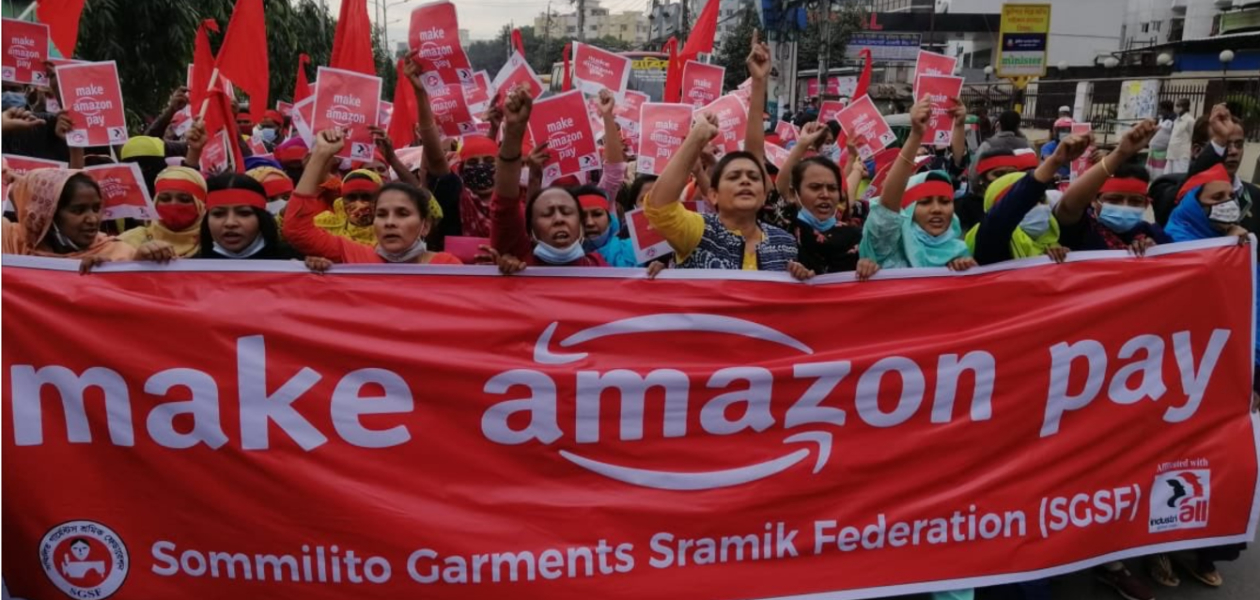 WASHINGTON (PAI)—For at least the third year in a row, workers worldwide will mark "Black Friday," this year on Nov. 25, with mass protests, this time against one of the most exploitative companies on the planet, Amazon.
Entitled the "Make Amazon Pay Day of Action," demonstrations are scheduled in at least 32 countries by at least 80 unions against the monstrous corporate giant and its mistreatment of its workers.
"Amazon is squeezing every last drop it can from workers, communities, and the planet," declares Our Revolution, the activist group of Bernie Sanders backers that is one of several dozen organizations, including international union coalitions, seeking participants in the protests.
"We are workers and citizens divided by geography and our role in the global economy, but we're united to Make Amazon Pay fair wages, its taxes, and for its impact on the planet."
They have good cause.
Amazon, owned by one of the world's richest people, Jeff Bezos—even if he isn't CEO anymore—has profited hugely and especially off the suffering the coronavirus pandemic inflicted on the entire globe. Its profits since the modern-day plague began skyrocketed to $470 billion in 2021, and in its latest report, $121.6 billion in the second quarter—April-June—of this year.
All this while raking in a 55-billion Euro profit in the same quarter, and receiving a one-billion Euro tax rebate, another progressive group reports. And all this while spending millions of dollars on union busters to stop organizing drives by the Retail, Wholesale, and Department Store Union (RWDSU) and the independent grass-roots Amazon Labor Union in the U.S. alone.
"Instead of sharing its wealth with its workers, it squeezes them with real-terms pay cuts and doubles down on union busting and dangerous working conditions," workers and analysts say on a two-minute video posted at #MakeAmazonPay. "Even as the cost of housing is going up, and food, and gas, they thought it would be a good idea to lower our pay.
"Amazon is squeezing our planet. It emits more CO2 than three-quarters of the world's countries. Amazon's CO2 emissions have grown by 18% in 2021 compared to the year before," speakers add.
"What Amazon does matters to us all. Its bad practices drive down standards everywhere. That's why workers and citizens all over the world are fighting back to make Amazon pay…Amazon can afford to pay, but only if we make it."
Sponsoring federations include the International Trades Union Congress, IndustriALL, and federations for education workers, building trades workers, public service workers, transport workers, and agricultural, clothing, and retail workers. Other sponsors include Our Revolution, Public Citizen, and the Sunrise Coalition.
To find a protest in your area, check out the map here.