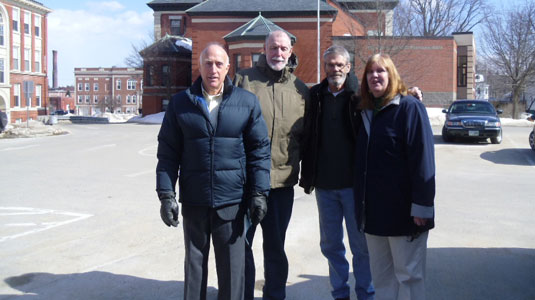 DOVER, N.H. – With only two days advance notice, New Hampshire Alliance for Retired Americans members made time to attend former Republican Congressman Frank Guinta's Patient Protection and Affordable Care Act "listening" session here at the Dover Community Senior center.
Aside from his staff person, six people attended the session. Guinta did not seem surprised by the poor turnout. When asked by one attendee how to learn about these "listening" sessions in advance Guinta was not clear in his response.
Guinta's account of this session on Facebook differs from the recollection of at least five of those present. Guinta says he "had a great time this morning talking with a group of seniors at the Dover Community Senior Center, the most recent stop on my health care listening tour. We discussed the effects that the Obama administration's proposed 3.55 percent cut to Medicare Advantage will have on their ability to receive the care they have come to expect, and the overall negative impacts of Obamacare."
In fact, when Guinta asked who in the room supported the Affordable Care Act, all audience members indicated their support.
At first Guinta tried to play the 3.55 percent cut to Medicare Advantage: as a cut to Medicare. But a participant brought out the true fact that this is a reduction in payments to private insurance companies that sell Medicare Advantage plans, not to beneficiaries. Then the conversation quickly changed.
Under the Affordable Care Act, Medicare Advantage private insurance companies will receive a decrease in income from the federal government. The way it used to work: under a sweetheart deal with a prior administration, private insurance companies who engaged in the sale of Medicare Advantage plans received a monthly payment per customer from the federal government. This payment was in addition to any premiums that the customer paid to the private insurance company. Talk about your government subsidy!
Under the new law the average payment to private insurance companies of $1,000 per MA customer has been cut by 3.55 percent. In addition, companies selling Medicare Advantage plans are still paid a bonus based on federal guidelines. Medicare Advantage companies who choose to make a business decision to continue sales of their product line still receive a substantial subsidy per patient each calendar month but at the reduced rate of 3.55 percent.
Here is a concise explanation about the seldom spoken about practice of government enabling private business to profit from all Medicare customers.
From the Department of Health and Human Services website, on "Overpayments to Big Insurance Companies and Strengthening Medicare Advantage":
"Today, Medicare pays Medicare Advantage insurance companies over $1,000 more per person on average than is spent per person in traditional Medicare. This results in increased premiums for all Medicare beneficiaries, including the 77 percent of beneficiaries who are not currently enrolled in a Medicare Advantage plan. The law levels the playing field by gradually eliminating this discrepancy. People enrolled in a Medicare Advantage plan will still receive all guaranteed Medicare benefits, and the law provides bonus payments to Medicare Advantage plans that provide high quality care. Effective January 1, 2011. Learn more about Medicare and the Affordable Care Act."
It is disappointing that Frank Guinta's account of the listening session is so misleading, and ignores the facts brought out by participants in the session.
Every Medicare customer needs to know the president's health care law closes the part D "donut hole," expands coverage for seniors who need help at home or are in nursing homes and increases access to preventive care. It also reforms Medicare advantage, the private insurance program that is costing the taxpayers millions.
New Hampshire Alliance for Retired Americans members say that they continue to support the Patient Protection and Affordable Care Act also known as Obamacare because, after all, President Obama does care.
Photo: Members of the New Hampshire Alliance for Retired Americans traveled to Dover to bring the truth about the Affordable Care Act to a listening session on February 26. (Jennifer Kenny)