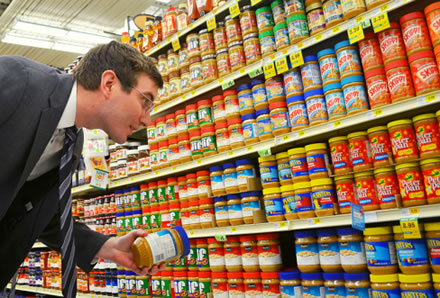 ST. PAUL, Minn. (Press Associates) – Peanut butter or jelly? Juice or coffee? Dry spaghetti or ravioli in a can? Those aren't decisions Rep. Jason Metsa usually wrestles with in the grocery store, but the Iron Range DFLer tightened his belt for five days last month, after signing a pledge to live on Minnesota's minimum wage of $7.25 per hour.
Working America, the community affiliate of the AFL-CIO, issued the minimum-wage challenge to state lawmakers in the hopes of drumming up support for a Minnesota House bill to raise Minnesota's minimum wage to $9.95 per hour.
A final vote on the Minnesota measure may occur as early as the week of May 20. Minnesota is one of several states that aren't waiting for the dysfunctional U.S. Congress to heed President Obama's proposal to raise the federal minimum wage, now $7.25 hourly. Those states are raising the wage on their own.
Metsa, who represents an historically working class area around Duluth, accepted the challenge, he said, "to better understand an economic situation many of us have never been exposed to."
In events throughout one week last month, Metsa searched for affordable housing, considered his transportation options and participated in a forum with actual minimum-wage workers, who earn $290 for working a 40-hour week.
But first, the 32-year-old representative needed food.
Using the JOBS NOW Coalition's Family Budget Calculator as a guide, Metsa allowed himself $35 for food and drink. After spending $7 the previous day, he arrived at the Cub Foods in St. Paul's Midway neighborhood on April 9 with $28 to spend and, after skipping breakfast, an empty stomach to fill.
"I'm already hungry," he said, flipping through a stack of coupons he had clipped from the Cub circular.
His game plan, Metsa said, would be to stock up on the staples – bread, milk, eggs, and pasta. Any leftover money might provide for a "splurge" item, and Metsa pocketed a coupon for Chef Boyardee ravioli just in case.
Store managers, media members, and Working America staff trailed Metsa as he pushed his cart through the aisles, comparing prices and inspecting the in-store specials.
It was more thought, Metsa admitted, than he had ever put into grocery shopping before.
"When I shop for groceries at home, I think more about what I'm hungry for or what's good for me," he said. "Today it was about how I can get full for $28 this week."
Desserts and soda – items, Metsa acknowledged, that would usually be in his shopping cart – were out. So too, Metsa discovered, were meats and other protein items, which proved "too expensive, even with a coupon."
When he finally reached the checkout aisle, Metsa got more bad news: He'd gone over his budget. A loaf of bread, a container of frozen juice and, yes, a can of ravioli would have to go back on the shelves.
What ended up in Metsa's grocery cart?
Produce: One head of iceberg lettuce ($1.48), five bananas ($1.04) and three pounds of russet potatoes ($1.05).
Meat and Dairy: One pack of salami ($1.99), one gallon of milk ($2.99), a dozen large eggs ($1.98) and a wedge of cheese ($2.99).
Dry, Canned and Frozen Goods: One loaf of bread ($1.19), one jar of peanut butter ($4.35), one frozen container of juice ($1.59), one package of spaghetti (88 cents), one can of spaghetti sauce (88 cents), a case of instant-noodle cups ($2.49) and coffee ($3.74).
As he bagged his groceries, Metsa said he was confident the food he'd purchased would be enough to sustain him until the following weekend.
Bree Halverson, statewide director of Working America, asked how that might change if Metsa had a dependent child at home. According to the JOBS NOW Coalition, 35 percent of workers affected by raising the minimum wage to $10 per hour are married or are parents.
He's single, but the representative had no trouble putting himself in those shoes.
"I think I'd drop my car insurance and make sure my kids could eat," Metsa said.
"Otherwise, it would be impossible. You couldn't do it without being on public assistance. "
Michael Moore is editor of the St. Paul Union Advocate.
Photo: Courtesy of Workday Minnesota