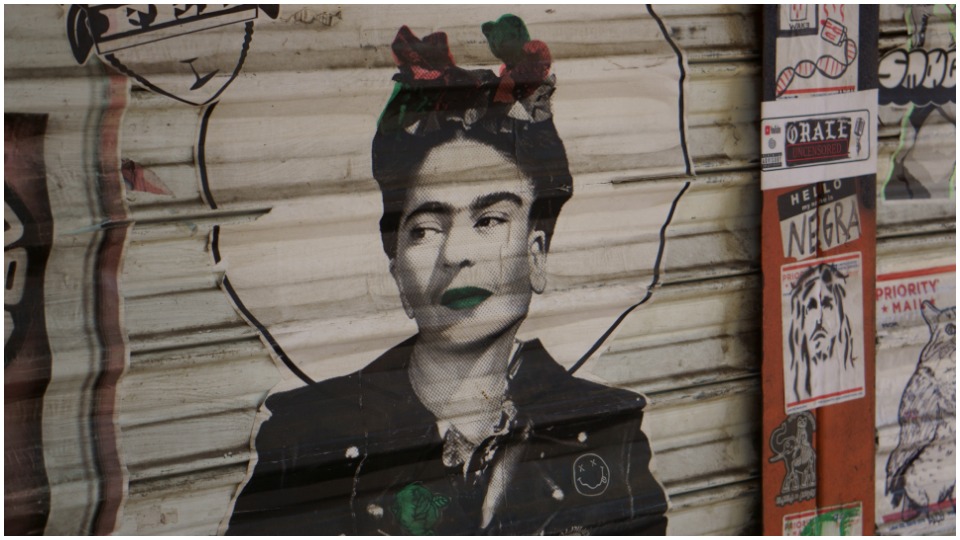 This article is part of the People's World "On the Border Series," which won a first place prize in the Best Series category at the 2020 Labor Media Awards, presented by the International Labor Communications Association.
People's World correspondent Al Neal is in the field reporting from sites all along the U.S.-Mexico border. In his dispatches, you will get a view of the towns and people caught up in Trump's "border crisis." You will see the women, men, and children impacted by the administration's immigration policies as well as U.S. foreign policy in Latin America. Other installments in the series can be read here.
The line at the Denny's diner was out the front door and stretched into the shared Motel 6 parking lot when I pulled in at 11:00 a.m.
There was nothing special, or different about this particular eatery—I'm sure they all look the same architecturally nationwide—but the smiles and twinkling eyes of patrons waiting to be seated said otherwise. This was the place to be.
Twenty minutes later, I was shown to a single-chaired corner table, next to the drawn blinds offering plenty of shade from the blistering afternoon sun—Fox news blaring above me on the television.
"¿Algo de beber? (Something to drink?)" asked the server, appearing out of nowhere and catching me off guard.
"Café negro, gracias."
"Got it, one black coffee, and I'll be back with a menu," she said, confirming my order in English now.
From that moment on, my ears picked up on all the conversations taking place around me, and how fluidly English and Spanish blended throughout them. And it seemed everyone knew each other—there was a sense of community.
As I placed my order for huevos rancheros and gingerly sipped my cup of black jet fuel, a Latino family took the table next to mine. It was a husband, his wife, and his parents respectively.
They were the Espinoza (name changed for privacy) family.
They talked about family business, real estate deals in the city of Laredo, cursed when Fox News had a segment on Trump and immigration. And as my piping hot plate of food arrived—just before I took the first bite, Grandmother Espinoza turned, looked at me, then the food, and said it looked delicious, asking: "What did you get?"
After I told them what I'd ordered, we introduced ourselves and ended up chatting for most of the lunch hour.
"Well, welcome to Laredo," said Mr. Espinoza. "How has our city been treating you?"
"The city has been wonderful so far," I said. "It's not often you come into a new town and instantly feel welcomed by the folks who live here."
"Glad to hear it," said Mrs. Espinoza. "Lately all people hear on the news is how ugly and dangerous cities on the border are, and it's not true at all."
Mrs. Espinoza emigrated to the U.S. from Santa Barbara, Honduras, in the early 1960s. For her, and many of her family members, the demonization of their people is an issue they constantly struggle with.
"It's sad to me that people here don't understand what life is like in Honduras," she continued. "Whenever I talk to someone who has no connection to Central America, it becomes almost impossible for them to understand why people are fleeing… We were lucky to come to the States during a time when it was easier to cross the border—when being 'illegal' wasn't such an issue."
"El problema es que nadie parece recordar la historia, o no quiere recorder (The problem is no one seems to remember history, or they don't want to remember)," said Grandfather Espinoza, born and raised in Mexico.
"Es importante recordar cómo los Estados Unidos intervinieron en la creación de la crisis en la que nos encontramos, los políticos deberían admitir sus fracasos e intentar algo major (It's important to look back at how the U.S. had a hand in creating the crisis we are in, and politicians should admit their failures and try something better)."
Lunch ended when our bills arrived with the usual "no rush" assurance. We said our goodbyes, exchanged contact information, and went our separate ways.
In the Republic of the Rio Grande, a.k.a. Laredo, Texas
The image of George Washington on banners hanging from most, if not all, the downtown light posts caught me off guard. Texas didn't become the 28th state of the union until December 29, 1845. So why was he everywhere in the city's downtown area?
After wandering in and out of stores, all continuing the lively and brilliant color schemes similar to the border town's other buildings, I found the answer: Every year, the city of Laredo hosts a month-long birthday celebration for George Washington aptly named the "Washington's Birthday Celebration."
"It's the largest celebration we have regularly," said a shop owner.
Its origin is quite problematic though.
The celebration was founded in 1898 by the Improved Order of Red Men, Local 59.
The racist, fraternal organization was established in 1834, and it was modeled after what white men of the time assumed to be Native American customs, rituals, and regalia. It was formed by and only for white men and continues to exist today—the last membership count in 2011 totaled 15,251.
As I continued my walk through the historic downtown area, the Spanish colonial and Mexican architecture filled the skyline—a contrast to the more traditional modern American buildings scattered out by Interstate 35.
It was the churches and cathedrals which caught my eye. The city being so heavily Roman Catholic, it was only natural its houses of worship would reflect such pious devotion.
And while the city has had quite an interesting history, in particular, when it was the capital city of the short-lived insurgent nation known as the Republic of the Rio Grande—seceding in protest of the central Mexican government headed by General Santa Anna, today it is viewed as just another border town, supposedly filled with undocumented immigrants and teeming with violence.
That Trump narrative couldn't be further from the truth.
The only violence being committed here, and in other border cities, is the treatment of migrants and asylum seekers by U.S. law enforcement.
"They're fleeing violence, they're fleeing poverty from their country of origin," said Benjamin De La Garza, interim director of Catholic Charities Laredo. "I see the perseverance and I see these people want a better life… It's in their hands to give and provide that better life, not only for them but for their children, too."
The streets of Laredo were empty as I walked around during what should have been the rush hour. The foot traffic picked up as I approached the Gateway to the Americas Bridge, connecting Mexico and the U.S. over the Rio Grande. There was plenty of traffic flowing into Mexico from the U.S. but not the other way around.
In the weeks since the "Remain in Mexico" policy was announced, the city has seen a decrease in asylum seekers and migrants crossing over. Under the new policy, asylum seekers and migrants who are detained are now being released into Nuevo Laredo, Mexico, to await their asylum hearing date—which could take up to several months, with the earliest hearings beginning Aug. 20.
City officials and the Department of Homeland Security recently began constructing a tent city for asylum seekers behind border bridges one and two. City officials weren't too keen on the idea, going as far as offering city office space for asylum seekers, but DHS decided against such an offer.
"DHS's decision to not accept the City of Laredo's offer of a city-owned facility for conducting asylum hearings is extremely disappointing," said Rep. Henry Cuellar.
It seems disappointment and trauma are all migrants and asylum seekers receive when they arrive at our unwelcoming doorstep.
Crossing the bridge into Nuevo Laredo
With only two dollars, you can get across and back from Mexico. You first walk up to a grubby, stained plexiglass window where a nice clerk will change your bills into coins, and ask if there's anything else you need, in Spanish and English.
Dropping the quarter into the turnstile, you make your way through and over the bridge. It only took me about 10 minutes to get across. Once I got going, I noticed the concrete barriers laid out right on top of the dividing line between the two countries. There was new concertina razor wire on top of the barriers. I could tell because they still looked shiny, glistening in the sun.
I walked to the other side and entered Mexico with ease. There was no checkpoint, no questions were asked. The only odd scene was the high volume of fatigues-clad, machine gun-toting soldiers posted at each lane of the bridge.
"In the northern part of the country, we have deployed a total of almost 15,000 troops composed of National Guard elements and military units," said Secretary of Defense Luis Sandoval back in June.
Mexico sent more troops last month after renewed pressure from the White House to slow the flow of migrants north.
I made eye contact with a few of them, nodded, and kept walking towards the city center.
Here, the streets were bustling. The city center park benches were filled with families out shopping, workers on break, or just folks who decided to take the afternoon off.
The sounds of violin strings could be heard above the traffic noise, as buskers played to earn a dime.
I saw no murders, no kidnappings, no cartel gun battles. Though I'm sure they happen, as they do in American cities, too, there was nothing from my visit which made me feel unsafe or unwelcome. Hell, most of the people I ran into were much nicer than what I'm used to.
The same Spanish colonial architecture I saw in Laredo was seen in Nuevo Laredo. Street art, colorful buildings, ice cream carts, and shopping centers made up most of the views.
There was a relaxed feel in the air, as if people put off their worldly cares during the afternoon.
Hours later and another quarter in the slot and I was walking back to the U.S.
If getting into Mexico was easy, getting out was hard. At the bridge's midpoint, two Customs and Border Patrol officers were standing, asking everyone who got up to that point if they had documentation.
"Do you have documents?" they asked.
I nodded and handed them my passport—wasn't much for conversation.
From there, it was another checkpoint. My passport was handed over, questions asked:
"Where are you coming from?"
"How long were you there?"
"Where are you going?"
"Where do you live?"
"Occupation?"
After 45 minutes, I was free to set foot on American soil again. I stopped by the hotel bar, ordered a Modelo Especial, and was asked by the bartender how my trip into Mexico went—I'd talked to him a few times before.
"It was great, had no issues going, enjoyed the sights, sounds, and smells…only thing that got me was getting back over here."
"Yeah, it all depends on the day and the CBP officers working," he said. "Some of them are alright, but for the most part it seems they're trained to be intimidating—I've had some people tell me they've overheard them saying they like harassing people coming over."
"Institutional cruelty…what a concept," I replied as we took a moment of silence.
Our joint conclusion: This isn't an issue about a few bad apples in the CBP; it's the whole damn system—the Facebook screenshots prove it, too.