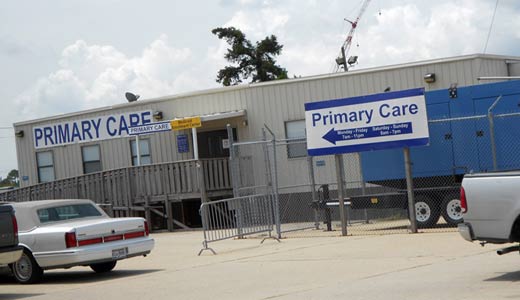 NEW ORLEANS – The labor movement here considers Rep. Cedric Richmond, D-La., a "champion." Richmond's district encompasses the endangered Avondale shipyard here. Greater New Orleans AFL-CIO President Robert "Tiger" Hammond singled out Richmond for praise, particularly after he recently introduced legislation to prevent the company that runs the shipyard, Northrop Grumman, from receiving more than $300 million in government funds it claims it is eligible for if it closes the yard.
David Magee, vice president of Local 3000 of the International Longshoremen's Associiation, asked specifically that our reporters mention Richmond's fight to expand the port's capabilities in time for the expansion of the Panama Canal next year.
"Because of Richmond's fight we will be able to handle the larger ships that will be going through the Canal," Magee said. " It means more jobs and more work for people in New Orleans."
The enormous tasks of rebuilding after Katrina also has at least one local Republican siding with the unions.
St. Bernard Parish, southeast of New Orleans, has been in need of a new hospital ever since Katrina destroyed its health care facility six years ago. The St. Bernard Health Care Center has been operating out of trailers in a parking lot. People have had to travel as much as 50 miles to get to an emergency room.
Among the fans of federally funded projects staffed by workers earning union wages is the Republican councilman in Chalmette, Ray Lauga Jr.
"No one does a job as well as union workers," he said. "After the storm hundreds of non-union contractors came in here and took the money and ran. Work, if it got done at all, was shoddy and incomplete. People were ripped off. Union workers are trained. They have pride. They do a good job. The higher wages they are paid are more than made up for by the fact that you get a good job."
Lauga helped guarantee that the contractor now working on the new St. Bernard Health Care Center hired union workers. Members of the International Brotherhood of Electrical Workers, for example, are doing all of the electrical work on the site. It is the first new hospital being built in the area since Katrina.
Lauga opposes those in his party who, for, "whatever reason," would block the use of federal funds to rebuild in their districts. "We are happy to have federal funds," he said. According to Lauga those funds amount to $70 million to build the hospital, $25 million for water treatment and $50 million for the sewer system.
"The new hospital will have 40 beds, a medical office, an emergency room and enable people in St. Bernard's, for the first time in six years, to receive care in a modern facility rather than in a FEMA trailer," said Lauga.
Lauga, who by profession is an architect, seemed to enjoy talking about the features that will be included in the new hospital.
He was asked why he has taken positions that seem to vary so much from the cut-at-all-costs and anti-union approach taken by so many Republicans nationally. "I believe in a lot of the things that Republicans believe in," he said, "but I believe first that we are all people in a common struggle. We have to pull together to overcome a big tragedy. We can't leave things up to politicians who offer no solutions or to contractors who rip everyone off. I have an 11-year-old daughter and an 84-year-old grandmother. They are more important to me than politics."
Photo: The St. Bernard Health Care Center has been operating out of trailers in a parking lot ever since Hurricane Katrina. It is finally being rebuilt, with union workers and federal funding.
Photo: Unions have worked with a local Republican council member to replace FEMA health care trailers with a new modern facility. Blake Deppe/PW