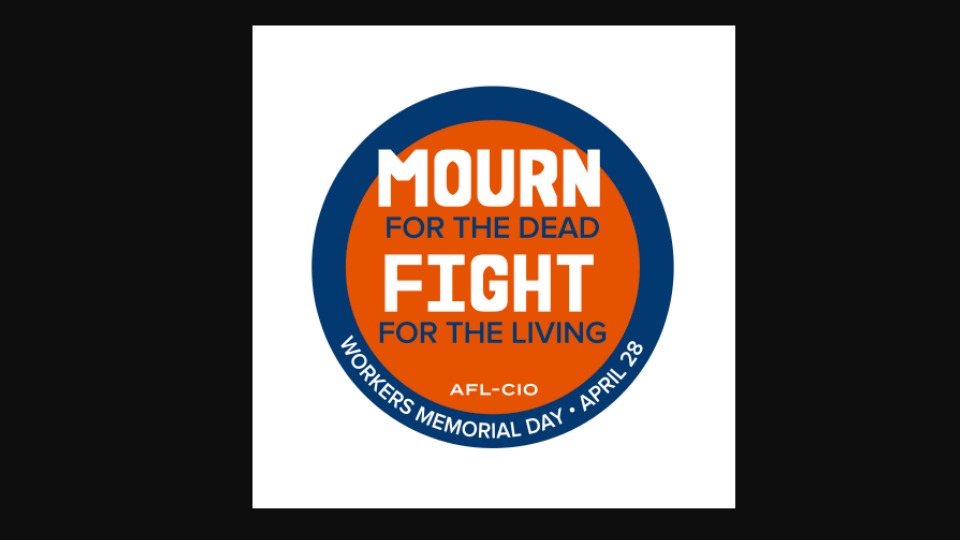 Since 1989, unions have been observing April 28 as Workers Memorial Day.
"Workers killed on the job the previous year are commemorated in events across America," explained Bill Londrigan, Kentucky State AFL-CIO president recently. "April 28th was chosen as Workers Memorial Day because the Occupational Safety and Health Administration was born on that date in 1970."
Because of the continuing COVID-19 crisis, many Workers Memorial Day observances will be virtual again this year. Throughout the deadliest pandemic in a century, unions have stood in solidarity with scientists and doctors who are urging people to keep masking, hand sanitizing, and social distancing—even if they've been vaccinated.
Londrigan said it is undeniable that OSHA has greatly improved worker safety and health for all workers. "Indeed, multiple studies bear out the fact that union workplaces have been far safer because unions provide a voice on the job where workers can join with management to address workplace hazards and implement solutions jointly."
Added Londrigan: "Recognizing the linkage between worker safety and strong trade unions is another critical reason for Congress to pass the Protecting the Right to Organize (PRO) Act. For the past 50 years, trade unions and our members have been under constant attack from anti-union multinational corporations and politicians bankrolled by big business."
Londrigan said the PRO Act "will help level the playing field for the millions of workers who would join a union if they have a fair opportunity to do so. The PRO Act will strengthen the ability of workers to exercise their freedom to organize and bargain collectively for better wages and working conditions, including safer working conditions."
I taught history in a community college for two dozen years. The voice of history could hardly be louder or clearer when it comes to unions and worker safety and health laws. We need them both—plus the PRO Act.
President Joe Biden has endorsed the PRO Act, which the Democratic-majority House passed again last month.
"As America works to recover from the devastating challenges of deadly pandemic, an economic crisis, and reckoning on race that reveals deep disparities, we need to summon a new wave of worker power to create an economy that works for everyone," said Biden, whom the AFL-CIO endorsed for president last year.
The PRO Act faces apparently unanimous GOP opposition in the 50-50 Senate, where it would take 60 votes to overcome a certain Republican filibuster. (Kentucky's two GOP senators, Minority Leader Mitch McConnell and Rand Paul, fiercely oppose the PRO Act.)
At any rate, in an ideal world, everybody would live by the Golden Rule, some version of which can be found in almost every religion. Yet we live in a real world where greed is the gospel of many employers.
If many bosses had their way, we wouldn't have unions or worker safety and health laws. For a long time, we didn't have either in the United States.
Not until the 1930s did a Democratic-majority New Deal Congress pass legislation—the Wagner Act of 1935—that gave workers the legal right to unionize and bargain collectively and required their employers to recognize unions. President Franklin D. Roosevelt, a Democrat, signed it into law.
Not until 1970 did Congress create the Occupational Safety and Health Administration. The landmark bill passed with bipartisan support. Even Republican President Richard Nixon, who was less than labor-friendly, hailed the bill and signed it.
OSHA was needed because many, if not most, state and local worker safety and health laws were inadequate or were not rigorously enforced.
Before strong unions and meaningful protection for worker safety and health, most workers toiled long hours at low pay in jobs that threatened—and often claimed—life and limb. Railroads, mines, and factories were slaughterhouses. The death toll included many children who were forced to go to work to help their families try to make ends meet.
All the while, railroad, factory, and mine owners, who were making colossal fortunes by impoverishing workers, lavishly bankrolled politicians to help them keep unions at bay and keep worker safety and health laws off the books.
Sound familiar? How many union-despising politicians enjoy the largess of billionaires and millionaires today?
History also teaches that employers, boosted by their bought-off lawmakers and a largely conservative, anti-labor media, ensured that a strong union movement and something like OSHA would be a long time in coming. But come they both did.
When we pause this Workers Memorial Day to remember those who lost their lives on the job in 2020, let's remember the words of one of the greatest union heroes from history—Mary Harris "Mother" Jones: "Mourn the dead; fight like hell for the living!"
As with all op-eds that appear in People's World, this article represents the opinions of its author.