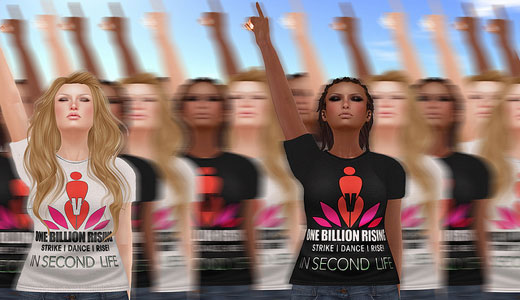 If Emma Goldman were alive today, she'd probably be dancing. The famous anarchist who supposedly said, "If I can't dance, I don't want to be part of your revolution," would be one of the thousands dancing and rallying on Feb. 14 V-Day to end gender-based violence globally.
One Billion Rising, brainchild of playwright and feminist Eve Ensler, is staging dance-filled rallies around the globe, from Australia to the Philippines to South Africa to Brazil and the United States, to end rape, rape culture, and domestic violence.
According to the United Nations, one in three women worldwide will be raped or beaten in her lifetime. Since there are three billion women on the planet, one billion women will experience such outrages.
"One billion women violated is an atrocity. One billion women dancing is a revolution," says the event's invitation. "On V-Day's 15th Anniversary, 14 February 2013, we are inviting 1 billion women and those who love them to walk out, dance, rise up and demand an end to this violence. One Billion Rising will move the earth, activating women and men across every country … to see our collective strength, our numbers, our solidarity across borders."
In Chicago, a crowd sporting red scarves and hats filled Daley Plaza at noontime today. A coalition of groups such as Rape Victim Advocates, anti-violence organizations and area colleges mobilized Chicago residents for the downtown "flash mob." A tutorial video to teach the flash mob dance, choreographed by Debbie Allen and called "Break the Chain," was posted on social media before the event.
One Billion Rising takes place as the Republican-led House of Representatives refuses to reauthorize the bipartisan Violence Against Women Act. During President Barack Obama's State of the Union speech, House Republicans sat on their hands when the president called for the passage of VAWA. Republicans oppose the reauthorization because it offers protection to an additional 30 million women, namely undocumented immigrants, lesbian and transgendered people, students and Native Americans.
Earlier this week, the Senate agreed to reauthorize VAWA by an overwhelming bipartisan vote of 78-22. GOP-darling Sen. Marco Rubio, who gave the rebuttal to Pres. Obama's speech, and tea party Sen. Rand Paul were among the 22 "no" votes.
But with the GOP in turmoil over their trouncing in November and dramatic loss of support among a key voting constituency – women – Republicans are under pressure to act. House Speaker John Boehner gave a vague indication today that the House may take up the Senate version of the bill "in a timely fashion."
Since VAWA was passed in 1994, domestic violence cases have dropped, largely due to the law and the accompanying funding for violence prevention programs.
The National Network to End Domestic Violence has an online action page where the public can get more information and also send a message to their congressional representatives to pass the bill.
Photo: Second Life avatars participate in One Billion Rising. (StrawberrySingh/CC)