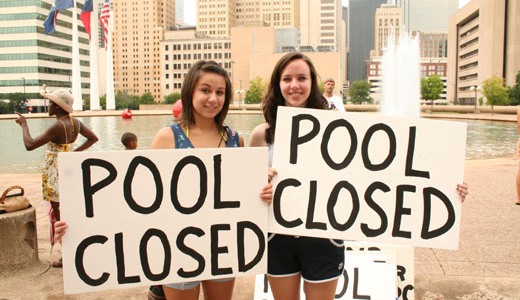 DALLAS – Local politics and thermometers are breaking over the top in this part of the Sun Belt. The City of Dallas rages with discussions over draconian layoffs and budget cuts to libraries, parks, and other city services. On August 1, they closed most of the public swimming pools in 105 degree weather!
Protesters gathered at City Hall on August 18. The youngest of them stripped to swim suits and performed a skit called "One Hot August." John Fullinwider, who masterminded the performance for the Fair Budget Campaign, was quoted in the daily newspaper and on TV as calling for a "fair and equitable" tax increase. Among the protesters were top officers of Steelworkers Local 9479, organizers of city employees facing hundreds of layoffs.
Nobody jumped into the City Hall Plaza fountain, but several of them talked about it, even though police were standing by just for that eventuality. In 2004, high school students jumped into that same fountain to protest immigration policies and started a movement that created a record march of half a million people!
Throughout the city, organizations are forming to defend against the layoffs and budget cuts. Nearly all of them, "friends of the library," "friends of the parks," etc., are only discussing one or another particular aspect of the overall austerity plan, but the Fair Budget Campaign is beginning to bring them together. They meet every Tuesday at 6:30 in the Martin Luther King Center. Chairman Perry Forshee urges everyone to get involved.
Photo: Destiny Castillo and Emma Fullinwider protest pool closures, Aug. 1 in Dallas. (Jim Lane/PW)