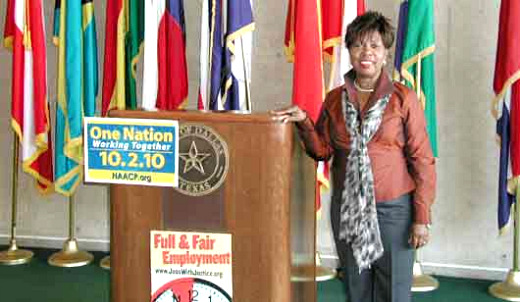 DALLAS – North Texas progressive activists gather at a local restaurant the first Wednesday of every month. On Oct. 6, they reviewed the effect of the national One Nation Working Together coalition on their efforts. First, they looked at Texas participation.
The Texas NAACP said that they sent a full bus to Washington plus another 40 or so individuals went by airplane. Individuals from a number of other cities went, including Houston, and Jobs with Justice activists from the North Texas chapter. An independent farmer in Cleburne attempted to organize a bus on his own, and ended up sending two carloads to DC.
The Texas State Employees Union took time out from their meeting in Austin to hold an Oct. 2 rally at the State Capitol. Texas AFL-CIO President Becky Moeller joined the two top Democratic Party candidates, Bill White for governor and Linda Chavez-Thompson for lieutenant governor, on the podium. Almost all of the estimated 175 participants were state workers.
Several North Texas progressive organizations converged to increase their connections during the lead-up to October 2. The Dallas chapter of the NAACP, the Dallas Peace Center, North Texas Jobs with Justice, the Fair Budget Campaign, and others pulled together under the effective leadership of Kelli Obazee, the new director of the Dallas Peace Center. They held a good press conference on Oct. 1 and a rally in East Dallas on Oct, 2. They had to compete with the traffic from the Texas-Oklahoma University football game in the same vicinity, but nevertheless drew a crowd. Even though the local AFL-CIO was missing from the coalition, as it apparently was throughout the state during this busy election season, the group drew three labor speakers, including one important local union president. The rally was deliberately turned into a workshop to push for turnout in the fall elections.
It is difficult to assess how the dramatic convergence among progressive organizations nationwide and locally will affect future work. But, certainly, the effort to elect worker-friendly candidates will benefit.
Photo: Dallas NAACP President Dr. Juanita Wallace spoke at the Oct. 1 press conference. (PW/Jim Lane)