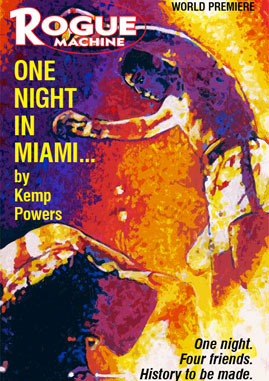 Along with The Scottsboro Boys, Rogue Machine's world premiere of One Night in Miami… is simply among the best plays I've seen in years. Both productions are based on real events involving world-historical African-Americans.
One Night in Miami… has a deliciously enticing "what if?" notion based on limited documentation regarding what really happened behind closed doors after Cassius Clay (the appropriately irrepressible Matt Jones) whipped Sonny Liston. After the bout, the new world champ spent time at the Hampton House Motel and Villas with three other fellas you just might have heard of: Singer Sam Cooke (Ty Jones), pro-footballer Jim Brown (Kevin Daniels), and rabble-rouser Malcolm X (Jason Delane). Little is known about what actually occurred there on February 25, 1964. Playwright Kemp Powers' imagination plausibly fills in the spine-tingling blanks.
Now that Cassius has won the heavyweight championship, the exuberant 22-year-old is poised to announce – with Malcolm by his side – that he is joining the Nation of Islam, led by the Honorable Elijah Muhammad. Known as the "Black Muslims," in the early '60s NOI had a reputation for militancy, in contrast to the nonviolent civil rights movement steered by Dr. Martin Luther King, Jr.
But as Cassius embarks on his audacious odyssey of standing up to the "man," there's a fly in the ointment. Malcolm is currently on the outs with the Nation, supposedly because of "intemperate" remarks he made following the JFK assassination about "the chickens coming home to roost." Behind the scenes, Elijah and the NOI leadership are threatened by the meteoric rise of Malcolm, who, with his keen intellect and sheer bravado, has galvanized a new generation of Blacks who just ain't gonna take it no more, and "by any means necessary."
Malcolm's stinging, sonorous speeches becomes the scourge of white supremacists everywhere. From appearing on Mike Wallace's 1959 TV documentary The Hate That Hate Produced to debating at the UK's Oxford Union, the strident Malcolm becomes the face of Black resistance – not Elijah. Which is why Malcolm has to be rubbed out. The Fruit of Islam "protecting" the Honorable Minister at the Hampton House are really there to spy on Malcolm and keep him in line.
One might think this is Clay's night; but Delane's subtle Malcolm steals the show. With forebodings of doom, Delane is aptly edgy as a firebrand who knows his days are numbered. Malcolm may indeed have been brilliant, but in terms of formal education, the ex-jailbird was untutored. Beneath the adopted persona of scholar and intellectual, Malcolm is a seething soul in the process of transcending the narrow NOI ideology and embracing a Pan-African, pro-Third World, secular nationalism.
Each character has his moment: Ty Jones shines in his show-stopping rendition of Sam Cooke's lyrical love song, "You Send Me." And, as Malcolm harangues Sam to use his artistry for higher purposes, the singer/composer forges his civil rights anthem, "A Change is Gonna Come." Kevin Daniels' Jim Brown, who does on the football field what Cassius does on the canvas, reveals his character to be not only a star athlete but an educated man who views "Black capitalism" as a means towards empowerment. And Jones' Cassius/Ali is infectiously fetching and exhilarating, a champ who knows it, and is anything but a chump.
The high octane quartet, along with their NOI "minders," are deftly directed by Carl Cofield. The set by Stephanie Kerley Schwartz skillfully evokes the sole Miami motel that welcomed African Americans during the ignominious days of American apartheid, which all four of our heroes, in their own ways, aim to abolish.
Within about a year, "the chickens would come home to roost" for both Sam and Malcolm; Brown's alleged domestic run-ins would dim his luster, and Malcolm would be gunned down. Clay, now Muhammad Ali, would go on to fight his greatest bout outside of the ring against the draft and the war in Vietnam, unforgettably asserting: "Ain't no Vietcong ever called me n****r." But health problems, perhaps brought on by his boxing, would bedevil him.
But oh, what a night that must have been at the Hampton House, when four black princes at the apex of their powers bestrode the world like mighty colossuses!
One Night in Miami… plays at 8 p.m. on Fridays and Saturdays and 3 p.m. on Sundays through July 28 (dark July 6) at Rogue Machine, 5041 Pico Blvd., L.A., CA 90019. For info: (855)585-5185; www.roguemachinetheatre.com.
Photo: Rogue Machine Theatre (see link above).