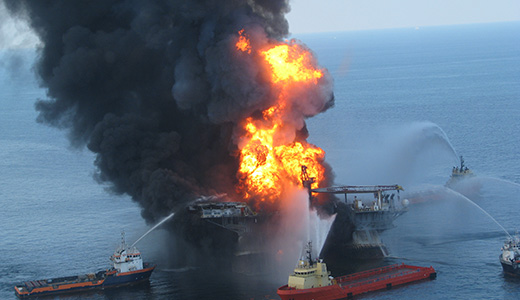 Today marks one year since 11 workers were killed in the BP Deepwater Horizon oil rig explosion in the Gulf of Mexico. But only limited steps have been taken to ensure a similar disaster could not happen again, and the agency that is charged with ensuring safety on the rigs is under-funded and under heavy pressure from the oil industry and Republicans to ease up.
The 11 workers' bodies were never found, and there is nothing on the ocean surface to mark their deaths. The owner of the rig leased by BP, Switzerland-based Transocean Ltd., is flying victims' family members over the site today.
Several workers who survived the April 20, 2010, disaster are suing Transocean for cutting off their pay even though they continue to suffer serious physical and psychological disabilities and are unable to work.
And the U.S. Justice Department is considering whether to pursue manslaughter charges against BP managers for decisions they made leading up to the explosion, which caused the biggest offshore spill in U.S. history, Bloomberg News reports.
Justice Department officials are "examining actions by BP managers … to determine whether they should be charged in connection with the workers' deaths," according to sources interviewed by Bloomberg. The investigation is focusing on whether decisions by BP managers "may have sacrificed safety in favor of speed and cost savings."
A commission appointed by President Obama to investigate the disaster identified 11 choices company managers made that "both saved time and increased risks," according to Bloomberg. These included "moving ahead with operations without the recommended equipment, failing to run a test to ensure the well's stability, and misreading the results of other tests."
Federal prosecutors are reportedly looking at charges of involuntary manslaughter or seaman's manslaughter, which carries a more serious penalty of up to 10 years.
In an emotional interview with CBS reporter Erica Hill this morning, Doug Brown, a chief mechanic in the oil rig engine room at the time of the explosion, told how he fell through the platform floor, breaking a leg, and after crawling out of the rubble was airlifted out. Immediately, he said, he was "grilled by Transocean lawyers" seeking information that could "help them." Daniel Barron, a floor-hand on the rig, said he and other workers who got off the rig after the explosion were held on their lifeboat for 30 hours and then drug-tested by the company. Barron was one of only two workers in a nine-person crew who survived that day.
The four workers interviewed all have been under medical treatment for post-traumatic stress disorder and physical injuries, including closed-head trauma.
Many surviving workers on the BP Deepwater Horizon – and the families of those killed – have said they were afraid to bring up safety issues because of fear of retaliation by their employer, reports Mike Hall at the AFL-CIO blog.
OSHA, the federal Occupational Health and Safety Administration, has no authority offshore beyond a three-mile limit. The Deepwater Horizon explosion took place 72 miles out in the Gulf of Mexico.
But the agency that does oversee the safety of offshore oil operations "lacks the resources, personnel, training, technology, enforcement tools, regulations and legislation it needs to do its job properly," according to a New York Times article this week headlined "Regulation of Offshore Rigs is a Work in Progress."
Michael Bromwich, named by President Obama to head a revamped Bureau of Ocean Energy Management, Regulation and Enforcement following the BP disaster, told the Times his agency is handicapped by insufficient funding. He is trying to get pay raises for his staff "so his office can compete with oil companies, which in some cases are paying twice the government salary for petroleum engineers."
The congressional budget deal to keep the government running cut in half the president's request for additional funding for the agency.
Instead, House Republicans are pressing bills favored by oil and gas corporation lobbyists. Now before the GOP-controlled House are bills that would force the agency to speed up approval of drilling permits, to open "vast new areas along the Atlantic and Pacific coasts to drilling and to reopen lease sales that were canceled after the Deepwater Horizon spill," the Times reports. Another bill would "ease environmental rules for drilling off the shores of Alaska."
Next week, on April 28, Workers Memorial Day, the AFL-CIO says workers across the country will honor those killed on the BP Deepwater Horizon rig and the thousands more killed on the job each year. Find an event near you here.
Photo: Tugboats battle to put out the blaze at the Deepwater Horizon oil rig in the Gulf of Mexico, April 21, 2010. U.S. Coast Guard