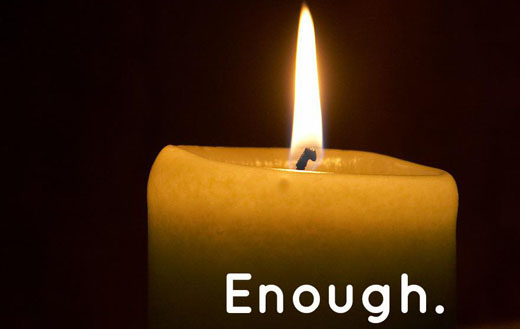 Author's Note: Some of you may be wondering what is a labor union advocate doing talking about gun control and Sandy Hook. The answer is simple. I have three children who attend an elementary school just like Sandy Hook. I would also like to point out that two of the largest labor unions in New Hampshire, where I live, are the teachers unions (NEA-NH and AFT-NH).
One year ago we all were stunned by the horrific event at a little elementary school in Newtown, Connecticut. This tragic event that took the lives of 20 innocent school children, and six brave educators. As Adam Lanza entered the school, with guns blazing he managed to fire over 150 rounds from his mother's semi-automatic rifle with 30-round magazines.
The day after the shooting the American Federation of Teachers released this short video honoring the brave educators who sacrificed their lives to protect the children in their care:
That day, and every day since, people have been asking "What are we going to do about Newtown?" For the first weeks that followed the shooting, people across the country were up in arms and calling on Congress to pass sweeping gun reforms. A completely organic grassroots organization called Moms Demand Action started pushing for background checks and smaller magazines on all weapons sales.
The argument quickly became a fight between common sense, and the National Rifle Association. Across the country labor unions and other groups like Moms Demand Action, Mayors Against Illegal Guns, and Americans for Responsible Solutions (Gabby and Mark Giffords' PAC) began an all out war with the NRA right on the steps of the Capitol.
"We demand a vote, Gabby Giffords demands a vote," cried President Obama during his State of The Union address. As every day passed more pressure was being put on Congress to pass the Safe Communities, Safe Schools Act, commonly referred to as the background check bill. A bill that would require background check on all gun sales, closing the loophole that allows people to buy guns without a background check at gun shows and on the internet. The bill also placed a limit on the size of magazines, and ultimately pushed for a ban on all assault rifles.
Momentum and public support grew every single day leading up to the vote. People overwhelmingly supported background checks on all gun sales. The court of public opinion was completely against the NRA, who led the charge to kill the bill.
The bill failed to break the 60-vote threshold (54-46) to overcome the Republican filibuster. The vote was strictly down party lines except for one stray Republican (John McCain) who voted with Democrats to pass the bill to strengthen the background check system. (Note: four Democratic senators voted against the bill: Baucus (D-Mont.), Begich (D-Alaska), Heitkamp (D-N.D.), Pryor (D-Ark.))
After the Senate failed to pass the Safe Communities, Safer Schools Act people became even more outraged. Demand Action – a campaign by Mayors Against Illegal Guns – started calling out every single senator who voted against the bill with ads saying "Shame on you."
Even after the failed vote teachers unions and educators continued to speak out for stronger gun laws. American Federation of Teachers President Randi Weingarten told the crowd at a Netroots Nation event, "I am glad to be on the list of people they (NRA) hate."
The National Rifle Association even floated the idea that we should arm teachers with guns, because "the only way to stop a bad guy with a gun, is a good guy with a gun." Many people, including myself, thought that was just too much. We are trying to keep the guns out of our schools and the NRA wants every teacher to be packing heat.
Lily Eskelsen Garcia completely rejected this idea of arming teachers. Lily represents over 3 million educators nationwide. As she phrased it, "People that would put our children, teachers, and janitors at risk do not deserve their office."
Here we are, one year later, and what have we accomplished? What have we done to stop the carnage of gun violence in America? The Boston Globe reports:
"A Law Center scorecard shows that 18 states weakened their gun restrictions in 2013, 11 states and the District of Columbia strengthened them, and 10 states passed a combination. Both sides in the gun debate, however, manage to find hopeful signs in that tally."
Where is that outrage that we all felt last December 14 as we were all forced to see the images of teachers and children running away from the Sandy Hook Elementary School, or the images of the 20 children and six heroic teachers who we will never see again? Where is that outrage now as the majority of the nation has yet to see any change in our gun laws?
As of today (12-13-13) there have been 11,436 or more gun related deaths since Newtown. (Check out slate.com's most amazing interactive graphic that continues to update with the names and locations of gun-related deaths since Newtown.) This number does not include the thousands of people who commit suicide every year. The Centers for Disease Control estimates that 33,000 people will die in gun-related deaths this year.
The group Moms Demand Action released a statement along with a very powerful advertisement calling for an end to the "silence." Moms Demand Action is hosting "end the silence" rallies all across the country to make the plea that we do not need more moments of silence, we need stronger gun laws to prevent these types of tragedies.
"One year ago, 20 beautiful children and six brave teachers and administrators were killed at Sandy Hook Elementary School in a tragedy that is still impossible to comprehend," said Sen. Dianne Feinstein. "On that morning, a deranged killer shot his way into what should have been a safe place, with an assault weapon and enough high-capacity ammunition magazines to kill as many people as possible in the shortest amount of time. The massacre was the product, in large part, of our nation's weak gun laws – laws that allow military-style assault weapons to be sold legally and that permit criminals and domestic abusers to easily obtain weapons at gun shows and over the Internet without a background check."
Since Newtown there have been at least 20 different school shootings claiming the lives of dozens of innocent people. When will it stop? When will Congress wake up and do what is right for public safety? I refuse to let this be another flash in the pan that fizzles out after time. I hope that this one-year anniversary of the tragedy at Newtown reignites the fire we once had to effect much needed changes in our gun laws. I am also proud of the labor leaders like Randi Weingarten and Lily Eskelsen Garcia who are using their positions as labor leaders to continue to fight for stronger and more effective gun laws.
Matt Murray is editor of NH Labor News, where this article originally appeared.
Photo: Moveon.org image used in vigils across the country in the wake of the Sandy Hook massacre. (Moveon/FB)