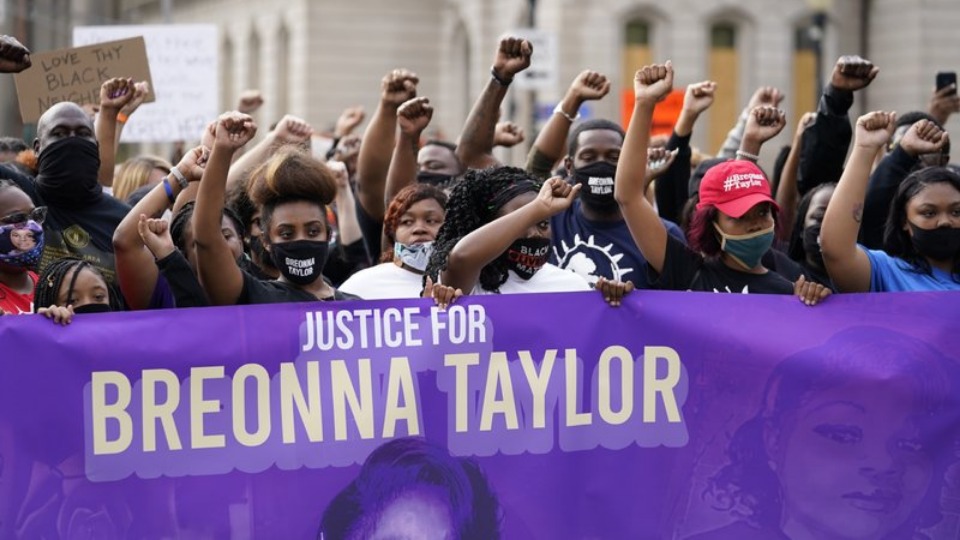 Her death sparked a movement for change. Hundreds of thousands took to the streets to demand accountability for months following the killing of Breonna Taylor and other African Americans at the hands of police. On the one-year anniversary of Taylor's death, there is still justice to be fought for. The fight goes beyond a trending hashtag, though, and speaks to the inequalities and racism that are still very much embedded in our system today.
On March 13 of last year, police officers Det. Myles Cosgrove, Det. Brent Hankison, and Sgt. John Mattingly raided Taylor's home in Louisville, Ky., under a search warrant as part of a drug investigation. Kenneth Walker, Taylor's boyfriend, thought intruders were entering the apartment and fired a warning shot at the officers. The police returned a hailstorm of 20 bullets, six of which hit Taylor, resulting in her death.
What followed was seemingly an obstruction of justice, a lack of accountability, and a year of simultaneous victories and frustrations.
It would later be revealed that there were a number of missteps by the Louisville Police Department in conducting the raid.
First, as it turns out, the suspect police were actually after was already in custody when the warrant was allowed to go through at Taylor's home. Further, none of the officers were wearing body cameras the night of the raid—a clear violation of Kentucky's police procedure. The officers involved already had previous incidents of using excessive force. Lastly, there was no ambulance on standby the night Taylor died, which is standard practice during an operation of the type executed at her home.
Then there is the issue of the dangerous "no-knock" warrant and its disproportionate use in predominantly Black communities. It could be argued that Taylor's death was the result of a perfect storm of inequality and misconduct on the part of the law enforcement system. The aftermath of her killing fueled a movement, but it came up against right-wing political maneuvers and systemic oppression.
Despite protesters taking it to the streets with the demand to "arrest the cops who killed Breonna Taylor," the only person arrested immediately after that tragic night was Taylor's boyfriend. Walker was charged with attempted murder of a police officer. The charges were eventually dismissed.
While Taylor's family reached a $12 million settlement with the City of Louisville this past September, none of the officers involved in the botched raid were charged with her death. Former Det. Hankison was charged with three counts of first-degree wanton endangerment of Taylor's neighbors instead. He has pleaded not guilty.
Republican Kentucky Attorney General Daniel Cameron claimed after the grand jury trial, which resulted in none of the officers being charged with Taylor's death, that the facts were presented and the law didn't have it in the cards to charge the cops. It would later come to light that Cameron seemingly never sought the justice that Taylor's family and activists were demanding.
A year later, Taylor's mother, Tamika Palmer, still fights for her daughter while the call for criminal justice reform grows louder.
Earlier this month, Palmer filed complaints against six Louisville Metro Police Department (LMPD) officers for their role in the raid that resulted in her daughter's death. Palmer has also sought a criminal investigation, bringing to light new allegations of misconduct. Taylor's mother has asked the Professional Standards Unit to investigate a number of allegations, including misinformation provided by officers before and after the raid, incorrect statements about police not being assigned body cameras, improper monitoring of her daughter's cell phone, and whether some officers involved in the raid were drinking at a local bar before the shooting.
The complaint filed by Palmer's lawyers asserts that investigators tried to "deceive the public and disregard evidence unfavorable to the officers."
Taylor's boyfriend, the only one arrested on that fatal night, has filed a federal lawsuit against the officers involved in the raid and the LMPD that seeks damages for violations of his constitutional rights. Walker's suit also challenges how the LMPD executes search warrants, particularly those executed late at night, arguing they can lead to dangerous confrontations—as was the case in his situation.
In January, three anonymous grand jurors in the Taylor case filed an impeachment petition against AG Cameron that claimed he breached public trust by misrepresenting the grand jury proceedings. This petition didn't gain traction, and Cameron has continued to dodge any responsibility and place the blame on grand jurors for charges not being brought against the police officers.
Taylor's case exemplifies the lack of protection for Black people, and particularly Black women, in the criminal justice system. When Black women, often on the frontlines of progress and change, are criminalized and their rights disenfranchised, it is a blow to everyone's struggle for true liberty.
Black girls are 14% of the general population nationally but make up 33.2% of the girls detained and committed in juvenile justice systems. In many of the initial reports that followed Taylor's death, she was simply referred to in the press as "suspect."
The list of Black women assaulted, dying, or wrongfully imprisoned due to systemic intersecting racism and misogyny includes names such as Sandra Bland, Masonique Saunders, Meagan Hockaday, Atatiana Jefferson, Michelle Cusseaux, and many more.
Systemic progress has been made in some regards. Louisville Metro Council unanimously passed "Breonna's Law" last June that banned no-knock search warrants. Taylor's death also inspired the historic signing of legislation in the state of Virginia banning no-knock warrants. It became the third state to do so.
Yet Kentucky, the state where Taylor was killed, has only recently put forth a restriction on no-knock warrants as opposed to an outright ban on them. This shows that there is a long way to go for true accountability.
Congresswoman Cori Bush, D-Mo., who was involved in the Black Lives Matter movement around Ferguson, Missouri, echoed this sentiment when she stated on Twitter this week, "Today marks 365 days of injustice. Breonna Taylor's murder was an injustice. The ensuing cover-up was an injustice."
When it comes to combating injustice, demonstrations matter along with legislation. In 2020, the U.S. House passed the Justice in Policing Act that aimed to be a "comprehensive approach to hold police accountable" and "end racial profiling." The Republican-controlled Senate at the time refused to even consider it. Now that Democrats are the Senate majority, pressure can be put on political leaders to pass the bill. It also stands as another example of why allowing the filibuster to continue, which would require 10 GOP senators to support the bill, is detrimental to true structural reform.
Taylor's case can be easily swept under the rug when the mainstream media no longer give it as much attention, or when the next tragedy strikes. This is why it's imperative for people to not only remember Breonna Taylor but to continue to demand justice in her case. It connects to the larger fight for safeguards in communities disproportionately affected by police misconduct.
Taylor is one of many Black women who have been failed by this system. Without concrete change, she will not be the last. On the one-year anniversary of her death, we must recommit to making sure her legacy is intertwined with real justice and a road forward.