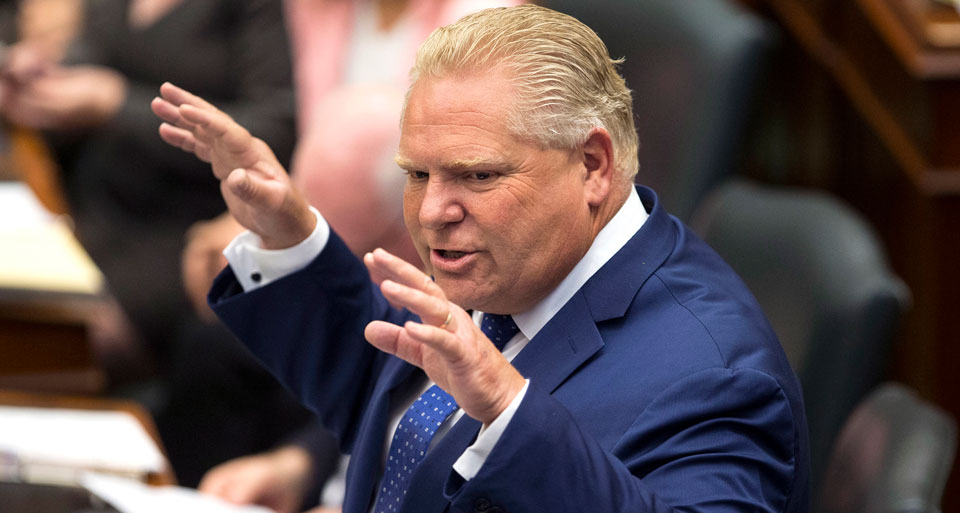 TORONTO—In a calculated and sweeping attack, the Ontario Conservative government of Premier Doug Ford has imposed a minimum 4 percent cut to university and college funding, threatened the very existence of student unions, undermined universality in post-secondary education, jeopardized programs and services essential to students, and opened the door to massive privatization.
The government announced on January 17 that it was cutting university and college funding by $400 million ($305 million USD). The cut will be in the form of a 10 percent reduction in tuition fees, which the Tories have stated will not be made up by any other government funding. It is a cynical move, designed to position the government as defenders of "affordable tuition" in the eyes of working families, but one that is already widely understood to be an attack on post-secondary education (PSE).
The government also announced deep reductions in non-repayable grants to students and an increase in loans, combined with eliminating the six-month grace period for loan repayment. Furthermore, students' ancillary fees—used to fund student unions, services for students, and centers for women, Indigenous, racialized, and LGBTQ students—will be declared optional so that individual students may select which ones to pay. The government has stated that fees for health and safety initiatives will continue to be mandatory, but the reality is many of these services are provided through student unions, whose capacity to deliver them, and whose very existence, will be immediately threatened through optional funding.
Ontario has had 16 years of decreased funding to PSE, and the current level is 11 percent lower than in 2002. Instead of fighting for adequate public funds and defending accessible education, university administrations have embraced tuition increases and deeper corporate penetration at colleges and universities. The net result is that Ontario universities have the lowest per-student funding levels in Canada, while students in the province pay the highest tuition fees in the country. Fees for international students are especially high.
Against this market-oriented backdrop of high tuition and exorbitant debt, several Ontario colleges and universities are facing enrollment shortages. One university professor told People's Voice, "All universities are affected by high tuition and underfunding, but the situation is particularly desperate for smaller ones and those in Northern Ontario. These institutions already face declining enrollment, as well as cuts to Indigenous and francophone programs. The Ford cuts profoundly affect accessibility, to the extent that the existence of post-secondary institutions in Northern and hinterland areas is really threatened."
In response to this, student leaders and organizations are already mobilizing. The Canadian Federation of Students-Ontario was meeting in Toronto as the announcement was made and organized an emergency rally with students and labor allies. Students also organized rallies across the province as well, including in London and Windsor.
Peter Miller, a student activist at University of Windsor, points to the need for a militant, mass resistance. "There is no doubt that Ford's government will not respond to reason, nor to simple debates at Queen's Park [the location of the Ontario provincial legislature]. Only a broad united fightback from the streets can force him to abandon this dangerous measure. Our fight should be built with a vision and demand for education to be free, accessible, universal, democratically run, and emancipatory."
The funding cut will also affect university and college workers, as administrations will undoubtedly propose cuts to jobs, wages, and benefits. Already, unions representing faculty and other teaching, program, and support workers have begun to work with student organizations to build engaging and united grassroots efforts to oppose the cuts and promote progressive PSE reforms.
One big question, though, is how much support this resistance will get from labor leadership. Ontario Communist Party leader Dave McKee told People's Voice:
"This announcement is an attack in its own right, but it's also a trial balloon to see how far this government can go in terms of privatization, attacking democratic rights, and undermining universality. It doesn't take much to see how making student fees optional relates to right-to-work legislation for labor, or that generalized cuts to public programs and institutions greases the rails for massive privatization. Yet, even with this comprehensive right-wing agenda laid increasingly bare before us, there are many labor leaders whose focus is on preparing for the next provincial election three and a half years from now. We simply cannot take a 'let's weather this out' approach to this government—to do so is a total abnegation of responsibility. These labor leaders must be challenged, and either pushed into fighting or replaced by those who will."