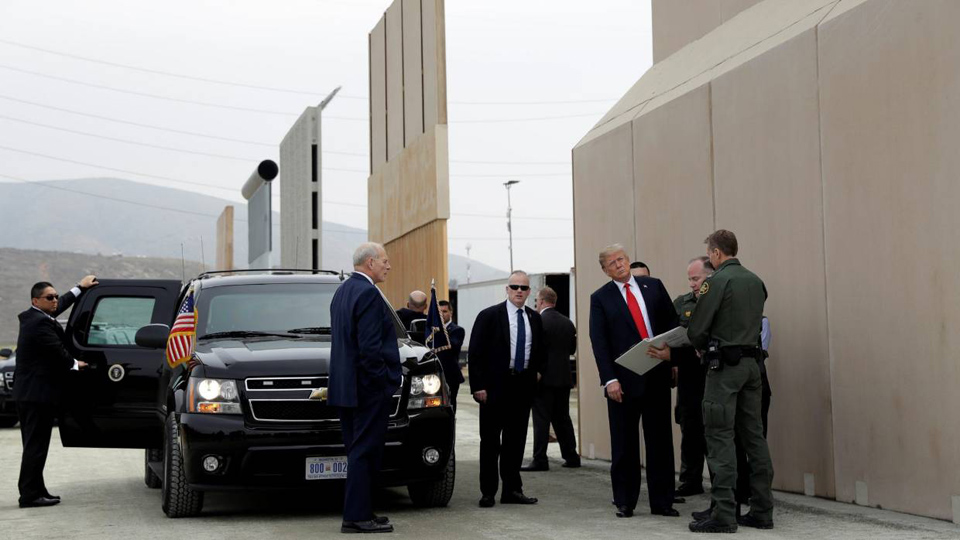 WASHINGTON—Donald Trump wants to use the pretext of a "national emergency" to grab billions of federal dollars to build his Mexican Wall. Xavier Becerra, California's attorney general, and Sens. Kamala Harris and Bernie Sanders were among those who immediately came out to say they will try to stop him. Even two Republican senators, Sens. Rand Paul and Susan Collins, not to mention countless Latino groups, joined the still-growing chorus of national resistance to the unconstitutional power grab.
Trump, the right-wing GOP president, grumbled and groaned but said Feb. 14 he would sign a money bill to fund the federal agencies he gleefully earlier shut down for 35 days, starting at midnight Dec. 21.
That decision will soothe the nerves of the 800,000 federal workers whom Trump either locked out or forced to work without pay for five weeks. Some still haven't gotten paid. All are scared or fretting, or worried about how to pay the rent, buy groceries, and reclaim repossessed cars.
But that $333 billion money bill contains only $1.3 billion for "border security." None of it is for Trump's "great, big, beautiful" concrete wall along the whole 2,000-mile U.S.-Mexico border — a wall foes call both racist and ineffective. Instead, he'll get 55 miles of unspecified fencing in Texas.
All of this begs the question of how serious the GOP and Trump really are about the wall. When they had control of all three branches of the federal government for two years they never moved to actually build it. When Trump was offered $25 billion for a wall a year ago he turned it down.
What they really want is to keep the issue alive to stir up racism and fear among white voters. Their hope is that white voters in general, like much of the Trump base, will see immigrants and people of color as the enemy. That fear plus fear of socialism and communism and the fear that Democrats are the party of all those "invaders" and "socialists" seems to be the way they want to go for the 2020 Trump re-election campaign. And even if Trump is impeached the strategy will work, they hope, for the rest of the Republican Party. The phony "national emergency" helps lay the groundwork for this racist strategy while, at the same time, testing just how far the president can go in overthrowing constitutional norms.
With Trump's declaration, he has to consider where to grab money for his wall — money that has already been allocated by Congress to other areas. The biggest available pots are the Defense Department and disaster relief funds.
Democratic leaders, notably House Speaker Nancy Pelosi, D-Calif., call Trump's "national emergency" brainstorm stupid, and worse.
"This is not a national emergency and the president's fearmongering doesn't make it one," she said in a joint statement with Senate Minority Leader Charles Schumer, D-N.Y.
"Declaring a national emergency would be a lawless act, a gross abuse of the power of the presidency and…naked contempt for the rule of law," they added.
"He couldn't convince Mexico, the American people or their elected representatives to pay for his ineffective and expensive wall, so now he's trying an end-run around Congress in a desperate attempt to put taxpayers on the hook for it," the two concluded.
The Constitution puts Congress clearly in charge of the national purse. Yesterday Pelosi said she was considering all options on the issue of reacting to the Trump power grab, including action in the courts which, it is widely believed, would declare the power grab unconstitutional.
In reality, the Congress could stop the president in a heartbeat but that would take political will sorely lacking these days in that branch of government. All the Congress has to do is declare the emergency null and void and then send the nullification to the president. If he refuses to sign it the nullification of the "emergency" automatically takes effect. If he vetoes it then Congress overrides with a two thirds vote. A legislative body seriously concerned about its constitutional prerogative would do that immediately after a fake emergency declaration was signed by this or by any other president.
When President Truman tried declaring a national emergency when he wanted to seize steel mills in order to break a strike it was the courts, however, not the Congress that stopped him.
Sens. Harris and Sanders say they will try to curb Trump legislatively
"My colleagues and I have introduced two bills to prohibit the president from diverting military construction and disaster relief funds to his vanity project of a border wall. It's clear now that he is willing to go around Congress to do this. We must pass these bills immediately," Harris tweeted.
Sanders voted, reluctantly for the money bill even though it contained "border security" funds, while Harris did not. It passed 83-16. Sanders called Trump's "national emergency" scheme illegal.
"It is clear to me that there is not a 'national emergency' with regard to the southern border," Sanders tweeted. "What President Trump is doing is unlawful and must be opposed vigorously in the courts and legislatively."
Becerra, California's Democratic attorney general, agreed. He tweeted that he's going to court to try to outlaw Trump's ersatz emergency, and predicted other AGs will join him. One, in Washington state, already said he will do so if Trump's edict robs his state of expected federal funds.
"Any border crisis is of @realDonaldTrump's own making," Becerra tweeted. "If #Trump oversteps his authority and abandons negotiations w/#Congress by declaring a fabricated #NationalEmergency, we won't only call his bluff, we will do what we must to hold him accountable. No one is above the law."
"How we do things matters," Sen. Paul said. "Over 1,000 pages dropped in the middle of the night" – the money bill – "and extraconstitutional executive actions are wrong, no matter which party does them."
Sen. Collins agreed with that constitutional analysis. She also reminded Trump that Congress, not the president, sets national priorities through allotting money.
"I don't believe the National Emergencies Act contemplates a president unilaterally reallocating billions of dollars, already designated for specific purposes, outside of the normal appropriations process. The National Emergencies Act was intended to apply to major natural disasters or catastrophic events, such as the attacks on our country on 9/11," she said.
The pro-Latino groups focused on the racism behind Trump's action
More money for beds in detention centers and for 600 agents to run down undocumented people – both in the bill – "are tools that enable an administration that has put out aggressive immigration policies to accomplish those goals," Unidos U.S. immigration specialist Carlos Guevara told lawmakers' aides.
"This is not a trivial concern. It means that ICE (Immigration and Customs Enforcement) and CBP (Border Patrol)" agents "have more room in facilities to detain longstanding members of communities instead of just focusing on those individuals who have committed felonies."
"It's very easy and cruel to stereotype an entire people for the wrongs of a few just the same way we would be wrong to judge entire nations for the wrongs of past dictators, murderers and tyrants who may have once led them," said Domingo Garcia, president of the League of United Latin American Citizens and a former Texas state legislator.
"It is time for this president to cease the easy scapegoating of Latinos and get down to business with Congress and seriously work to once and for all achieve comprehensive immigration reform. Mr. President, lead or get out of the way and let someone else do what you can't or won't."