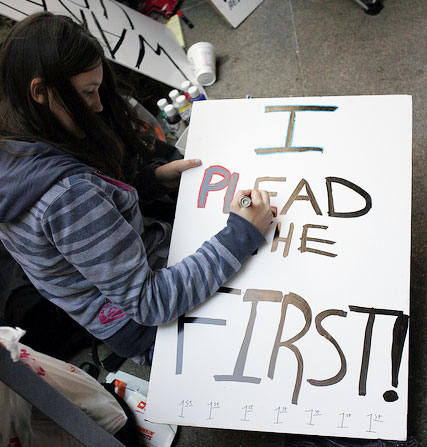 CHICAGO – Mayor Rahm Emanuel has created a firestorm by introducing new city ordinances that activists and legal observers say will have a chilling effect on First Amendment rights to free speech and assembly.
What are dubbed the "sit down and shut up" ordinances were submitted to City Council in anticipation of demonstrations surrounding the May 19-21 G8 and NATO Summits being hosted by the city. In addition to heads of states and military leaders, thousands of protestors are expected, including peace and justice activists, trade unionists, environmentalists and representatives of NGOs.
Emanuel is invoking the specter of "violent anarchists" to demand the hasty approval of the protest restrictions by council. However the ordinance changes would in fact be permanent.
The pending legislation is being accompanied by a public fear campaign. The Chicago police Department is gearing up for mass arrests. The Illinois State Crime Commission is offering a series of "hardcore training" workshops including "combat stick fighting" while the Chicago police make preparations for sharpshooters who can "shoot the head off a nickel from 500 feet."
The City Council is set to act on the measures on Jan. 18. But based on the initial information session with administration officials Jan. 12, there is already significant opposition.
"It's an affront to the right to free speech. Government is telling you what you can write on a sign, who's allowed to carry those signs and what kind of [sound] amplification you can use. For every 100 people, you have to have a parade marshal," said Alderman Scott Waguespack, who represents the 32nd Ward.
Aldermen say they are being inundated with calls from constituents who say the ayor has gone too far. In addition, Chicago Occupy hand-delivered letters to every alderman demanding they oppose the measures while Moveon.org and other groups are also organizing delegations and letter writing campaigns.
Long-time political analyst Don Rose believes the ordinance changes would actually inflame tensions between demonstrators and the city. Rose wrote for the Chicago Daily Observer "(Emanuel) is building in failure to comply with the new laws and putting all the protestors at risk of arrest and huge fines.
"As Harvey Grossman of the ACLU and many others have pointed out, these tough restrictions will do little or nothing to actually keep potential demonstrators away or alter their behavior, but they will come very close to violating rights to speech and assembly. They are more likely to provoke bad behavior," notes Rose.
Rose invoked memories of 1968 when then-Mayor Richard J. Daley provoked a police riot against demonstrators at the Democratic Party Convention.
A leading peace activist, Marilyn Katz, recalled it was protests like the one where a then-unknown state senator, Barack Obama, spoke in 2002 that propelled the anti-Iraq-war movement and ultimately ended the war.
In addition to radically increasing fines for resisting arrest (including "going limp"), the new ordinances allow the mayor to contract out for additional law enforcement personnel and equipment free from oversight. The ordinances empower the police department to deputize unnamed personnel. Some question if this includes inadequately trained "rent-a-cops" who might actually incite violence.
Perhaps even more alarming, the ordinances also amend the parade permit code imposing impossible bureaucratic stipulations on organizers and restrict the time, length and place of demonstrations.
Permits for demonstrations big and small, including sidewalk demonstrations and pickets, will be required a week in advance along with $1 million insurance liability and agreement by organizers to reimburse the city for any damage to the public way or city property.
Organizers would be required to submit a description of "any recording equipment, sound amplification equipment, banners, signs, or other attention-getting devices to be used in connection with the parade" at least a week in advance of the march.
Sound equipment and loud noises would be restricted to between 8 am and 10 pm. Parks and other public spaces would be closed until 6 am, which would mean many morning joggers would be breaking the law.
Instead of establishing a dialogue and working out a compromise that allows the concerns of protesters to be heard, Emanuel is in effect trying bully through the changes and repress protest.
"Chicago is a world class city and so it's fine to have world class events and to do that you have to have world class preparation," said Andy Shaw of the Better Government Association. "The most important thing now, sit down with the ACLU and demonstration leaders and talk about a way to meet both objectives – free speech and safety and security."
"If you think you can repress the demonstration, you're inviting it to be even more aggressive," said Shaw.
Photo: People's World