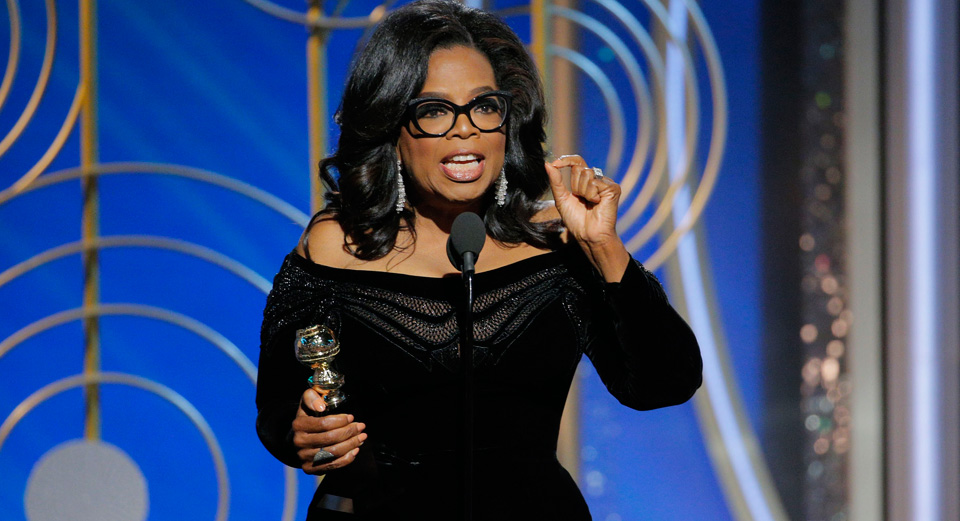 Liberals are aglow after Sunday night's Golden Globe awards for many reasons, many of them worthwhile. Nineteen million people watched the women of Hollywood unite under the banners of #TimesUp and #MeToo to address issues of inequality and sexual exploitation in their industry and in the broader economy.
Many A-list actresses brought activists in lieu of significant others. Meryl Streep brought Domestic Workers United's Ai-Jen Poo and Michelle Williams brought #MeToo founder Tarana Burke to the event, each deferring to them to discuss issues facing women while on the red carpet. It was a heartening show of collective action going further to address socio-economic inequalities than at any award show in memory.
In many ways, Oprah's speech after receiving the Cecil B. DeMille award summed up the mood of the evening by pointing the way toward not just a fairer and more just Hollywood, but a fairer and more just America. It was the kind of sweeping, uplifting speech that the American public hasn't seen much of over the last year. As a result, perhaps inevitably, #Oprah2020 has begun to trend. Oprah has shown that she can be a powerful political player when she wants to. She lent her support to Barack Obama's 2008 campaign. There is little doubt that she has the capacity to be a serious contender for the Democratic Party's nomination.
However, the nomination of Oprah to run against Donald Trump in 2020 would represent a political eschaton that we should all grapple with before the gears of the presidential election begin to turn later this year.
On one level, Oprah 2020 represents the complete marriage of entertainment with politics. In the age of prestige television, an all-entertainer presidential election makes a kind of sense and the big cable news companies have shown that they're ready to be show runners.
One study estimated that Donald Trump racked up nearly $2 billion in free media coverage during the primaries. This, in turn, led to record profits for the media giants. A celebrity as well-known as Oprah would be likely to gobble up coverage in a similar way, taking airtime from other Democratic candidates. The only people who benefit from this arrangement would be Oprah, Donald Trump, and cable news corporations whose ratings records stand to be shattered.
On another level, a battle of the billionaires at the level of the presidency is the culmination of our era of big money politics ushered in by Citizens United. It was only a matter of time before the artifice was dropped and billionaires, rather than funneling money to candidates through legally complex front organizations, just ran for office themselves.
This is the situation we're facing in Illinois where the incumbent is a private equity firm capitalist and the front-running challenger is heir to the Hyatt Hotel fortune. The "if you can't beat 'em, join 'em" theory of big-money politics has the potential to strengthen the neoliberal order that has resulted in so much poverty, anxiety, and strife—the kind featured regularly on the Oprah Winfrey Show.
In her book New Prophets of Capital, Nicole Aschoff describes Oprah as "appealing precisely because her stories hide the role of political, economic, and social structures." Aschoff continues, writing "Oprah recognizes the pervasiveness of anxiety and alienation in our society. But instead of examining the economic or political base of these feelings, she advises us to turn our gaze inward and reconfigure ourselves to become more adaptable to the vagaries and stresses of the neoliberal moment." In other words, the means by which Oprah has skyrocketed to wealth and fame are contradictory to the collective solidarity on display last night.
That being said, it's a new year and its all too early to tell. The election of Donald Trump traumatized so many thousands of liberals that the change in any one is unpredictable. Some have taken to longing for the days of George W. Bush, others find refuge in Russia conspiracies, others still have seen the light and committed themselves to action to address the root of our problems, i.e., the wealth gap (gender and otherwise), the flatness of wages, the deterioration of union rights, and other issues.
Who is to say that Oprah hasn't had a come-to-Jesus moment? Only time will tell, but I can't be optimistic about #Oprah2020. By focusing on one woman's speech and presidential prospects, we can potentially miss the deeper revolutionary message of last night: collective action can lead to momentous change.
Note: As of press time, Oprah Winfrey has apparently again said she has no intention of running for the presidency.