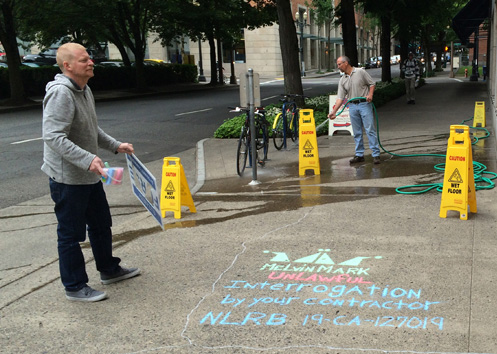 PORTLAND, Ore. (PAI) — It has to have been one of the more unusual hearings federal administrative law judge John McCarrick has ever presided over. Oregon City painting contractor Gene Edwards – accused of threatening, bribing, interrogating, discriminating against and firing pro-union workers – went without an attorney, and ended up being the prosecution's best witness.
But Edwards' "do-it-yourself" defense ran into problems well before the hearing began on May 6 in Portland.
Painters District Council 5 filed "unfair labor practice" charges with the National Labor Relations Board (NLRB) in October accusing Edwards Painting of repeatedly violating federal labor law during the course of a union campaign that began in June 2013.
After the charges were filed, Edwards filed papers to remove his wife Connie and son Grant as co-owners of the business. Edwards later told the judge that he did it to shield them from liability in the case, adding his wife had been listed as the majority owner because at one point they considered getting certified as a woman-owned business.
When the NLRB investigated the allegations, Edwards told the federal agent he would sooner close his 45-year-old business than allow workers to unionize, which they have a right to do under federal law. In February, the NLRB issued a formal complaint and set May 6 as the date for a hearing to begin before McCarrick.
But the company failed to file a legal response by the deadline, failed to answer some of the charges before the hearing, failed to obey a subpoena request for documents, and even destroyed several of the requested documents. The NLRB could have treated the failure to respond as an admission of guilt, but instead the judge and the agency let Edwards respond to the charges during the hearing.
Edwards, with about 20 employees, does a good deal of work for several prominent Portland-area general contractors. Mostly, Edwards Painting works on commercial multi-family residential construction projects, including some federally funded projects.
Painters union organizer Scott Oldham says he targeted Edwards for a campaign because the company pays well below the union rate at that time: $19.81 an hour, plus benefits. That enables Edwards to underbid unionized painting contractors, and win jobs that might otherwise pay the union rate. So Oldham and fellow Painters member Wyatt McMinn got jobs at Edwards, and started talking to their new co-workers about unionizing – a technique called "salting." That's when the owners began violating federal labor law.
According to the NLRB, Gene Edwards and his son Grant, a foreman, threatened to fire workers if they attended a union meeting, fired one worker for wearing a union T-shirt, fired other union supporters on fabricated pretexts, attempted to quell the union campaign by giving raises of up to several dollars an hour, and even put a question about union affiliation on its employee application form to screen out potential union supporters.
As the hearing on those charges began, Edwards was unprepared, telling the judge he hadn't read through the law he was accused of violating, nor documents the NLRB submitted as evidence, nor even his own sworn affidavit.
McCarrick, flown up from San Francisco to judge the case, patiently explained rules of procedure to Edwards. But he had to intervene repeatedly – like when Grant Edwards interrupted to correct his dad's testimony, or when Gene Edwards tried to rebut witness testimony during cross-examination, or when Oldham was on the witness stand and Gene Edwards, acting as his own lawyer, asked him to divulge which workers had been planning to attend a union meeting.
At one point, NLRB attorney Rachel Harvey asked Edwards what happened to the employee information form that asked – unlawfully – whether an applicant was a union member. Edwards said he put it in the shredder. "As soon as I did it I thought it was stupid, but I can't undo it," Edwards testified.
Given the facts that tumbled out during the 5-day trial, it's hard to understand how Edwards Painting gets as much business as it does. After operating for 45 years, the firm has no office, but instead is run out of Edwards' home in a residential area of Oregon City. Once a week, up to 20 employees come by to pick up paychecks left on a shelf outside the house.
The company maintains little or no personnel files beyond handwritten pay sheets and IRS forms. When Harvey asked why the company hadn't complied with the subpoena request for I-9 forms, Edwards said he doesn't have any, and doesn't even know what an I-9 is. An I-9 is the form employers use to verify that an employee is legally entitled to work in the United States. Up to half of the company's employees are foreign-born.
The company also has no real drug policy, written or otherwise. That featured in one of the stranger incidents in the trial. Pro-union worker Sean Carter complained to Edwards that a co-worker was using drugs on the job. Edwards told the accused co-worker, who then allegedly sent text messages to Carter threatening to kill him and harm his family, and to sic a biker gang on him.
Oldham helped Carter file a police report, and then Oldham and McMinn confronted Edwards about the situation. Edwards' reply was the accused worker could take a drug test up to three days later. If he failed the test, he'd be fired; if he passed, Carter would be fired.
When Oldham and McMinn objected, Edwards told them to get a drug test too, though he didn't follow through on that. In the trial, Gene Edwards denied he'd heard from Carter about drug use, contradicting what he'd said in the sworn affidavit with the NLRB agent. Carter, fired by the company in August 2013, failed to appear at the trial, ignoring a subpoena and attempts to contact him. The two sides have until June 24 to submit final arguments.
Don McIntosh is Associate Editor, The Northwest Labor Press
Photo: Painters District Council 5 organizer Scott Oldham and his chalk work on the sidewalk in downtown Portland. Oldham showed up to publicize anti-union actions by a general contractor. Oldham chalked in the logo and under it he wrote: "Unlawful interrogation by your contractor: NLRB 19-CA-127019." nwlaborpress.org