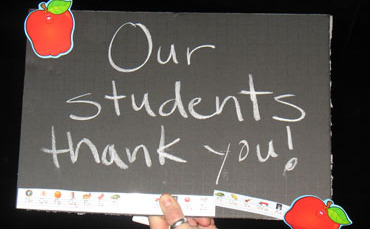 Oregon voters delivered a "tax the rich" message yesterday, voting to raise taxes on corporations and the wealthy to prevent cuts in public education and other social services.
The voters solidly approved two ballot measures: Measure 66 raises taxes on households with taxable income above $250,000 (less than 3 percent of the state's population), and Measure 67 raises the minimum tax on corporations from its current $10 (!) and increases the tax rate on upper-level profits.
The tax-the-rich measures passed easily, with late returns showing a 54 percent to 46 percent ratio, The Oregonian reported. They drew strong support throughout the state, including in areas considered more conservative. Turnout was estimated at a substantial 60 percent.
The vote is particularly significant because Oregon is known as an anti-tax state. It has capped property taxes and voters have rejected income tax increases twice in recent years, according to The Oregonian. It is one of only five states without a sales tax.
The state was facing an estimated $727 million shortfall with cuts especially hitting education and state services. Teachers and public worker unions had organized strongly for passage of the measures.
"We're absolutely ecstatic," Hanna Vaandering, a physical education teacher from Beaverton and vice president of the Oregon Education Association, the state's largest teachers union, told The Oregonian. "What Oregonians said today is they believe in public education and vital services."
OEA President Gail Rasmussen said on the union's web site, "Oregon voters took a stand against more four-day school weeks and bulging class sizes and said yes to corporations and the wealthy paying their fair share."
The teachers union credited the results to "the hard work of parents, educators, and thousands of Oregonians from every walk of life who stood up to protect our schools."
Campaign ads by supporters "highlighted banks and credit card companies and showed images of well-dressed people stepping off private jets," The Oregonian noted. "They also hammered on the $10 minimum tax that most corporations have paid since its inception in 1931."
Opposition to the tax-the-rich measures was led by a coalition of business groups funded by corporate CEOs like Nike's Phil Knight and Columbia Sportswear's Tim Boyle.
They tried to convince voters that taxing the rich would cause job losses and lead wealthy residents to move out of the state. But Tuesday's results indicate such appeals carried little weight.
The tax increases had been approved last year by the Democratic-led state Legislature, but big business and other right-wing interests organized a petition campaign that put the measures on the ballot for a public referendum.
The Legislature already put the $727 million for education and public services into the current budget. If the ballot measures had been rejected, lawmakers would have been forced to hold a special session to find other ways to reduce spending or raise revenue.
The voters' action on Tuesday "means the February session won't be focused on cutting hundreds of millions of dollars from schools, public safety and health care," said House Speaker Dave Hunt, D-Gladstone.
Oregonian reporter Harry Esteves concluded that Tuesday's "strong support" for the tax measures "validated a strategy by Democratic lawmakers to single out the rich and corporations for targeted tax increases."
Photo: www.oregoned.org