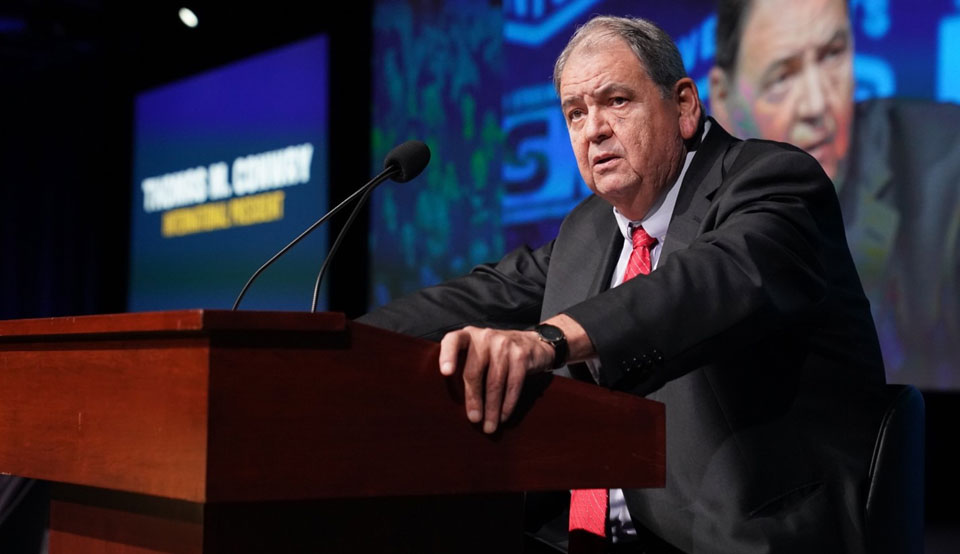 LAS VEGAS —Organizing—who, where and what industries—dominated the discussion and delegates' decisions at the Steelworkers convention in Las Vegas.
The five-day gathering of 2,000 delegates, plus observers and others, heard union President Tom Conway set that agenda and U.S. Vice President Kamala Harris laud it.
The nuts-and-bolts details were in resolutions the delegates approved, according to postings on USW's website. "People want more power. They want more of a voice. They want more opportunity," Conway led off in his keynote address.
And that's not just in USW's traditional industries—steel, aluminum, oil, cement, tire and rubber workers, chemicals and so on—but in emerging industries such as high tech, baristas and sports, notably college athletes.
The union will grow and expand its member-to-member organizing and its plan, announced in April, to have rank-and-file members take the lead in organizing new units, Conway said.
Many of them, he predicted, will be "green" industries. Under Conway's predecessor, Leo Gerard, USW co-founded and co-leads the BlueGreen Alliance—a coalition of unions and environmental groups—to push for common causes: Green jobs in the U.S., in solar, wind, water and other clean energy sources, and that they should be union jobs.
"The emergence of new technologies and the growth of clean energy jobs means that the USW membership of the future may not look the same as it did 80 years ago, but its strength and solidarity will only grow," Conway said.
That's also a Biden administration goal. It will get an added boost from the $369 billion in "green energy" incentives, primarily tax credits to create green jobs and products, in the Inflation Reduction Act, pending before Congress in the same week as the convention.
To an extent, USW is riding the wave of increased worker activism coast to coast, Conway noted—along with, according to the National Labor Relations Board, increased corporate labor law-breaking in response. "If the (coronavirus) pandemic taught us anything, it's that workers are hungry for unions," Conway declared.
Union election petitions filed with the board "skyrocketed 58% in recent months. At the same time, unfair labor practice charges shot up 16%, reflecting employers' efforts to thwart organizing drives at any cost," he said. Harris praised the rising petitions, calling it "a new era."
"Today, we see the beginning of a new era in the American labor movement, led by you, standing on the shoulders of the great leaders who fought, who bled for the strength of this movement," said Harris. She hailed "a new era…in which workers of every age, every race, every gender, every profession have the opportunity to benefit from the power of solidarity.
"The USW is charting that new era.  You are fighting for better wages, safer working conditions, stronger protections against harassment and discrimination. And every day I see it. I'm traveling our country" and "every day, you are fighting to make sure workers always have a voice and that the dignity of their work is always respected.
"Let us be clear, like I said before: Everyone benefits from that work, because when union wages are up, everybody's wages go up. When union workplaces are safer, all workplaces are safer. And when unions are strong, America is strong," she said, to applause.
Delegates laid out the specifics, for organizing, bargaining, legislation and politics in resolutions. Key recommendations included:
Coordinating "comprehensive contract campaigns where we have industry or company-based pattern agreements and master contracts." That would include "coordinating solidarity actions across multiple locations."
"Identifying workplaces in existing sectors and new sectors of the economy where employers are taking advantage of workers" or "threatening our existing membership," and develop organizing drives in those areas.
Spending "the resources necessary"—amount unspecified—"to defend against any legislation or action further restricting workers' rights to organize.
Adding card-check recognition and company neutrality language to existing contracts to make it easier to organize the unorganized in USW-represented shops.
Actively "engage with allies and the community-at-large, carrying out good works projects which strengthen communities and working with local and national allies that share our vision of organizing for economic and social justice."
"Grassroots, member-led campaigns" and political decision-making, with a key standard for support being "ensuring workers' rights are central to the campaigns of candidates seeking the support of USW members and families."
Legislatively, politicians' strong support for improving workplace health, safety and the environment will also be a top standard for evaluating hopefuls.
"Unrelenting opposition to corporate and legislative efforts to weaken occupational health, safety and environmental laws, regulations, and enforcement," as well as strong efforts to pass worker rights and worker safety laws. In particular, USW said it would oppose "so-called 'tort reform,' which seeks to take away our members' right to win compensation for injuries caused by dangerous and defective products."
Further training members in how to oppose "blame the worker" corporate schemes to transfer health and safety responsibility, and "'safety incentive' programs that assume workers are too stupid to care about their own safety and must be bribed with trinkets."
Constant promotion of young worker activists into leadership positions, including through its own Next Generation program and the AFL-CIO's "Next Up" young workers program. That's a longtime project of new federation President Liz Shuler.
"Next Generation will continue to be leaders in important economic, social, gender and racial justice movements consistent with our union's values to fight for equality and better lives for all working people," USW's resolution adds.